As different names ring out as potential presidential candidate for 2019, and while speculation grows about Buenos Aires province splitting from the national electoral calendar, local governments are facing a different kind of uncertainty: the reelection of its mayors.
A law passed in the Buenos Aires Provincial Leglislature in 2016 restricts sitting mayors from seeking re-election. So far none of the longest serving mayors have expressed their intention to pull out of their respective races.
Some have governed for over 20 years. In 2019, they will have their last shot.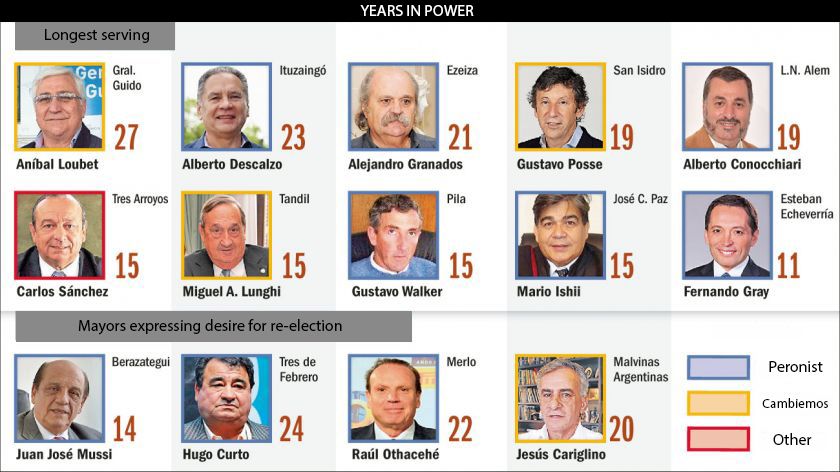 LONGEST SERVING MAYORS
The UCR Radical Party's Anibal Loubet has been the mayor of General Guido since 1991, making him the longest serving mayor in Buenos Aires province. His campaign in 2019, if he chooses to run, would be his eighth.
Deeper into the province are long-time mayors who have all expressed a desire to govern until 2023, when their last mandates would expire should they win in the 2019 elections. Peronist Alberto Conocchiari has governed Leandro N. Alemn for 19 years; Carlos Sánchez has been mayor of Tres Arroyos for 15 years; while Miguel Lunghi in Tandil and Gustavo Walker in Pila have also ruled for 15 years.
In Greater Buenos Aires, Peronist heartland, some mayors have governed for well over 20 years, like Alberto Descalzo who has ruled Ituzaingó for 23 years. His colleague Alejandro Granados in Ezeiza has spent 21 years in power (including two years on leave as Buenos Aires province's security minister). Along with Loubet, they will become the three longest-serving mayors in Argentine history should they win in 2019.
Granados claims he enjoys a 70 percent approval rating in his district. Former president Cristina Fernández de Kirchner once wanted the mayor to allow his wife, Dulce, to run, but Alejandro objected. Gastón Granados - his son and Cabinet Chief - has expressed a desire to run but does not have the numbers to compete with his father, who has already announced his intention to run again. The Granados clan is closer to Governor María Eugenia Vidal than they were to Fernández de Kirchner, so Granados will be hoping to run independently of any unified Peronist ticket.
Other Greater Buenos Aires Mayor who may seek reelection are Mario Ishii (15 years in José C. Paz), Fernando Gray (11 years in Esteban Echeverría) and Jorge Ferraresi (nine years in Avellaneda).
Gustavo Posse, who is part of President Macri's Cambiemos (Let's Change) coalition, has spent 19 years as mayor as San Isidro and will run again in 2019, he confirmed.
A full version of this article appeared in Spanish on Perfil.com
In this news