On January 25, 1997, the news photographer José Luis Cabezas was murdered.
Born November 28, 1961 in Wilde, in the Greater Buenos Aires district of Avellaneda, he started work at Noticias magazine in 1989. During his career, he photographed Argentina's leading political, cultural and other personalities, often capturing their essence in creative, playful and unique ways.
In 1995, Cabezas won the Premio Pléyade prize for 'Best Press Photo' for his image of chaplain José Fernández at Darwin Cemetery, as a tribute to the soldiers killed in the Malvinas War. It was around that period that Domingo Cavallo, then Argentina's economy minister denounced the businessman Alfredo Yabrán, describing as the head of a mafia organisation enjoying political and judicial protection.
Noticias magazine had already investigated Yabrán years beforehand. They'd looked into his alleged "economic crimes," business dealings with the state and his relationship with the brutal 1978-1983 military dictatorship. Up until then, his identity was unknown, since Yabrán did not permit press photos. Hardly anyone knew what he looked like.
In the summer of 1996, José Luis photographed Yabrán walking along the beaches of Pinamar with his wife. A few days beforehand, Cabezas' colleague, journalist Gabriel Michi, had also snapped some shots of the businessmen but they were not good enough to permit him to be identified.
But Cabezas had finally managed to capture him. The photo was printed on Noticias' cover of March 3, 1996, unveiling Yabrán's face to the wider world and allowing him to be recognised.
For the rest of that year, Cabezas received threats of every kind.
—
As January 1997 got underway, José Luis Cabezas returned to the coast to cover the summer vacation season.
On January 24, he went to an annual party hosted by businessman Oscar Andreani, along with Gabriel Michi. The journalist left at 4am but Cabezas decided to hang around a while longer. It was there that the keys of the Ford Fiesta car he used for work were found the following afternoon.
At around 5am the photographer left the residence and just before reaching the apartment where he was staying, he was intercepted at gunpoint by Horacio Braga and Sergio González, who beat him up and threw him into the back of the Ford Fiesta. Deputy police inspector Gustavo Prellezo, José Auge and Héctor Retana were in another car nearby.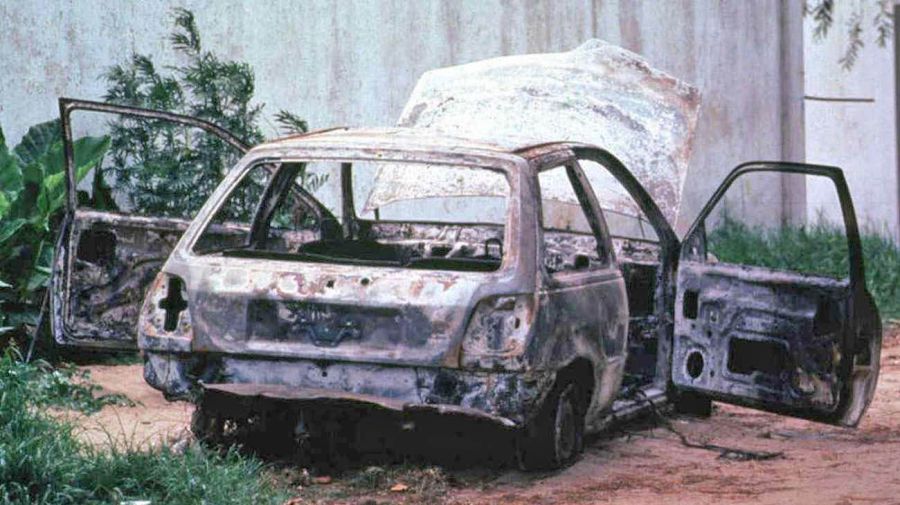 The group took him to a cave near General Madariaga, where Prellezo fired two bullets into his head, killing him. Then they bundled the body into the car and set it ablaze. It was found by the caretaker of some surrounding land sometime between 5.30am and 7.15am. The murder had taken less than a couple of hours.
–
The killing of José Luis Cabezas became one of the main emblems of Argentina's struggle for press freedom and freedom of expression. During a period in which the country also experienced such aberrations as the murder of María Soledad Morales (1990), the terrorist bomb destructions of the Israeli Embassy (1992) and the AMIA Jewish community centre (1994) and the explosion of the Río Tercero munitions plant (1995), the Cabezas case grabbed the attention of the media and the general public.
Over and above the events in court, there were successes and errors in the investigation with some politicians trying to blame others, who in turn sought to dodge their own responsibilities.
Alfredo Yabrán remained the chief suspect for the murder, following the implication of various people from his circle in the case. Gregorio Ríos, the chief bodyguard of the shady businessman, had orchestrated the brutal murder, taking charge of the logistics.
On February 2, 2000, a court ruled that Cabezas had been killed by a gang consisting of Buenos Aires provincial policemen and civilians under the orders of the by then-late Yabrán.
Such names as Héctor Retana, José Luis Auge, Horacio Braga and Sergio González, known as the "horneros" because they lived in the La Plata suburb of Los Hornos, started to appear, as did those of the ex-cops Gustavo Prellezo (the hitman), Sergio Cammarata and Aníbal Luna, who collaborated in the abduction of the photographer.
But behind Yabrán was also Ríos and such court-linked names as the former Dolores judge José Luis Macchi, ex-policeman Víctor Fogelman and even a former Justice minister in the Carlos Menem government, Elías Jassan, who had to resign because of his links with the postal and courier businessman.
In the midst of it all was also Yabrán's suicide in the Entre Ríos countryside, the suspicions about its investigation and the ways in which it led to certain conclusions.
---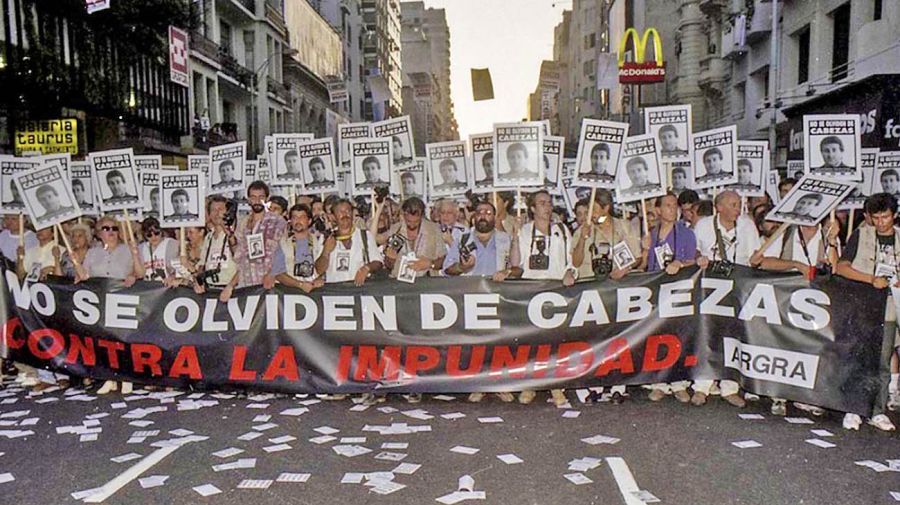 Cabezas: how we lived the tragedy
By Gustavo González
In the small hours of Saturday, January 25, 1997, José Luis Cabezas left a party in Pinamar organised by the postal businessman Oscar Andreani, shortly after his colleague Gabriel Michi.
Around 5am a group of strangers was waiting for him in front of his rented flat in Bunge Avenue. Before he could enter, they surrounded him, beat him up and flung him into his white Ford Fiesta car, which they drove to outside Pinamar, parking it on a path leading to La Salada Grande lagoon in front of a cave two metres deep. There they handcuffed him and pumped two bullets into him before burning the vehicle with the body inside.
The needles of the Tag Heuer watch of José Luis marked shortly after 5.30am when they stopped forever.
Pablo Sirvén, the general editor of Noticias magazine at that time, had arrived in Pinamar that weekend. On this occasion it was not to cover the summer season, as he had done in other years together with Cabezas, but to join up with his family already holidaying there.
He was happy after a week of intense work. To celebrate in peace and quiet, he took a deck-chair to his beach tent and lay there alone, half-asleep. He swears that at the precise moment when he was saying to himself: "What a great time I'm having!", he saw Gabriel Michi showing up with his face completely transfigured by grief.
In Buenos Aires, the first to find out had been Teresa Pacitti, the magazine's former director who was then running Caras. Her correspondents covering the season in Pinamar gave out the first information, which she also transmitted to Jorge Fontevecchia.
A second later Jorge called up Héctor D'Amico: "They're telling me that a burned car has turned up outside Pinamar which could belong to Noticias. Gabriel Michi is OK but we know nothing about Cabezas." Shortly afterwards Fontevecchia was to learn that a charred body had turned up inside the car and that the body belonged to José Luis.
Unlike other brutal crimes, the murder of José Luis rapidly acquired the dimensions of a veritable national tragedy, occupying more space in the Argentine media than the death of Juan Perón, the Moon landing and the World Cups. For the magazine's newsroom it was a solace that both the dead man's colleagues and society at large immediately understood that this was not just another murder. They understood it as a blow to the right to know what the powers that be wished to hide.
If there was ultimately impunity for that crime, not only would there be more problems for the Noticias newsroom but society would run into a new limit to its right to be informed and to an opinion. While Carlos Menem's Cabinet chief Jorge Rodríguez received Alfredo Yabrán in Government House (a clear sign of official support for the businessman), the marches of repudiation reached the doors of our newsroom and were repeated nationwide.
The photo of the face of José Luis and the caption "No se olviden de Cabezas" ("Don't forget Cabezas") was published in newspapers across the globe and printed on big and small flyers distributed even in the most remote localities.
One of those flyers was being held by Yabrán when he stared back at the photographers in the Cabinet chief's office in the Casa Rosada in an image reproduced by all media outlets.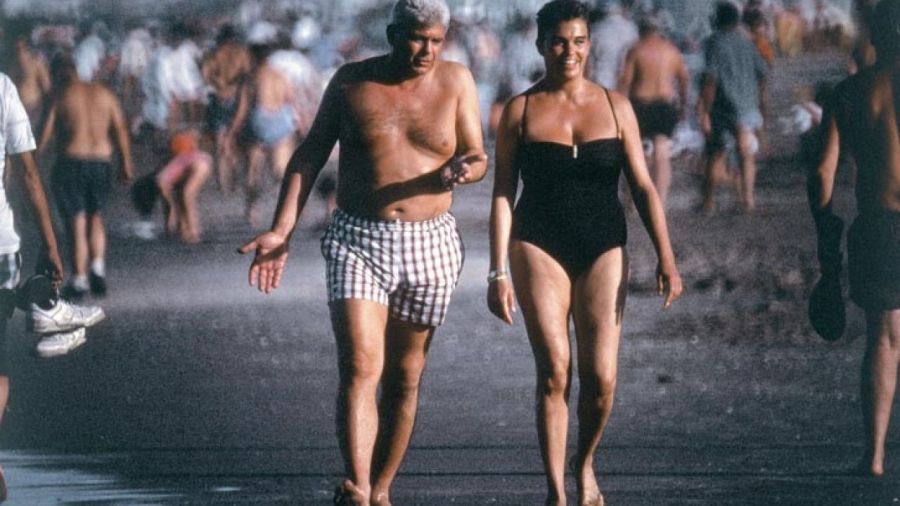 Mayors and neighbourhood associations rang up to request authorisation for some street or square to bear the name of José Luis Cabezas. Monuments were raised in tribute to him and massive rallies organised with schoolchildren and their parents to hunt for the murder weapon. Those who thought they knew something about the crime approached the newsroom to supply data or call the 0800 number which the magazine had enabled towards that end. Some were sent to sidetrack the investigation while others did not add anything valuable but some important contributions also came from that spontaneous collaboration. The first press conference held by President Carlos Menem after the crime began as if nothing had happened until journalist Nancy Pazos requested a minute of silence, which all the officials had to respect. Something mobilised that society which soon moved into self- defence as never before and decided to place limits on impunity.
We in Noticias always tried to keep our chins up, not allowing the tragedy to paralyse us with fear or to cloud our reason with hatred. But the truth is that both fear and rage were present in what were the worst days in the magazine's history.
Fontevecchia entrusted D'Amico with organising a meeting with the entire newsroom. Some requested more protection as from that day with bodyguards to accompany them when covering stories, mobile telephones for everybody and even making the windows bulletproof to prevent attack or espionage. Nothing seemed too crazy in that context.
We only knew that if a mafia organisation wanted to attack one of us again and if that organisation was shielded in some way by the government, any precaution could end up being scant unless we started dedicating ourselves to another kind of journalism and stopped investigating dangerous people. We had the terrible feeling that if it were up to the national government, the crime of our comrade would never be resolved.
Preventing such impunity, we thought at that moment, was going to depend on the family of José Luis, our lawyers and ourselves. And that being so, we needed to pull ourselves together rapidly, that very same day.
From the journalistic standpoint, the magazine looked after reflecting the social commotion and the evolution of the judicial investigation, advancing with the information and our own hypotheses.
The first cover after the crime (dated January 31, 1997) was published all in black with no text. That day we found no words to express what had happened and what we felt. From that edition onward and until the conviction of the murderers, the magazine ran a logo reading "Cabezas: one week of impunity" with the weeks piling up as time passed. The last magazine with that logo was on January 29, 2000, reading: "Cabezas: 36 weeks of impunity." Exactly three years had passed since the crime.
The following week a one-off logo reading "Cabezas: historic edition," an edition which included the conviction and sentencing of the killers. Like the first cover in that series, it had no headline, only the face of José Luis fastening the reader's eye with his fixed gaze.
---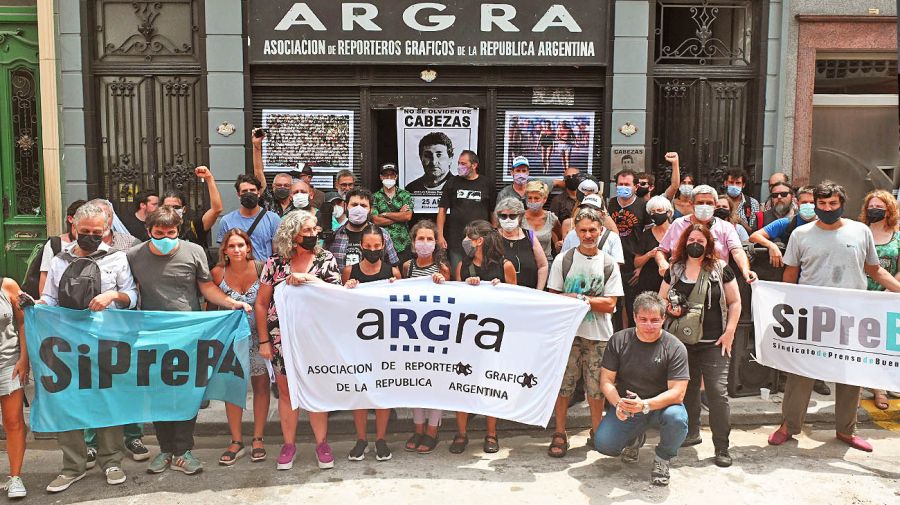 Lest we forget
by Juan Luis González
The ceremony to remember José Luis Cabezas this year differed from the previous ones – last Tuesday was the first anniversary with a potential grandchild of the photographer, Riu Cabezas, the daughter of Agustina born last November.
The Noticias photojournalist was murdered 25 years ago last Tuesday and that was what was being recalled in the entrance to Pinamar. At that ceremony were Cabezas's sister Gladys, his close friend and colleague that summer, Gabriel Michi (who read a letter from his widow, Cristina) and the local mayor Martín Yeza, among others. All demanded justice and that Cabezas be forgotten by nobody.
Since that tragic summer of 1997 a quarter of a century has gone by. "There is impunity 25 years after the crime – none of his murderers are in prison although I know that society keeps on remembering Cabezas despite the impunity of of the crime," said Gladys amid bursts of applause.
Michi, the summer sidekick of Cabezas and his friend, also spoke. The journalist read out a letter sent by Cristina Robledo, the widow of the photographer.
"There were no arms nor words which could help me to understand what had happened. Why should this happen to José Luis? Why should it happen to our children? To his parents? To his sister? And why to me? The grief remains inside me and I always find his clear and transparent stare in the gaze of our daughter," said Cristina, now living in Spain, via Michi.
Yeza also spoke and once more begged for pardon in the name of the municipality he heads today, which during that tragic 1997 acted as the accomplice of Yabrán.
Last year marked 25 years, a quarter of a century since a mafia gang, protected by the pinnacle of political power, murdered José Luis Cabezas. Let nobody forget that or him.
---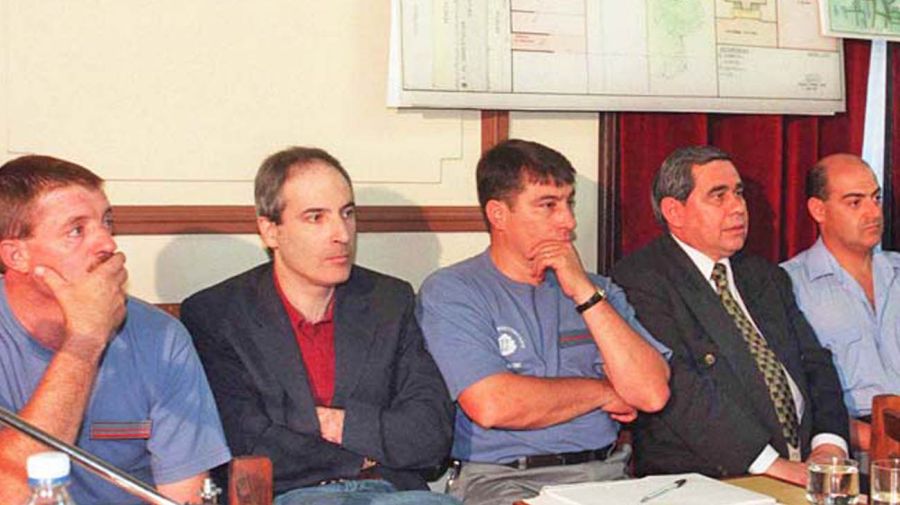 Where are they now? The murderers of José Luis Cabezas
Reporting by Marcos Teijeiro
The social and political pressure to find those responsible for the murder obliged Argentina's courts and justice system to move with a celerity almost unprecedented in our country. But 25 years on from the crime, not only do none of those implicated remain behind bars, none of them have completed their full sentences.
Gustavo Prellezo, the former Buenos Aires Province police inspector entrusted with firing the two shots to finish off Cabezas, has been free for a while now. As from 2010 the Cámara de Apelación y Garantías en lo Penal Sala N° 1 appeals court has commuted his prison sentence several times, not only permitting him to serve much of his sentence in house arrest but also granting him conditional release in 2017 before he had served his time. Today he lives in the La Plata neighbourhood of Los Hornos.
Alberto 'La Liebre' Gómez, the inspector responsible for keeping the crime scene clear of the police at the time today lives in Valeria del Mar and is only seen by his neighbours when he goes out to collect his police pension cheque. Despite his life sentence, he spent less than 15 years in prison.
Aníbal Luna, another member of the Buenos Aires Province police force who was assigned the task of trailing Cabezas, had similar luck. He was the last of the murderers to regain his freedom and today lives near the scene of the crime in General Madariaga while Sergio Camaratta, the fourth policeman to be sentenced, died in 2015.
The 'Los Horneros' gang also received the benefit of the 2x1 (two days off the final sentence for every day of pre-trial detention) law and other prison sentence commutations. Horacio Braga has returned to his life in Los Hornos, working at the NGO "Reinserción social y dirigida" helping ex-convicts to reorganise their lives after prison and also in the Kirchnerite textile co-operative Kbrones. He has also been granted a social plan by the government in order to study law. José Luis Auge has returned to his life in Los Hornos just like Braga. He has recently worked as a market porter although his name returned to local headlines when both his son and his nephews were arrested for crimes in the city of La Plata. Sergio Gustavo González was freed in 2005 but returned to prison in 2015 for drug-trafficking crimes.
Héctor Retana, the fourth member of the gang, died in prison in 2001.
Silvia Belawsky, the ex-wife of Prellezo, was also convicted during the trial. In her case she was found not guilty of murder but was sentenced for falsely denouncing the theft of the car later used by her then husband to commit the crime. She served her sentence and has been living in La Plata since then. Her testimony was crucial in establishing the link between the killers and Yabrán.
Gregorio Ríos, the businessman's chief bodyguard, was the 10th defendant to be sentenced. His role, according to the court, was to mastermind the crime. In 2006 he was granted the benefit of house arrest and in 2013, the Buenos Aires Province Cassation Court established that his sentence had been served.
Alfredo Yabrán never could be brought to trial because five days after Belawsky's testimony, prompting a warrant for his arrest to be issued by Dolores federal judge José Luis Macchi, he committed suicide at one of his raches in Entre Ríos Province on May 20, 1998. Cornered, the once all-powerful businessman opted to fire a 12.70 calibre shotgun into his mouth rather than face justice.
---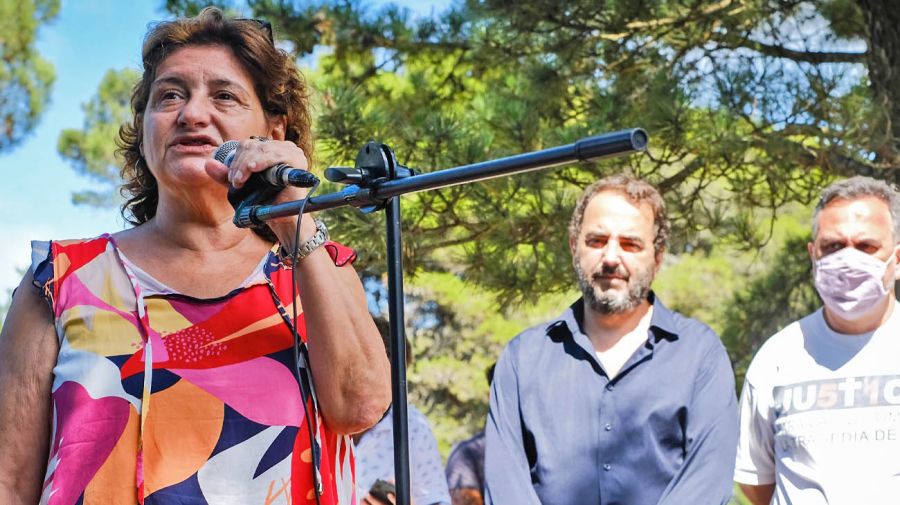 Sister: 'Enough with impunity'
Marking 25 years since the brutal crime of news photographer José Luis Cabezas, his sister Gladys said this week that she "continues in the same struggle as always, demanding justice and an end to impunity."
In an interview with Radio Rivadavia, she referred to the situation of the material author of the murder, Gustavo Prellezo, who is close to completing his sentence and also managed to graduate in law while in prison.
In that regard, the sister of the photographer murdered on January 25, 1997, said she had presented a request that he not be allowed to practise until he had completed the totality of his sentence. The disciplinary tribunal of the City Bar Association has resolved to strike him off their list.
"He's a psychopath, he denies everything and shuts everything out. We are now presenting with my lawyer another request to review his case, accompanied by the Asociación de Madres del Dolor" grouping families of crime victims, she explained.
Gladys also affirmed that she had no doubts that the businessman Alfredo Yabrán had actually committed suicide. "We have no doubts. You must understand the political situation at that time. Power is a mafia and he did it as fast as he could before they did," she declared.
For Gladys Cabezas, impunity continues to this day. "We are all in danger and we must say enough with impunity, enough of them doing what they like with us," she said, adding: "That is the struggle, over and above the murder of my brother. We are beginning to struggle for something worthwhile, beyond the death of Cabezas."
by Redacción Editorial Perfil