The Covid-19 disease claimed its second victim in Argentina yesterday, as a 61-year-old man passed away in the northern province of Chaco.
César Cotichelli, an engineer and a professor at the prestigious National Technological University in Resistencia, the provincial capital, had recently travelled to Italy and suffered from respiratory conditions, medical professionals confirmed.
He became Argentina's second fatal victim of the coronavirus outbreak after a 64-year-old passed away last Saturday, March 7, at the Argerich Hospital in Buenos Aires City. The man had returned from Paris, France, and was only posthumously found to be infected.
In total five individuals have now died from Covid-19 in Latin America. Yesterday, globally, the overall death toll jumped to more than 5,000, including nearly 1,500 in Europe, with total infections topping 140,000 internationally, according to two separate news agencies.
While national authorities are stepping up measures to contain the coronavirus outbreak, an additional three cases were confirmed yesterday, taking the total count to 34 by press time. Perfil reported that two of the cases were in the City of Buenos Aires, with the remaining one in Buenos Aires Province.
Two of the patients had recently travelled to infected regions while one of them contracted the coronavirus from an infected family member.
Argentina's most recent victim who was also president of the Chaco electricity company Secheep – had returned to Argentina from Italy on February 29 and that a test on Thursday had confirmed he had Covid-19.
The patient had entered the hospital last Monday with severe respiratory difficulties and pneumonia and was immediately admitted to intensive care, officials confirmed.
All of his relatives and others that had been in contact with him since his arrival in Argentina had been contacted and were in isolation.
Meanwhile, a 71-year-old man who had recently returned from a trip to Spain was hospitalised in the Atlantic beach city of Mar del Plata.
According to La Nación, the man arrived last week from Spain to Ezeiza airport, where he boarded a bus that took him straight to Mar del Plata. A friend who picked him up took him straight to 25 de Mayo Clinic given fever symptoms, where he was immediately isolated and found to have symptoms of Covid-19.
Local authorities are trying to track down other passengers of the same bus to identify whether the man could have infected others.
"The protocol points to those who were seated in a radius of two seats to either side, to the front and back," municipal Health Secretary Viviana Bernabei said.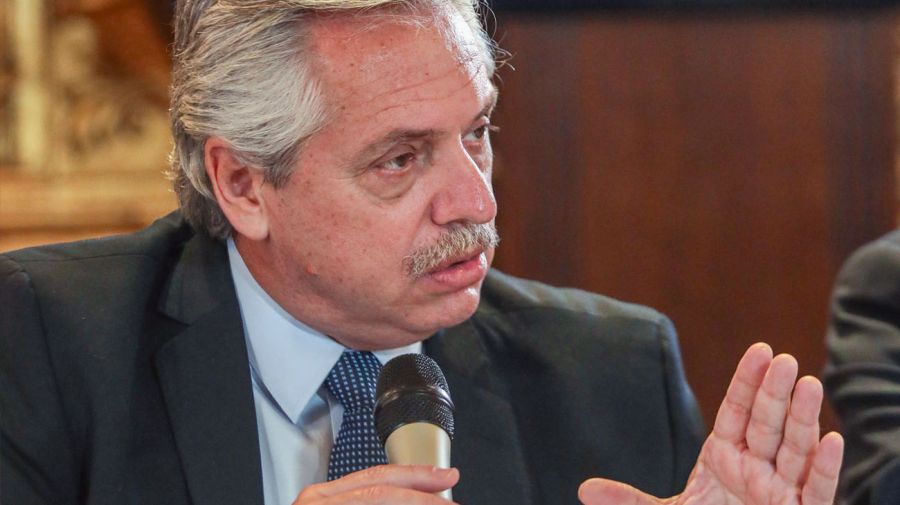 EMERGENCY DECREE
On Thursday evening, President Fernández announced a host of new measures to tackle the spread of the Covid-19 coronavirus, including the suspension of flights from countries heavily hit by the pandemic.
Addressing the nation in a pre-recorded Cadena Nacional state broadcast, Fernández called for unity and told Argentines that each had a responsibility to assist in halting the spread of the infectious disease.
Announcing a host of restrictions, Fernández declared Argentina to be in a state of health emergency for next year and ordered anyone who met a four-point criteria to isolate themselves at home and self-quarantine for 14 days.
The Frente de Todos leader also announced the suspension of all flights to regions most affected by the Covid-19 coronavirus for 30 days, with a view to extension if necessary.
"Yesterday the World Health Organisation declared the outbreak of the new coronavirus a pandemic, after the number of people infected globally exceeded 118,000, distributed to date across 110 countries. I want you to know what we are doing to respond to the advance of this virus that is spreading every day throughout the world," he told the nation.
He said the State's role was "essential" and vowed to "prevent, reassure and provide protection to the population," underlining that every Argentine had to play their part.
Fernández said he had signed an emergency decree unveiling a host of measures, including the declaration of a "health emergency."
All flights would be suspended from countries "most affected" by the crisis for 30 days, he revealed, adding that a special budgetary allocation of 1.7 billion pesos (US$26 million) would be committed to improve detection efforts.
"I have issued a decree of necessity and urgency [DNU] that extends the public emergency in health matters," he declared. "The decree suspends flights from Europe, the United States, Japan, South Korea, China and Iran for 30 days."
The Peronist leader also clarified that measures would be implemented to facilitate the return of Argentine residents who are overseas, whether in affected countries or not.
Fernández's measures mark an important change compared to a few weeks ago when Health Minister Ginés González García expressed doubts that the virus would survive in the summer heat in Argentina.
BROAD POWERS
The decree also grants broad powers to the Health Ministry to acquire the necessary medical equipment and medicine, distribute educational information, and hire doctors with foreign degrees, among other measures to mitigate the spread of the virus.
Crucially, the decree also laid out four classifications under which citizens and visitors must go into 14 days of isolation, which include, for example, travellers arriving from countries considered to be at risk.
Officials briefed earlier on Thursday that prosecutions could follow against those who broke the restrictions.
Among other measures, the government also ordered the suspension of concerts, shows and events with large gatherings and the closure of some public spaces. Galleries and museums will also shut doors across the city, as well as attractions such as the Teatro Colón.
Earlier in the day, officials in Buenos Aires City and Province had announced the suspension of shows and ordered that football be played behind closed doors, without fans.
Fernández also ordered restrictions to prevent price-gouging on items such as alcohol hand-gel and face masks, establishing maximum prices.
The Peronist leader dedicated a section of his address to the elderly, explaining to the nation that those aged over 65 should avoid crowded places and take extra care, given the pandemic.
"We are Argentina. A united country in which each one must commit to the others and everyone with each individual, starting with the State.
"A united country in which we understand that what happens to the other affects everyone," he concluded.
Finally – in a potentially devastating blow to Argentine culture customs – the Health Ministry recommended yesterday that citizens avoid "kissing on the cheek, shaking hands, reducing the 'socialisation' of mate and keeping two metres away" from each other.