Argentina's Congress is demanding the country's Ambassador to the United Kingdom Carlos Sersale di Cerisiano face questions over a recent statement on social media in which he referred to members of the Malvinas (Falkland) Islands' government as the islands' "top authorities".
"Collaboration, gratefulness and a summit meeting in the Malvinas: Eduardo Eurnekian was welcomed by the Islands' top authorities", Sersale wrote in Spanish. The tweet included a link to an Infobae.com article whose feature image was a photograph of the Argentine businessman Eurnekian with Malvinas governor Nigel Phillips and the British Ambassador to Argentina Mark Kent.
The diplomat's statement prompted immediate outrage in Buenos Aires and saw the Argentine Embassy in London deleting the tweet just hours after it was first posted on Friday.
Sersale said he "deeply regretted the confusion" his comments had caused.
"I wish to reiterate that the legitimate authorities of the Malvinas, South Georgia and South Sandwich Islands and the maritime area around them are the National Government (of Argentina) and Tierra del Fuego Government", he wrote in a column published on Infobae.com. The news portal suggested the Ambassador has expressed his willingness to address Congress if summoned.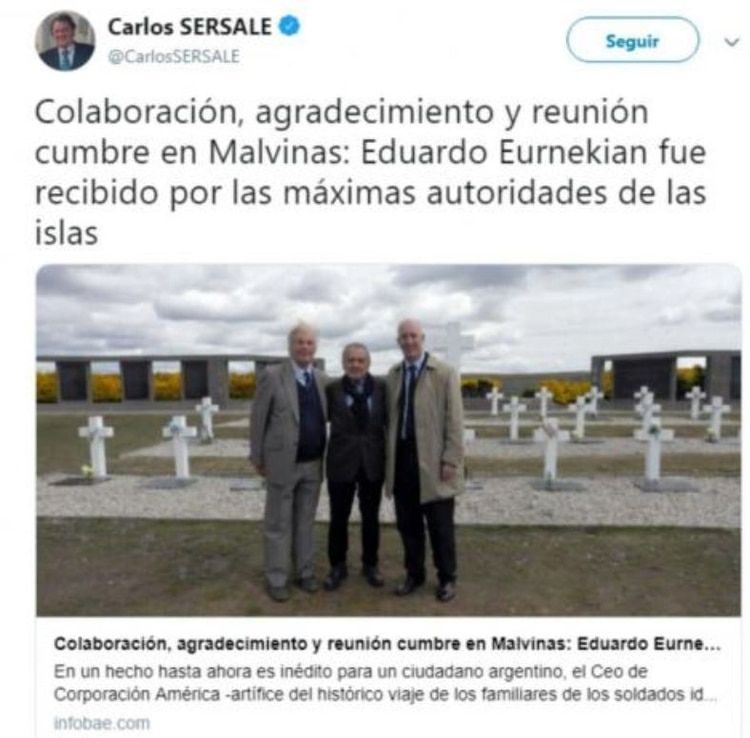 OUTRAGE IN CONGRESS
"The person saying this is not inexpert but someone with absolute awareness of what he is writing", government ally, lawmaker Carrió charged, emphasising that Sersale is a "competent" career diplomat with previous experience as ambassador to South Africa.
Her coalition colleague Cornelia Schmidt-Liermann, the president of the Foreign Affairs Committee, said it was "important" that the ambassador address Congress over the matter.
"I believe it is important to reaffirm our sovereignty over the Islands", she said.
For his part, Peronist lawmaker Pablo Kosiner described the statement as presenting a risk to Argentina's "sovereign rights" over the islands.
"What the Argentine Ambassador in London did was irresponsible and this Congress cannot validate a false recognition of sovereignty by an ambassador who foregoes the islands to the United Kingdom", he said.
Lawmaker Alejandro Grandinetto of the Renewal Front bloc took the demand a step further, calling for Ambassador Sersale to be demoted.
"He does not represent Argentine interests because he is recognising English sovereignty when he says that an Argentine businessman was welcomed by the 'top authorities'. It is not a mistake for this chamber to address the matter", he said.
SERSALE
In collaboration with Ambassador Kent and diplomatic officials from both countries, Sersale was instrumental in organising the visit of relatives of fallen Argentine soldiers to the Malvinas Islands in March.
More than 200 relatives of 90 fallen Argentine soldiers killed in the South Atlantic War with Britain visited Darwin Cemetery to pay homage and see the final resting places of their loved ones.
See also: Argentina's UK ambassador launches pre-emptive strike to head-off Cortiñas' criticism
-TIMES
In this news