A new survey from the Press Union of Buenos Aires (SiPreBA) has prompted new concern over the status of freelance press workers in the capital, with more than 9 out of 10 saying they earn a salary which places them below the poverty line.
An overwhelming 94 percent of freelance press workers said their monthly salary was below the poverty line, as defined by the INDEC national statistics bureau. Almost two-thirds, 62 percent, said they earn less than 10,000 pesos (roughly US$173) a month, with a further 17 percent saying their paycheque falls between 10,000 and 14,000 pesos (US$242).
INDEC currently defines the poverty line as 31,908.33 pesos (US$552.78) a month. That represents the minimum income needed to afford basic necessities and is based on the average basket of goods, as determined this May, for a typical family of five.
The SiPreBA report, which quizzed 300 press workers in the capital, comes less than 10 days after INDEC revealed that Argentina's poverty rate increased to 35.4 percent in the first six months of 2019 – a rise of more than three percentage points on the 32 percent posted at the end of 2018.
Little negotiation
The survey additionally found that, in order to supplement their income, 80 percent of the freelancers surveyed work for between one and three different media outlets, with 11 percent contributing to between four and five outlets. Beyond that, more than half of those quizzed reported working in an additional field because they cannot live solely on the wages they earn through journalism.
The SiPreBA report also revealed a worrying imbalance when it comes to determining fees for work carried out. Sixty-one percent of freelancers said fees are decided by the media outlet unilaterally, with no negotiation or evaluation of the work. Only 30 percent of freelancers surveyed said they negotiated their pay with companies.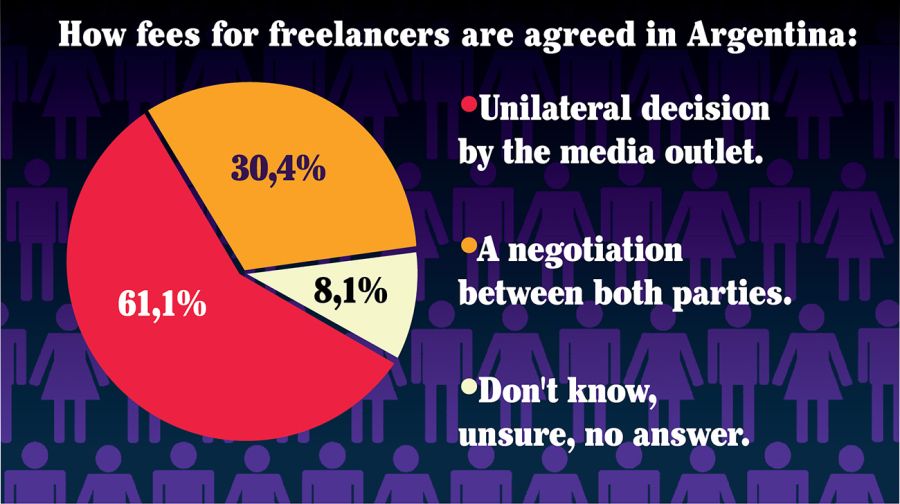 In addition, 83 percent did not receive payments for per diem or logistical expenses and 94 percent didn't receive payment for anything other than the completed work.
And it doesn't stop with writers. In the field of audio-visuals and photography, 90 percent of freelancers said they used their own equipment and 62 percent responded that they had to swallow maintenance costs.
Looking ahead

The data for the SiPreBA report comes from an online survey, carried out in August of this year. Additional demographic data gleaned from the survey found that the average age of freelance press workers is 39 and that a slight majority, 55 percent, are women.
The precarious situation facing freelance journalists and press workers as a whole has undoubtedly been exacerbated by the recent economic crisis, as well as the rising inflation of recent years. Inflation is predicted to close out the year above 55 percent and the poverty rate is expected to continue rising in the coming months, perhaps reaching as high as 39 or 40 percent at the turn of the year.
SiPreBA finished their report with a call to action, encouraging freelance workers to organise themselves as a singular labour force, in order to push for improved working conditions.
In this news