He's going to play it for Maradona, here comes Maradona, he's got two men on him, Maradona dribbles, the genius of world football starts down the right, he's going to pass to Burruchaga... Always Maradona! Genius! Genius! Ta-ta-ta-ta-ta-ta-ta-ta... Goooool... Goooool... I want to cry! Holy God, long live football! Golazo! Diegooool! Maradona! I'm sorry, it's making me cry...
Maradona, in a memorable run, an all-time great move... Cosmic kite... From which planet did you come down from to leave so many Englishmen in your wake, to make the country one clenched fist shouting for Argentina?... Thank you, God, for football, for Maradona, for these tears, for Argentina 2, England 0.
On November 25, 2020, the 'Cosmic Kite,' as commentator Víctor Hugo Morales unforgettably dubbed him as he wheeled round to celebrate the Goal of the Century, was finally called away to his home planet. Diego Armando Maradona blessed us Earth-dwellers, us mere mortals, with 60 years in his magnetic presence before passing away in his sleep at his home in Tigre, following a heart attack.
Those six decades were filled with joy and despair, success and disappointment, and more ups and downs than most people manage in the course of 10 lifetimes. But it still feels like too short a time to have lived alongside the Argentine football great, whose legacy will nevertheless live on for years to come in the hearts of the millions who had taken him to their hearts as one of their own.
On the most superficial of levels Maradona was one of the greatest footballers of all time. The native of Villa Fiorito, an impoverished shantytown in the periphery of Buenos Aires, grew up on the neighbourhood's dusty earth roads dreaming of one day taking the football world by storm, and he did just that. With Argentinos Juniors, where he began his career as a mop-haired 16-year-old prodigy; amid the cauldron of the Bombonera; in Europe with Barcelona and, most notably, Napoli; through his exploits with the national team over four World Cups; even in his later years, ravaged by the effects of injury, fatigue and his struggles with addiction, as he turned out for Sevilla, Newell's Old Boys and, once more, Boca, leaving a mark on each club that had little if anything to do with his performances on the pitch. Every team privileged enough to boast Diego among their numbers embraced him like a son, and he reciprocated that love with a fierce commitment and loyalty that matched his otherwordly ability on the pitch.
Jorge Valdano, his strike partner during the 1986 World Cup, broke down live on Spanish television on Wednesday as news of Maradona's death began to filter through. In a glowing tribute published later in El País, he said of his former colleague's talents: "He was never happier than when he was on the pitch. It was there that he would have a date with the love of his life, the ball. But he also had a spectacular command of the stage, as if he didn't feel part of a team but was on his own.
"Like a rock star driving the crowd wild rather than a football player. He incorporated the confidence that he had with the ball and the abusive superiority of his play into his mentality until the fateful day when his character outweighed the person. He was different, he felt different, and he acted different."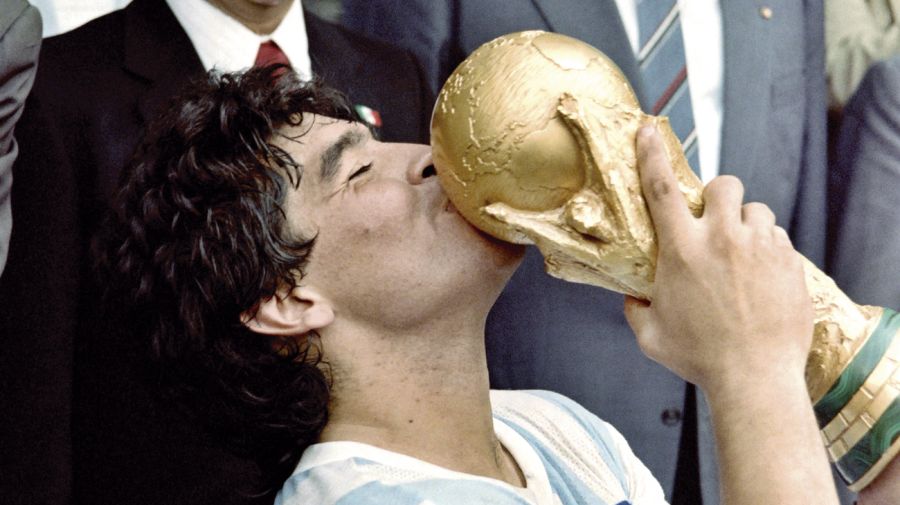 Pinnacle
The pinnacle, of course, at least where Argentina is concerned, arrived over a sweltering summer in Mexico 34 years ago. Perhaps no man before and no man since has quite dominated a World Cup in the same manner that Maradona did to deliver the gold for Carlos Bilardo's charges – one of the most devastating revelations on a day that had plenty to choose from was El Doctor's brother telling the press that he had to turn off the television so that Carlos, critically ill himself, would not learn of his long-time friend and occasional antagonist's passing. Handed the captain's armband from 1978 hero Daniel Passarella, Diego took it upon himself to carry the team through the tournament, scoring five goals and laying on five more for his team-mates, including the pass that allowed Jorge Burruchaga to hit the decisive goal in the final against West Germany.
"It was like beating a country, not a football team. While we used to say before the game that football had nothing to do with the Malvinas War, we knew that a lot of Argentine kids had died, they had been killed like little birds."
If 1986 showed Maradona at the height of his powers, the quarter-final match against England was the maestro's own personal Sistine Chapel, the moment where he reached out and touched the heavens – in the most literal of senses. His first goal of the match, steered over despairing goalkeeper Peter Shilton with his hand, showed Diego at his most impish and mischievous, wheeling away to celebrate as his baffled opponents remonstrated with officials.
"It was the Hand of God," he stated after the match, one of his countless contributions to the annals of unforgettable football phrases. "I will apologise 1,000 times to the English, really, but I'd do it again 1,001 times. I stole their wallets without them realising without them blinking." A matter of seconds later he was cutting a swathe through the Three Lions backline again, this time with the ball nestled at his feet, on his way to scoring the goal that would assure that, no matter what occurred afterwards, his place in immortality would be sealed.
It is sometimes difficult for non-Argentine observers, doubly so for the English, to capture the true significance of that balmy afternoon in Mexico City's Estadio Azteca. The war between the two nations was just four years prior, but it was already being consigned to history as a short, nasty episode by the victors. In Argentina, though, having seen a generation of youths sent to the slaughter by the generals of the 1976-1983 dictatorship, the wounds were still painfully fresh. Julio, 54, was one of the thousands who turned out at Buenos Aires' Obelisk landmark on Wednesday night to pay their respects to the late star. "We were coming out of the war, we needed some joy," he told me. "Diego, Diego like a hero, with all of that team, gave us that happiness, and on top of it all playing against the English, in truth it was unforgettable. Diego is our identity."
Argentina already boasted one World Cup going into Mexico, clinched on home soil eight years previously, but that triumph has never held the same sense of epic as 'Diego's tournament.' The murderous dictatorship of Jorge Rafael Videla was in full swing, controlling even the 'popular' celebrations that greeted that stage-managed competition, and it is hard even for the most ardent football fan to forget that just a few blocks down the road from River Plate's Monumental Stadium where Passarella lifted the trophy, scores of 'disappeared' activists and opposition members were confined in the ex-ESMA Navy Mechanics' School, tortured, murdered and thrown into the Río de la Plata from planes. By 1986, democracy had returned and new hope had returned to the masses who had risked their lives to protest against the junta, and Diego was their symbol. The kid who had dragged himself up from the poverty and crime of the villa, but who had never forgotten his roots or his beloved parents, Don Diego and Doña Tota, who would take on the English with his ability, his heart and also the street-wise wits learned on the potrero – he was the popular icon that Argentina was crying out for both in football and as a society as a whole.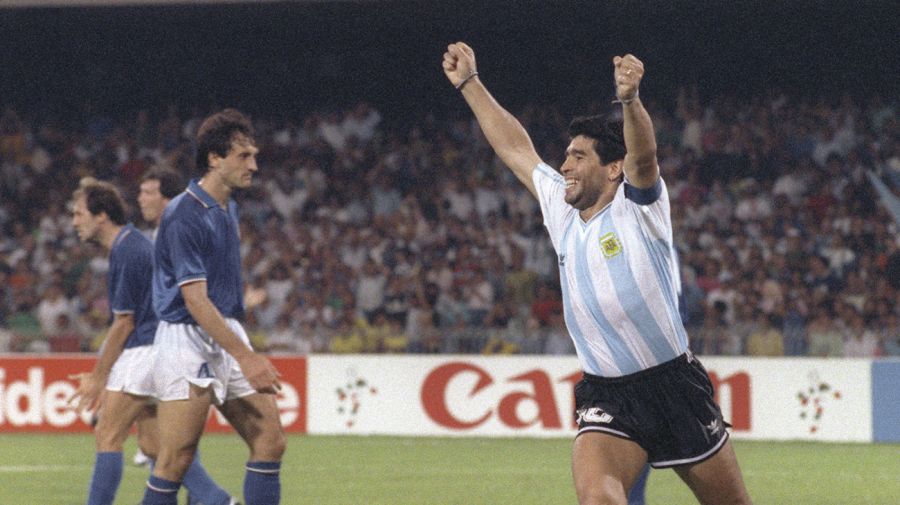 Presence
In Naples too, the veneration which can leave others nonplussed makes total sense. Maradona joined Napoli, the biggest club of Italy's oppressed, discriminated southern region and stuck his middle fingers up at the aristocrats of the north. By the time he left, shortly after the 1990 World Cup, the club could boast the first – and to date only – two Serie A titles in their history and, perhaps most importantly, could look in the eye those rivals who would hang contemptuous 'Welcome to Italy' banners to greet them to Verona, Turin or Milan. To Diego, the situation was all too familiar. In the impoverished kids who stalked the streets of Naples he saw himself, his brothers and sisters, trying to make it back in Villa Fiorito under a system which is designed to expel its undesired elements; in turn the city adopted him as its favourite son, celebrating his life this week with a fervour not seen anywhere in the world outside of Argentina, even as tributes to the late star flocked in from all four corners of the planet.
Because if Maradona were just another exceptionally gifted footballer, his passing would not have caused such consternation. He possessed something else, an electrifying presence, that meant anyone who came into contact with him and many more that did not was immediately spellbound. His faithful did not so much condone or ignore his problems as accept them for what they were: failings that only made this demi-god of the sporting world all-too human.
Diego himself never shied away from confronting those demons, which many media outlets have insisted upon airing at this most sensitive of times. His addiction to cocaine began early, around his arrival in Barcelona at the start of the 1980s, and dogged him for much of the next two decades. "Drugs are like a Pac Man which starts devouring your entire family," he confessed back in 1996 towards the end of his career. "Do you know how good a player I would have been if I didn't take cocaine?" he exclaimed on another occasion. "We missed out on some player!"
"I was a drug addict, I am a drug addict and I am going to be a drug addict to the entire world forever," Diego once stated. "Because the addict is never forgiven for anything." It is true that for many Maradona's reputation is somehow tarnished for having laboured under the yoke of this most insidious of diseases for so many years in the public eye, while others understandably turn their ire on his ever-present and ever-changing 'entourage,' whom they blame for turning the star astray, pilfering his earnings and, by the end, forcing him into humiliating public appearances when it was clear that neither his body or mind were up to the task. But more still, including the estimated million who lined up for up to 30 blocks from the previous evening to be present at Thursday's chaotic final send-off at the Casa Rosada – complete with clashes with police and an impromptu invasion of the seat of government while Diego rested inside – mourn and celebrate in equal measure a hero who, under all the fame and extravagance, was just like them.
Maradona after all was much, much more than a uniquely gifted footballer. He was the People's Idol (always capitalised), a symbol of Argentina across the globe, a man who may have lived large stretches of his adult life abroad but who always ultimately came back to his beloved home nation. He transcended tribal loyalties, as witnessed in the embraces between distraught Boca and River fans these past few days that would be unthinkable under any other circumstance. Argentina may have come close to giving up on Diego at certain points over the years, but Diego never gave up on Argentina.
"Diego is Argentina, Diego is football, Diego is eternal," this writer heard time and again amid the tears and chants at the Obelisk. Both ring true. "All of those who love authentic football will cry with it for Maradona," Valdano continued in his tribute, "and those of us who knew him personally will cry even more for that Diego who, in recent times, had almost disappeared under the weight of his legend and his excessive life."
For as long there is an Argentina the Maradona legend will live on; and the country and the people will remain eternally grateful that of all the places in the world, the little extra-terrestrial chose these lands when he departed his home planet for the adventure of a lifetime.