Argentina's government is not going to devalue the peso, President Alberto Fernández said Tuesday night amid widespread speculation on the issue.
The Peronist leader said that
"If someone is speculating about a devaluation, speculate as you wish because there isn't going to be one," the president told pro-government TV news station C5N. "We have to go, not in the immediate sense, but over the course of time toward a point where the different values for hard currency converge."
Fernández's government has amplified currency controls since taking office last December, widening a gap between the official and unofficial exchange rates between the peso and dollar. Without a clear signal about his economic plans, Argentina's various unofficial rates are now more than double the official rate.
The widespread currency gap has strained Argentina's export sector, one of the main economic engines that brings dollars into the country. Fernández's administration recently cut export taxes on several key commodities to incentivise exporters to sell in October. He conceded Tuesday that so far the policy hasn't worked.
"Up till now, it hasn't produced what we hoped it would produce," the president said.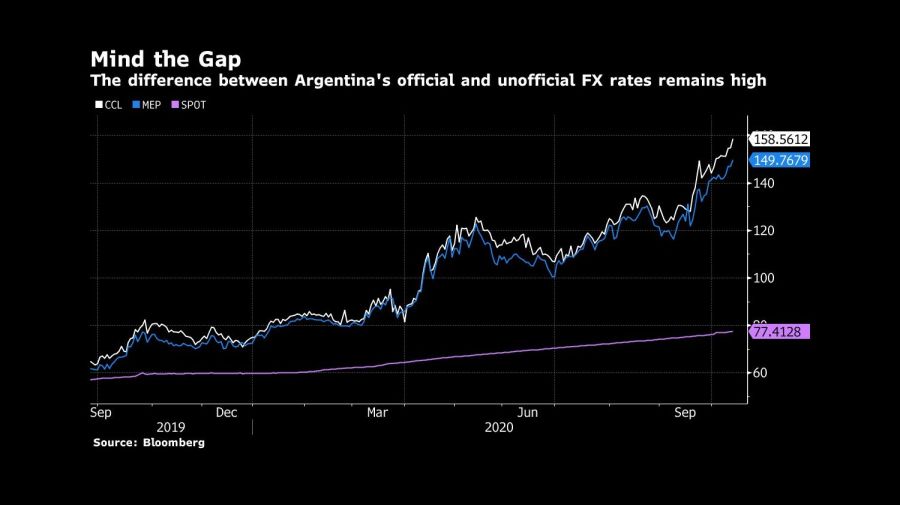 Amid elevated uncertainty, Argentines are pulling their dollar deposits out of the bank while others seek to exchange pesos for dollars on the black market without restrictions. Fernández blamed the rising unofficial exchange rate on a lack of foreign tourists bringing greenbacks into the country due to the Covid-19 pandemic.
"There's a huge scarcity of dollars that come from abroad because tourism is completely closed off, and that's where there's a major tension regarding the value of foreign currency," said the Peronist leader.
– TIMES/BLOOMBERG
In this news