Argentine investors are growing increasingly pessimistic on the peso, betting it's inevitable the government will be forced to speed up devaluation after November elections.
Soaring demand for hard currency means dollars now cost 196 pesos on the parallel market used to skirt currency controls, almost double the official rate. It's the largest gap in 12 months.
Other market gauges also reflect the desperation Argentines feel to get their savings out of pesos. Flows to dollar-linked investment funds in October are already the highest for any month in the past year. Futures contracts show traders betting on 152.5 pesos per dollar in September 2022, 35 percent weaker than the current official rate.
"There's a growing consensus that this is not sustainable," said Alejandro Cuadrado, head of Latin America foreign-exchange strategy at Banco Bilbao Vizcaya Argentaria SA in New York. "There is an indication of severe currency stress in the markets, and normally when you reach these types of spreads, the government has to do something."
President Alberto Fernández's dilemma boils down to the fact that his government has insisted on a slow depreciation of the official exchange rate, keeping the currency overvalued in an attempt to tamp down on inflation running at more than 50 percent annually. A swift devaluation would help ease the stresses on exporters and lure foreign investment, but could add pressure to inflation, and would almost certainly be politically costly for Fernández's coalition before next month's legislative elections.
Argentine investors hedging against the prospect of a currency crash is nothing new, of course. The parallel markets for buying hard currency exist because of limits on dollar purchases at the official rate, itself a sign that the government knows the currency is overvalued. The black-market rates also saw spikes in 2011 to 2015 when former president Cristina Fernández de Kirchner used strict currency controls and populist policies to manage the economy.
This time around, politics is playing an outsize role in the pessimism. The belief among some investors is that Alberto Fernández's government has kept the peso artificially strong to make the economy appear better than it is before the elections in which 151 national lawmaker seats are up for grabs. The government will acquiesce to the reality of the situation after the vote, and either speed up the peso's daily declines or do a one-off devaluation to bring the rate closer to where it should be, according to BBVA's Cuadrado.
That promises to be painful for Argentines who have most of their savings in pesos in an economy that's already in bad shape. Gross domestic product shrank 10 percent last year during the pandemic, and poverty climbed to 40.6 percent in the first half of this year. Meanwhile, officials are seeking to renegotiate debts with the International Monetary Fund as it confronts what Cuadrado says are an all-but-depleted pile of liquid reserves.
Economy Minister Martín Guzmán said Wednesday the central bank's foreign reserves are sufficient to maintain the government's currency policy. He said there are no plans to devalue the peso in any significant way.
For now, though, Argentines seem to be preparing themselves for a swift decline, getting out of pesos and "dollarising" their savings by buying up any assets immune to a currency crash.
"The dollarisation process is natural, given the persistent levels of inflation and a lack of ways for investors to protect themselves," said Fernando Losada, head of emerging markets research at Oppenheimer & Co. "It's also due to Argentina's high public spending, because if there's an excess supply of pesos, there will be an excess demand for dollars."
Since primary elections in September that showed Fernandez's ruling coalition with less support than forecast, his administration has ramped up populist policies in a bid to win back votes. The government has expanded price controls, restricted some imports, increased social spending, and sped up money printing to pay for it all.
"This behaviour also tells us that the government will not be able to delay the devaluation by much after the elections," Marcos Buscaglia, founder of Buenos Aires-based consultancy Alberdi Partners, wrote in a note.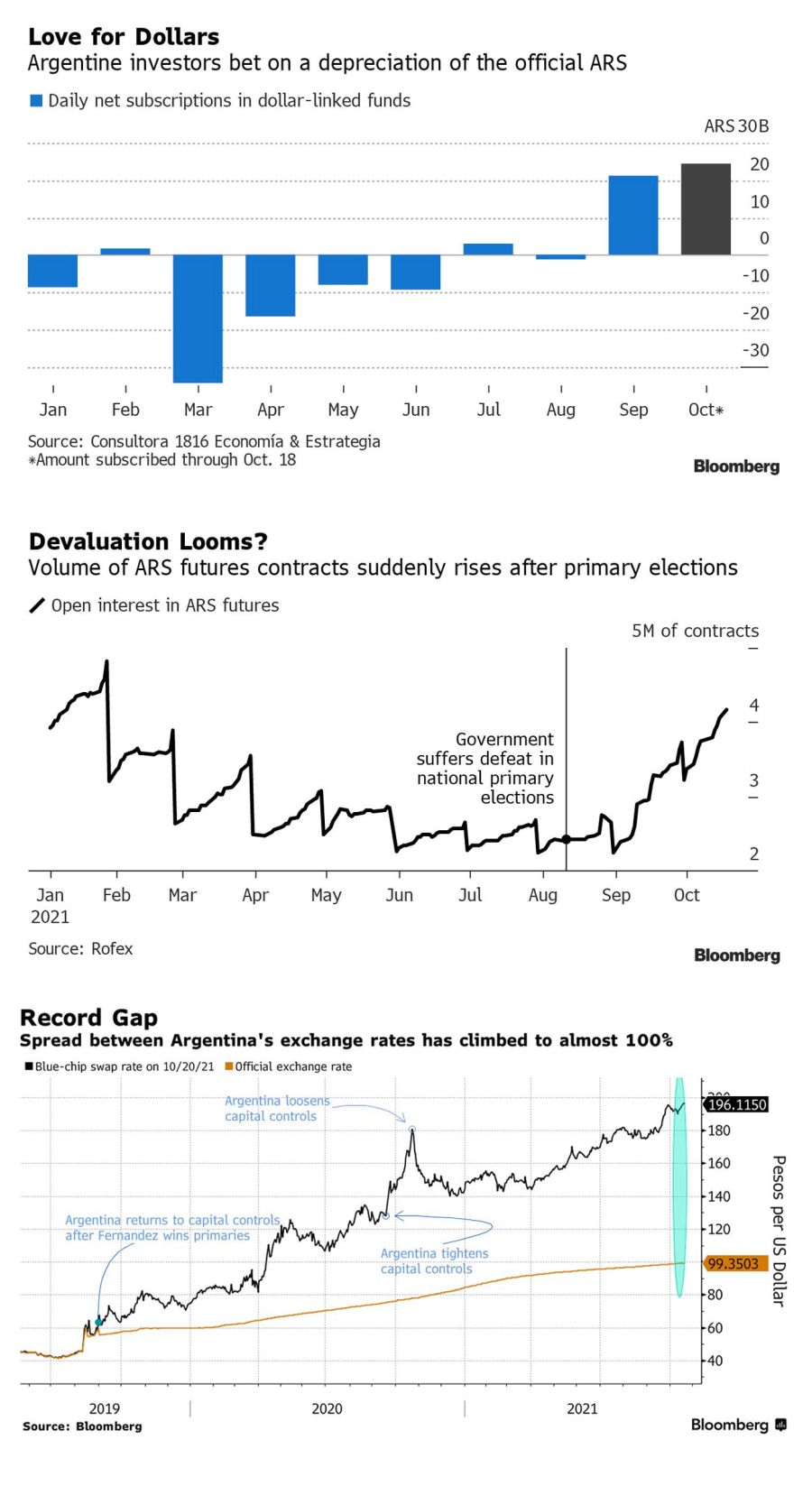 by Scott Squires & Ignacio Olivera Doll, Bloomberg