Less than five days out from Alberto Fernández's December 6 deadline for announcing his Cabinet, three key posts remain open: the ministries of Security, Transportation and Economy.
According to one source, the last few weeks have been characterised by frenetic negotiations around who will make up the president-elect's Cabinet. This chaos is a function of the fact that, for the first time in 25 years, distinct sectors of Peronism are fighting for space within the government.
The incoming president isn't only discussing his Cabinet with his vice-president-elect, Cristina Fernández de Kirchner, but also with those who allied with him during the campaign and helped him achieve the sweeping coalition that ultimately won him the election.
One Peronist leader who was at Fernández's offices in Puerto Madero this week said posts had been defined, though negotiations had become bogged down.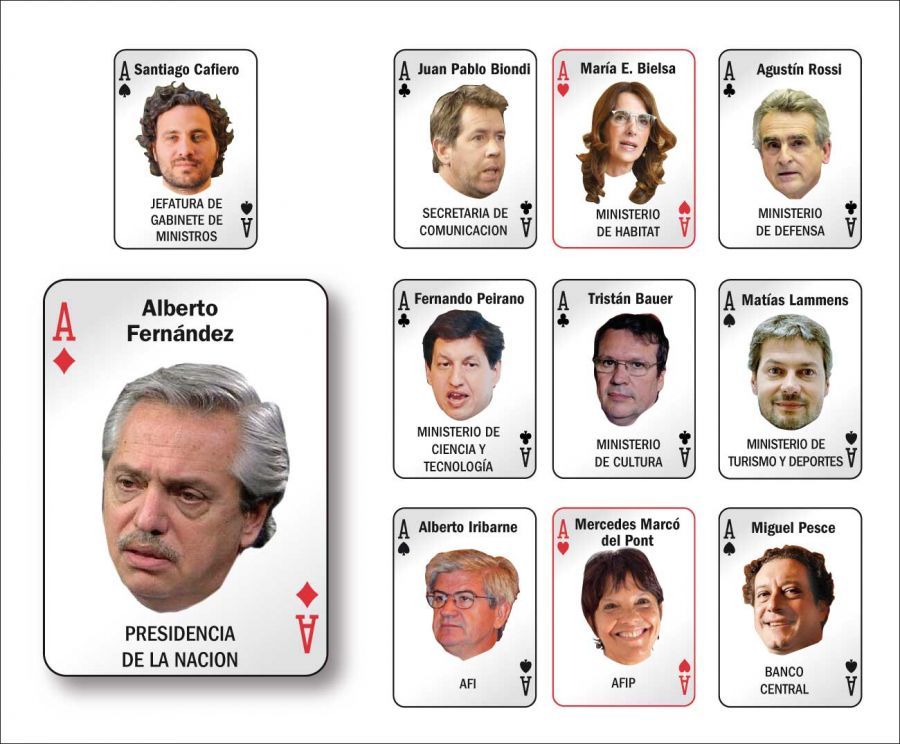 Security minister
This week, everything seemed to indicate that Diego Gorgal would occupy the important post of security minister. But on Thursday, Fernández dismissed the idea in a tweet that he deleted just a few minutes later.
Gorgal, a former security minister in the Buenos Aires City government who is closely tied with Frente Renovador ("Renewal Front") leader Sergio Massa, found out about Fernández's comments when the president-elect's future Cabinet chief, Santiago Cafiero, told him the situation "did not add up" and offered to find him another post in the government. Gorgal rejected that idea.
Sabina Frederic, an anthropologist and researcher at The National Scientific and Technical Research Council (El Consejo Nacional de Investigaciones Científicas y Técnicas, CONICET), has long been rumoured as a contender to head the Security portfolio. A specialist in drawing up public policy for the security forces, she was part of a team of experts that presented a plan to the incoming president on how to lead the ministry.
There's also been talk, thanks to the efforts of former security minister officials like Nilda Garré and Arturo Puricelli, there's also been talk of a figure close to Fernández de Kirchner taking the role. Former security secretary Sergio Berni, who served under the former president, was evaluated as a potential candidate, but he now will take up the same post in the Buenos Aires Province government led by Axel Kicillof.
However, at the offices of Puerto Madero, talks are still ongoing, with other, more "neutral" names, as well as those close to Fernández, under consideration. Examples include former deputy defence minister Germán Montenegro and Silvia La Ruffa, who responds to Juan Manuel Olmos, the Partido Justicialista ("Justicialist Party," PJ) leader in the City government.
"If Alberto finally somebody of his own in the role, he will have to pay attention to who will control the Gendarmerie [Border Guards] and Airport Security Police, which have [access to] intelligence," said a source close to Sergio Massa.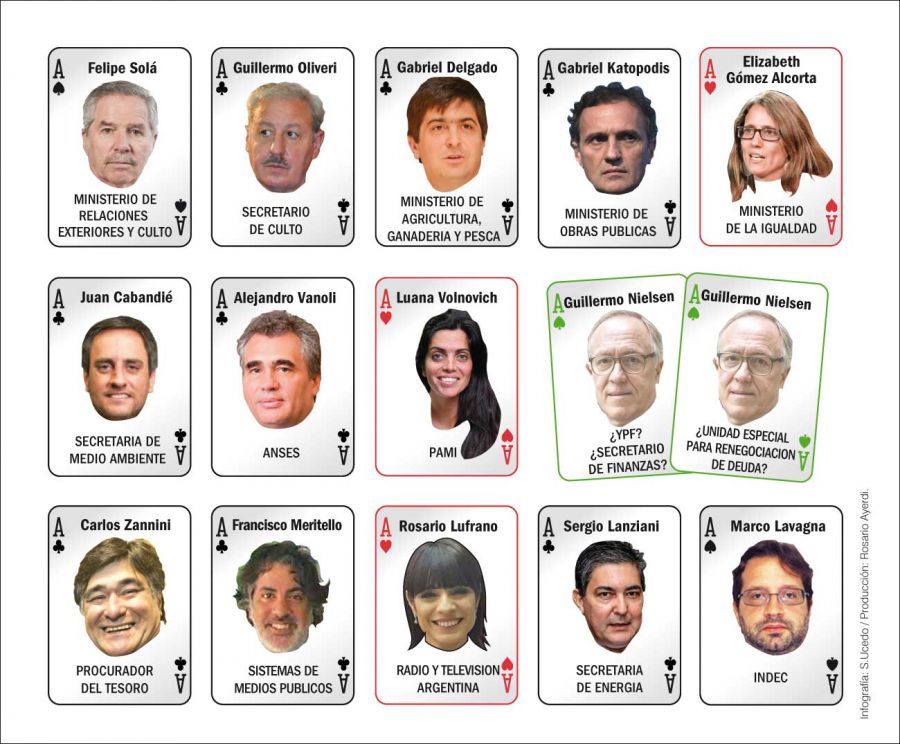 Cristina's influence
Another source from Fernández's future Cabinet said this week they hadn't been surprised by the influence Fernández de Kirchner has on the make-up of the incoming government.
"It's a partnership, and it's good that spaces are divided up,' the individual said. "They all want spaces and she – who contributed the most votes – shouldn't have her own?"
Others are less forgiving. One source from the PJ caucus in Congress warned that " on December 10, we'll see the final photo.
"In [the] Justice [Ministry], it will be Marcela Losardo, who is 100 percent Abertista, but if the representative of the government in the Council of the Magistrates is Gerónimo Ustarroz, it will mean that the vice-president will control that area," the person said.
The Transport Ministry has also been a point of dispute in recent weeks.
Frente Renovador lawmaer Raùl Pérez looked set to get the nod, with Eduardo 'Wado' De Pedro taking over the Interior Ministry. However, Pérez never received an official offer from Puerto Madero.
Instead, Fernández has offered the position to Córdoba senator Carlos Caserio. However, this week – and a decade on from when they last spoke – Caserio met with Fernández de Kirchner and asked her permission to continue in the Senate, where he presides over the Budget Commission. Caserio, a former ally of provinicial governor Juan Schiaretti, will meet again with Fernández this week to determine his next step.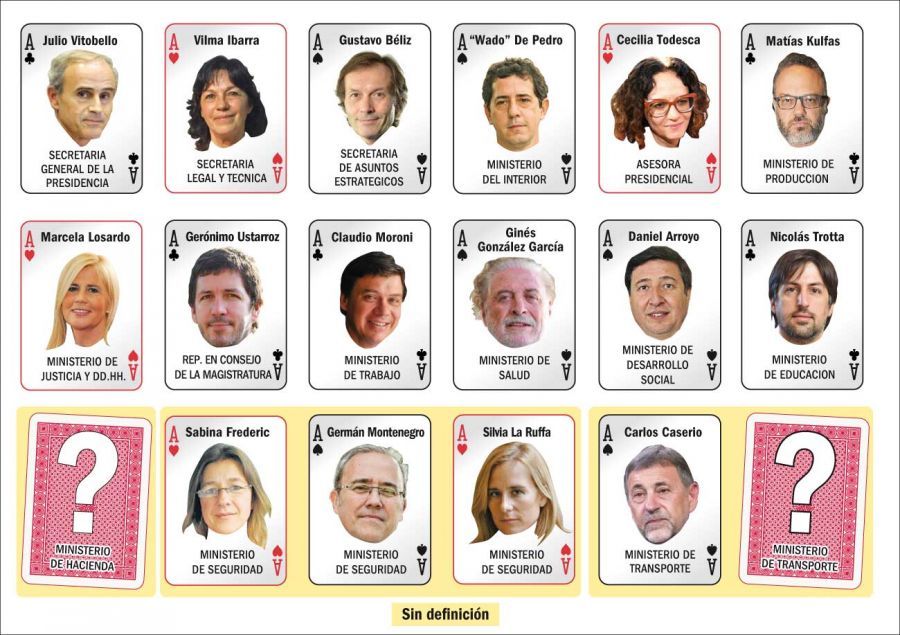 Eyes on economy
The principal enigma continues to be the Economy Ministry. There is little doubt that Matías Kulfas will be in charge of a strengthened Production Ministry, but it remains to be seen who will run the Treasury and Finance Ministry.
Could economist Guillermo Nielsen be finance secretary? Yes, but his name has also popped up in discussions for key positions like the head of the state-run energy giant YPF, the Energy Ministry or even leading a special unit to oversee debt renegotiations, as he did during the Néstor Kirchner government.
On Friday, December 6, Fernández will finally make public the names of his future cabinet members. Apart from the three main areas of uncertainty discussed — security, transportation and economy, many already have official confirmation. These include: Julio Vitobello (secretary general of the Presidency), Santiago Cafiero (Cabinet chief), Vilma Ibarra (Legal & Technical secretary), Gustavo Beliz (Secretary of Strategic Affairs), Juan Pablo Biondi (Communications secretary), Eduardo 'Wado' de Pedro (Interior Ministry), Gabriel Katopodis (Public Works), Marcela Losardo (Justice & Human Rights), Alberto Iribarne (AFI intelligence services, Carlos Moroni (Work), Felipe Solá (Foreign Ministry), Daniel Arroyo (Social Development), Agustín Rossi (Defence Ministry), Fernando Peirano (Ciencia y Tecnología), María Eugenia Bielsa (Habitat & Living).
Other names have circulated for weeks and they appear to be final. These include: Gabriel Delgado (Agriculture, Cattle & Fishing), Sergio Lanziani (Energy secretary), Luana Volnovich (PAMI agency), Miguel Pesce (Central Bank chief), Nicolás Trotta (Education), Tristán Bauer (Culture), Meritello (State Media).
Then there are pages that have been confirmed in recent days, such as Ginés González García (Health), Mercedes Marcó del Pont (AFIP tax agency), Matías Lammens (Tourism & Sports Ministry), Juan Cabandié (Environment), Alejandro Vanoli (ANSES social security agency), Marco Lavagna (INDEC national statistics bureau), Elizabeth Gómez Alcorta (Equality), and Carlos Zannini (Attorney general for Treasury).