Police officers clashed with a group of protesters early Thursday morning as they evicted hundreds of families squatting in makeshift homes at an encampment on private land in Buenos Aires Province.
At least six police officers from the provincial force were injured and more than 30 individuals were arrested as tensions rose during the operation, according to the authorities.
The poverty-stricken occupants have occupied the Guernica encampment in the Presidente Perón partido for more than three months. Hundreds of families have been living in shacks, in a reflection of the growing poverty and lack of housing for many people in Argentina. The pandemic and lockdowns aimed at stopping the spread of Covid-19 have aggravated the country's economic problems.
The owners of the occupied land in Guernica had gone to court to reclaim the property.
Many people left peacefully when security forces entered the property early Thursday morning after negotiations between authorities and the occupants failed. Some resisted, throwing stones at police.
Police then demolished the homes, some of which were made of wood, cardboard and sheet metal. Some evictees gave tearful interviews to local media outlets as some of the makeshift shelters were set alight.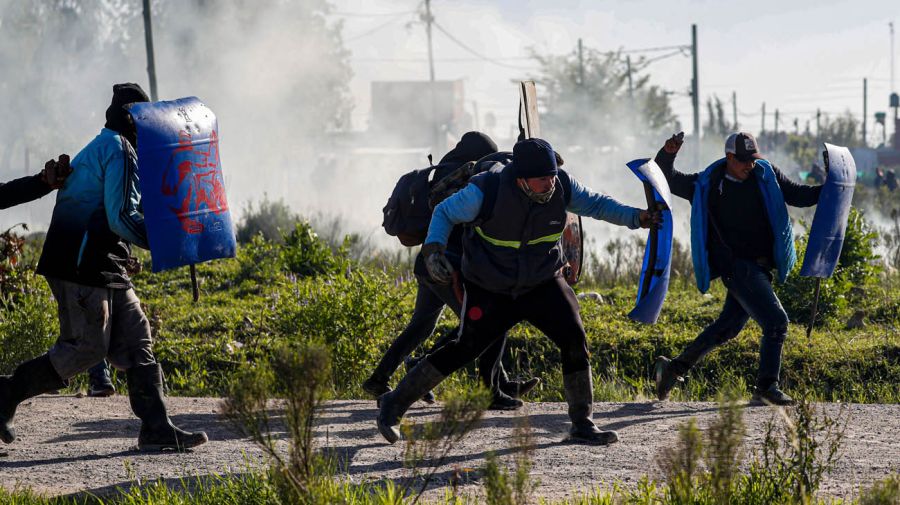 Some 600 families had previously signed an agreement with authorities to leave the property. In return, they received building materials and money to pay rent.
The prosecutor in charge of the land seizure case, Juan Cruz Condomí Alcorta, confirmed to the TN news channel that the clearance was "completed."
"The eviction was completed, the clashes took place off the property," said Condomí Alcorta, who said officers had sought to ensure that none of the occupants of the land were injured.
According to reports, rubber bullets were fired at those who refused to leave the encampment. Some families claimed that their possessions had been set alight before they were allowed to retrieve them.
– TIMES/AP