Sugar giant Ledesma is facing a potential legal challenge over fires which have ravaged a protected area in Jujuy Province.
Authorities at the Calilegua National Park have filed a writ seeking an investigation into the causes of a fire thought to have started on neighbouring land owned by the Blaquier family firm. The company says it is cooperating with efforts to tackle the blaze and will work with the authorities to identify the source of the blaze.
So far fires near Route 34 north of Libertador San Martín in Jujuy Province have burnt a total of 11,184 hectares, including 3,220 hectares of national park, home to jaguars, capuchin monkeys and more than 370 species of birds.
The first broke out more than a month ago, on September 18 at Zanjon Seco, while a second fire further north at Yuto began in the early hours of October 10. Another at El Bañanal began over the weekend.
A team of 66 firefighters from the Servicio Nacional del Manejo de Fuego (National Fire Management Service, SNMF) have joined the efforts to quench the flames, supplementing more than 300 locals already tackling the blaze, with 40 more officers due to join in the next few hours.
A dramatic aerial video published by El Tribuno newspaper in Jujuy shows the fire damage so far.
Cecilia Iriarte, head warden at the Calilegua National Park, told the Times: "Both fires started outside the protected area, in fincas and private properties. We don't know if the fires were started intentionally or accidentally, but they were the result of human action.
"We haven't had any big fires in the last four years. The last was 200 hectares in 2010. But we've had a lot of wind, and the area is very dry from lack of rain. In the part of the park that is affected, there aren't any animals, they are in other parts: it's mostly indigenous woodland."
The writ, lodged by the national park's authorities with Dr. Sebastián Jure leading Prosecutor's Office No. 1 in Jujuy, demands an investigation into how the fires started.
Ignacio Duelo, a spokesman for Ledesma, said: "It's not clear where the fire started, there are different seats. We think this could have happened on the edge of Route 34, where people go out to enjoy the open air.
"It's company policy that we don't burn except in very remote areas which the machines can't reach. We have our own dedicated team of 26 firefighters who have been helping [the efforts]. We've put our airstrip at the disposition of the fire service so they can refuel the planes carrying water. Ledesma is also providing fuel, as well as sugar and oranges for the firefighters."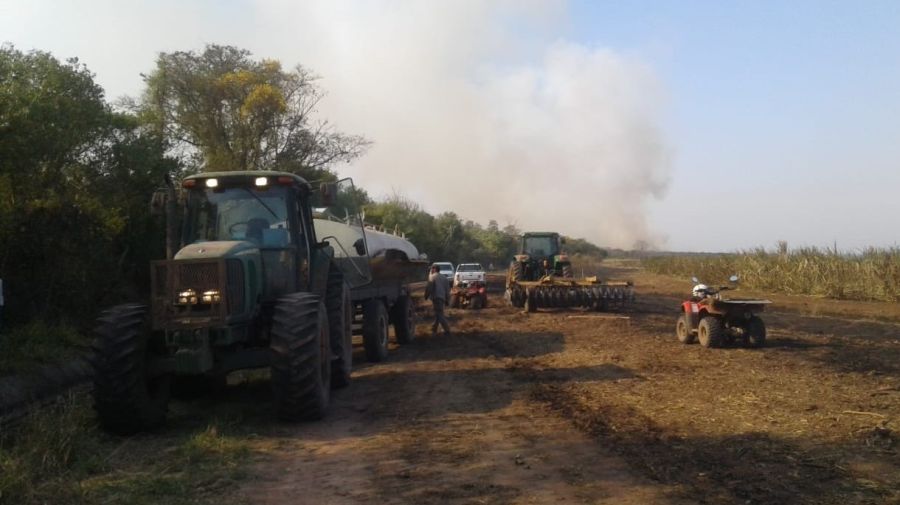 State of emergency
On Thursday the Jujuy provincial government declared a state of emergency over the forest fires, which have ravaged over 15,000 hectares in the province. They have set up two new bases, one near Calilegua and one in the Quebrada de Humahuaca, and increasing penalties for anyone found guilty of starting fires.
Argentina has been ravaged by a host of wildfires this year. Neighbouring Salta Province is the worst affected in the country at present, with nine active fires, according to today's daily report from the SNMF.
By mid-October, 16,763 hectares had been burnt in the province this year, compared to 9,772 hectares in the last three years put together.
The worst fires are in the northeast of the province, around Orán and Tartagal, where a drop in temperature and wind velocity over the last week has reduced the amount of hectares ablaze from 3,800 hectares to around 1,000.
Salta's Director of Civil Defence Jorge Arce, who heads the team of 150 firefighters, said: "We're tackling an area which is very difficult to access. Luckily, towards the end of the week, it was drizzling, and we have a forecast for rain.
"August, September, up to mid-October is the critical time for us, as it's dry, windy and it hasn't rained for a long time."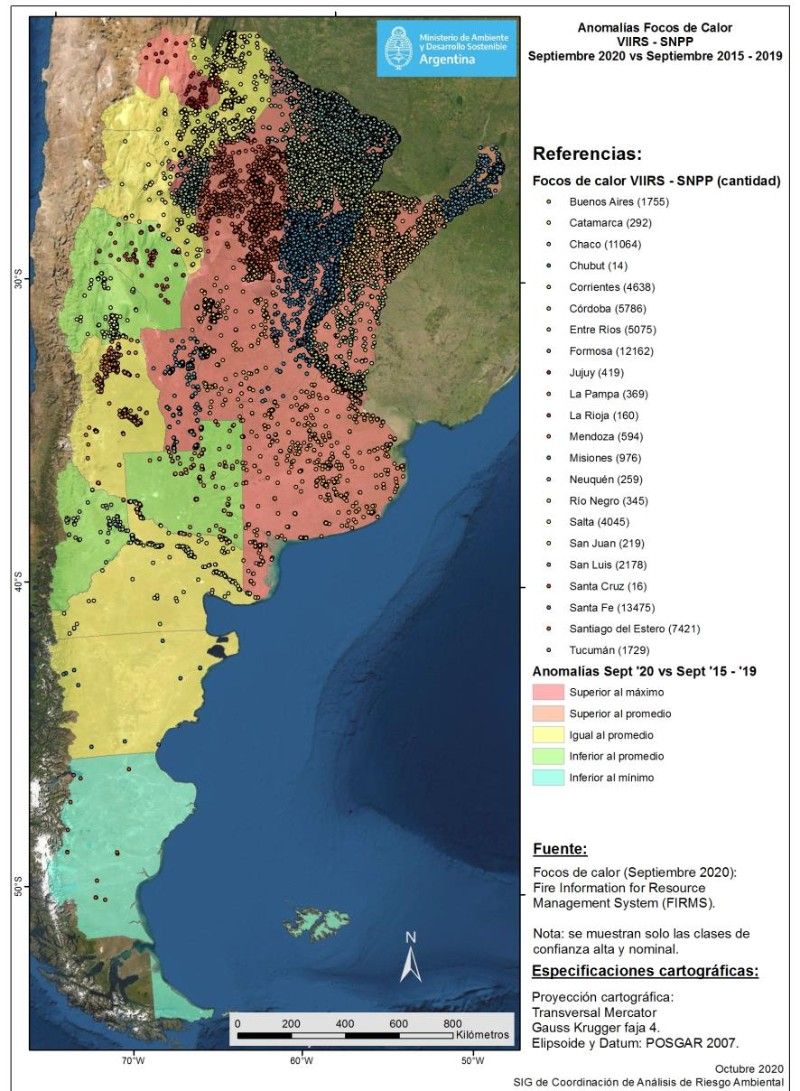 Rain arrives in Córdoba
Meanwhile, a blessing came from above in Córdoba, as rain arrived in the province which has suffered more than any other this year, with the death of two residents, and 2,410 sq km burnt just in September.
The province's Head of Risk Management Claudio Vignetta told a local radio station: "The water has been a great relief, it rained in almost all the places where we had fires and this has massively reduced the intensity."
Today, around 95 firefighters from the SNMF joined a local crew in tackling blazes at Villa Berna and Capilla del Monte, while 33 people were evacuated from their homes.
The SNMF, which is only called in when local firefighters can't cope on their own, revealed in their October fire danger report that they had 250 emergency calls from eight different provinces during September, more than five times the monthly average of 46.
In 2020 so far, they have had more than 1,000 calls for assistance, the highest since records began 22 years ago.
Areas affected include the national park of Islas de Santa Fe, a protected area of just over 4,000 hectares and Boca de la Milonga in Entre Ríos, both on the delta of the Paraná Delta, which has been ravaged by fire: though rain has recently helped pacify the worst of the blazes.
Since our special report, the SNMF calculate that nationwide a further 1,290 sq km has been burnt in just one week. That's now a total of 8,988 sq km burnt in Argentina so far this year – bigger than the landmass of Puerto Rico and 44 times the size of Buenos Aires City.
There are seven other provinces with fires still active today: Catamarca with three, Tucuman with two and San Luis, Santa Fe, Entre Rios, Corrientes and Neuquen with one each.
"We need to change the culture. Lots of people think they can light a controlled fire, but they discover it escapes them. Our message to people who go fishing, who go out to enjoy the countryside, is: Please don't light a bonfire," said Arce, the Salta official.