President Alberto Fernández welcomed Diego Armando Maradona to the Casa Rosada on Thursday, with the Argentine footballing legend later taking to the building's famous balcony.
Maradona, currently the coach of local side Gimnasia y Esgrima La Plata, presented a plan to the president which its organisers hope will provide more footballing opportunities for Argentina's most deprived neighbourhoods.
The legendary number 10 is the figurehead for the 'Proyecto Potreros' project, which aims to "recover" the so-called potreros, the semi-improvised spaces where youngsters historically played.
A number of Argentina's most-famous footballing sons – including the likes of Carlos Tevez – first ignited their careers in such places, and this new campaign aims to recuperate this spaces and offer food banks there too, so undernourished children can be fed.
Maradona met with Fernández in the president's office at the Casa Rosada, with a series of photographs shared on social media. One image showed the duo seated in discussion, with several football shirts and a ball around them.
According to reports, Fernández asked his idol to sign an Argentinos Juniors shirt – the president is a fan of the club at which Maradona started his career in the 1970s.
After the meeting, Maradona took to the balcony of the Casa Rosada, where he famously appeared with his Albiceleste team-mates back in 1986, presenting the World Cup to ecstatic Argentines. This time around, however, there awaited below just a handful of Argentines, Casa Rosada staff and tourists passing by.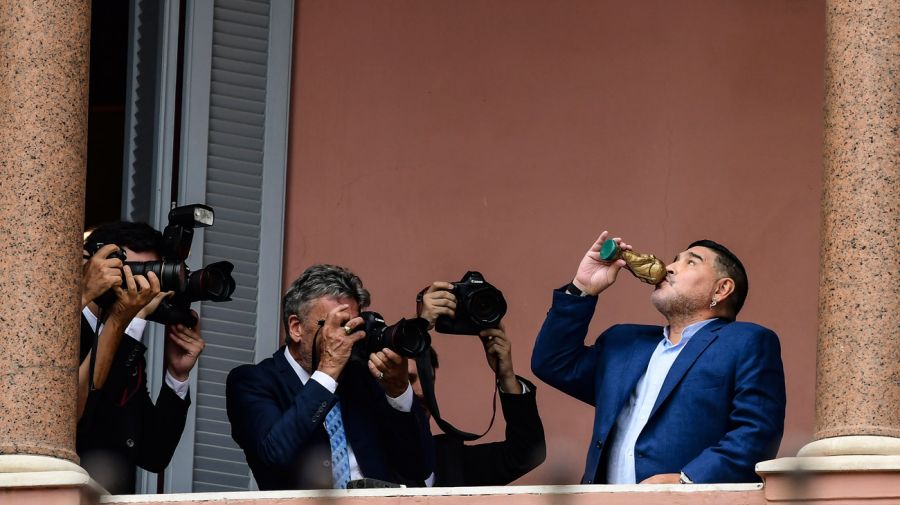 Nevertheless, el Díez didn't miss his chance to spark a little controversy, yelling "They are not coming back!" – a reference to former president Mauricio Macri's government. (Maradona, of course, was famously friendly with iconic Latin American leftist leaders Fidel Castro and Hugo Chávez.) He then yelled that Macri should "go live in Thailand."
Finally, some images of him on the balcony were filmed, with the scenes destined for a future documentary about the player, according to reports.
Maradona had entered Government House through the Hall of Busts entrance at around 12.30pm, accompanied by his lawyers Matías Morla and Víctor Stinfale.
In an Instagram post last week Maradona revealed that he spoken with President Fernández via telephone, declaring that Argentina's leader has "the support of the entire Argentine people."
Fernández, and Vice-President Cristina Fernández de Kirchner, know the "struggle" facing the Argentine people "is not for dollars, but for bread," Maradona wrote.
– TIMES/AFP/NA