Thousands of supporters rushed to Villa Crespo in anticipation for Javier Milei's closing campaign rally on Wednesday night, gathering in large numbers outside the Movistar Arena.
Everywhere black-and-yellow banners flew in the air, each featuring a printed lion and the slogan "MILEI PRESIDENTE" written at the bottom. Trumpets rang, drums pounded, and smoke flares ignited as people cheered as they waited for their libertarian leader.
La Libertad Avanza presidential candidate Javier Milei proposes more freedom for citizens, pushing for freer markets, more capitalism wherever it will go. With the current economic crisis in the country, Milei's libertarian views appeal to the crowd — dollarising the economy, cutting government spending, and privatising state-run companies. He is also in favour of the right to bear arms, legalising the sale of organs, and opposition to abortion.
For many headed to the rally, Milei is a symbol of hope for working-class Argentines living under high inflation. Poverty affects more than 40 percent of the population.
Thirty-nine-year-old truck driver José, a former soldier, holds the national flag close to his heart. He beams with energy while sporting Argentina's light-blue-and-white football shirt. He says Milei inspires confidence: "He will win, I already feel it."
From San Luis and Moreno to San Isidro and Buenos Aires, they have come from all over. As the devoted stop to buy branded Milei hats and flags, a group of street vendors explain how they have followed Milei's campaign and joined the marches and rallies.
"We like Milei's ideas and we pay for our tickets like this. It is the way to make some pesos and how we all earn a living," said Daniel, who came from Mendoza, more than 1,000 kilometres west of the capital.
People are tired of Peronism, says Daniel. Milei's distinct branch of liberalism has filled the vacuum.
"This man [Milei] arrived, who is a libertarian, and it seems that this sector of Radicals [voters of the Unión Cívica Radical], of Peronists, have changed their mentality a little and left behind the idea of ​​freedom," he explains.
For the vendor, there is grief in how Argentina, once a rich country, has not moved forward. This is what moves people to support Milei.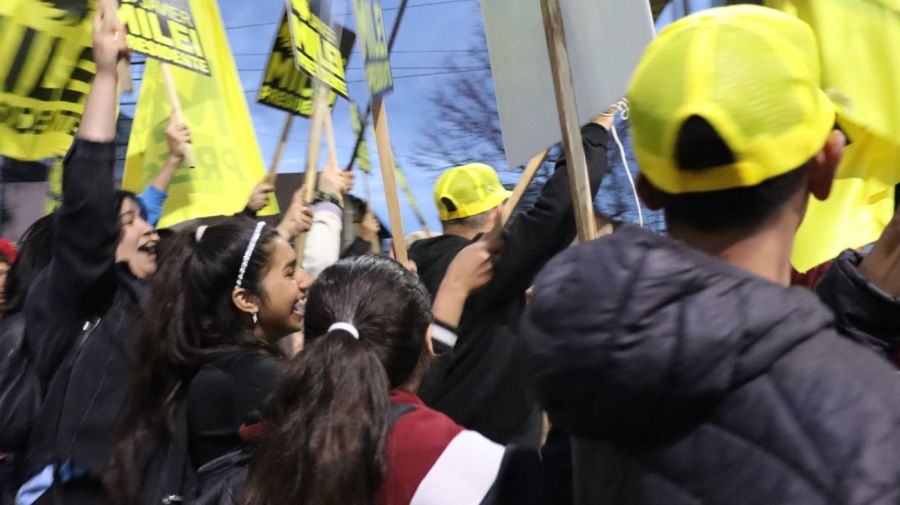 "If the other party wins I will leave the country," agrees 17-year-old Nicolás, who says he is concerned about the future and being able to afford a living in Argentina. "If Milei wins I'll stay."
A first-time voter, Nicolás says many of his friends of similar age support the 52-year-old economist as well.
Nicolás says his parents are not in agreement, that they're more closed off though. "They don't want to open their minds and vote for someone different," he confides.
Nevertheless, he says they respect his decision and agreed to accompany him to the rally to give Milei a chance.
Presenting himself as an outsider, Milei has often been compared to populists like former US president Donald Trump and former Brazilian president Jair Bolsonaro. The fact is not lost on his supporters, with some people seen wearing "Make Argentina Great Again" hats – an echo of Trump's signature garment – as they walked into the rally.
Freedom is reverberating and Milei's outsider perspective is just what his supporters want.
"I always say that Milei is a circumstantial character who represents us today," said public accounting student Carolina, 46, a longtime supporter of the libertarian lion. "But perhaps later it will be somebody else."