Fans, players and staff of Racing Club celebrated long into the night on Sunday after La Academia secured its ninth national league title of the professional era, after a 1-1 away draw against Tigre.
For Racing, one of the traditional five giants of Argentine football, it was the team's second title in the tournament in five years. The traditional light-blue-and-white club have 18 national league titles overall, including those from the amateur era.
The team from Avellaneda, on the outskirts of Buenos Aires, lifted the league title with one game in hand after second place Defensa y Justicia drew 1-1 with Unión de Santa Fe.
Sunday's results kept the distance between the top two to four points, with Racing on 56 and Defensa y Justicia on 52.
CLICK THE IMAGE ABOVE TO OPEN A PHOTO GALLERY
Racing opened the score at the Estadio José Dellagiovana thanks to midfielder Augusto Solari on 57 minutes. Tigre levelled in the dying seconds of the match with a free kick by defender Lucas Rodríguez.
Racing's title-winning campaign racked up 17 wins, five draws and only two defeats in 24 matches. The champions will face second place Defensa y Justicia in the last round of the tournament, which just weeks ago looked like it would be a title deciding clash.
Coach Eduardo Coudet has now won his first title in his short career, after losing two finals of the Copa Argentina with Rosario Central.
"We deserved to be champions because we held the first place since the fourth round," Racing's coach told the media.
Racing's main player in the tournament was veteran striker Lisandro López, currently the league top goal-scorer on 17 goals.
Fans flocked onto the streets of Avellaneda and Buenos Aires to celebrate, with tens of thousands congregating at the capital's Obelisk.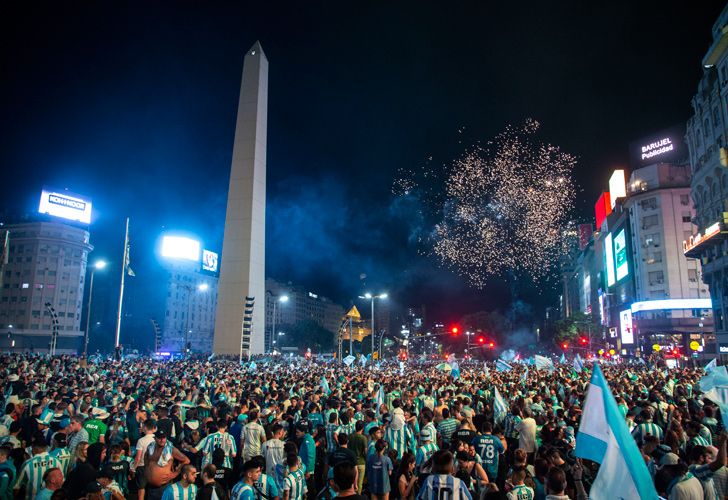 Celebrity fans and politicians celebrate
A raft of celebrity fans and politicians quickly took to social networks to share their delight at Racing's latest title.
Among them was legenday actress and presenter Mirtha Legrand, who posted an image on Twitter celebrating the title with the caption: "@RacingClub champion! What happiness! Come on, Academia!"
Buenos Aires City Mayor Horacio Rodríguez Larreta also celebrated, writing: "We are champions again!"
Former governor of San Juan province and sitting president of the national Justicialist Party (PJ) José Luis Gioja also celebrated the victory, using some choice language.
A number of ex-Racing players and coaches also used social networks networks to celebrate the 18th title in the history of the club, if titles from the non-professional era are counted.
La Academia were one of the best-performing teams of the amateur era, winning titles in 1913, 1914, 1915, 1916, 1917, 1918, 1919, 1921, 1925.
In the professional era, the team have bagged league titles in 1949, 1950, 1951, 1958, 1961, 1966, as well as the 2001 Apertura, Transición 2014 season and the 2018/2019 Superliga.
- TIMES/AP
In this news