It was getting on to 2am in Casilda, so the story goes, when Jorge Sampaoli received an unexpected proposition. The newly appointed Sevilla coach was making his final preparations prior to moving to Spain in May 2016, and had gathered his nearest and dearest to his hometown deep in rural southern Santa Fe Province to mark his parting in traditional fashion, with a farewell asado.
As the chilly evening wore on Sampaoli and his guests continued at the table, when their post-meat conversations were interrupted. Turning up unannounced at the former Chile boss' home, the visitor from nearby Pujato requested an audience with the host. "Jorge", the interloper apparently began, "my son would be very useful for you in the Sevilla staff, he hasn't started yet but he's a great person, professional and in the future a great coach."
As fateful meetings go, that summit in Casilda was crucial. Sampaoli could have ignored the petition and carried on packing his suitcases, but he decided to take heed of his guest's advice and recruit his son once settled in Seville. If he had not, it is likely that the beloved Scaloneta would never have even existed.
The young coaching hopeful in question was, of course, Lionel Scaloni, who thanks to his father's efforts got the nod in Spain and then followed Sampaoli to the national team before later taking charge himself. Surely nobody, not even the immensely proud Scaloni Sr, could have imagined that just six years after that intervention his son would be leading Argentina to a World Cup – and that expectations for a strong campaign are higher than ever.
Argentina kick off their long-awaited campaign this Tuesday in Group C. First up are Saudi Arabia, followed in quick succession by Mexico and Poland to finish off the opening round by the end of November. Win that group, and the route to the latter stages suddenly looks far more inviting, with the usual suspects – Brazil, France, Germany – likely to be safely ensconced elsewhere in the knockout draw and out of reach until the semis. Fail to finish first, and Scaloni's men would face a tortuous route to glory. Do they have what it takes?
All indications pre-tournament suggest that they do. Wednesday saw Argentina finish off preparations with a 5-0 demolition of United Arab Emirates, their first outing since September. The usual qualification about inferior friendly opposition (despite the UAE giving their visitors a few rocky moments over the ninety minutes) must again be applied here, as with the previous games against Honduras and Jamaica. But one must still win these games, and here the Albiceleste are most certainly meeting expectations.
The clash in Abu Dhabi marked the side's 36th game without defeat. Two more will see them overtake Italy to take the record, which began in the wake of Copa América defeat to Brazil all the way back in 2019. These past three years have truly been golden for Scaloni, Lionel Messi and Co, transforming a much-questioned Argentina team into a dynamic, well-oiled unit which has destroyed whatever opposition stands in its way. But it is not just the results, but the manner in which they have been racked up which gives most cause for hope.
So often in the past Albiceleste teams have been cursed with a critical imbalance. The presence of ace forwards like Messi, Ángel Di María, Sergio Agüero and Gonzalo Higuaín has been tempered by glaring weaknesses elsewhere on the pitch, most notably at the back.
That is not a criticism which can be levelled at the Scaloneta. From the inspirational Emiliano Martínez in goal, through the strongest defence the nation has boasted in a generation - and which only seems to be getting more formidable, as Lisandro Martínez made a convincing case for his own inclusion on Wednesday with a towering performance – and a multi-functional midfield unit headed by Leandro Paredes and Rodrigo De Paul to the usual lethal forward line, Argentina could well argue they arrive in Qatar with the best all-round first XI of any team present at this World Cup. There are no concerns over depth, either: be it Martínez in the middle of defence, Alexis MacAllister pushing forward from the engine room or the brilliant Julián Álvarez, those on the fringes of the starting line-up are showing themselves more than capable of stepping up if needed.
Not to say that all is rosy. The absurd placement of this World Cup in the middle of the European season has had a devastating effect on players' fitness, and Argentina's charges are no exception. Scaloni goes into the final days before the curtain-raiser still sweating on the health of several key figures, with the likes of Cristian Romero and Nicolás González playing no part in the friendly.
Scaloni was visibly irritated at having to answer questions over those absentees after the final whistle and hinted that the 26man squad for Qatar could still undergo changes prior to facing Saudi Arabia. "It's true there are some who didn't play as a precaution and because they had a problem and we didn't risk them. There is a chance to change the list," he explained.
"It depends on how the injured players fare. The rest played and you can't say much more, they're all big enough boys to say if they're fit to carry on or not. I cannot guarantee that those players [who didn't play] are OK. We have to be cautious, that's why we rationed the minutes out. We have a few little problems and a few days to decide the list. Let's hope not, but we have the chance to change it."
The effect on the football calendar is of course just one of the criticisms that has dogged this most unusual of World Cups. The appointment of Qatar as host nation has been problematic from the start and accompanied by serious allegations over its fitness to stage such a prominent world event, from accusations over the treatment of migrant workers tasked with building the state of the art arenas which will soon house the game's finest players to the country's stance on rights for women and the LGBT community.
Even Sepp Blatter, disgraced former FIFA head who was forced to resign following the corruption scandal that swept the organisation a few years back and, to all intents and purposes in the football world, evil personified, has spoken against the upcoming tournament. "Qatar is a mistake," he fired to Swiss newspaper Tages Anzeiger. "The choice was bad."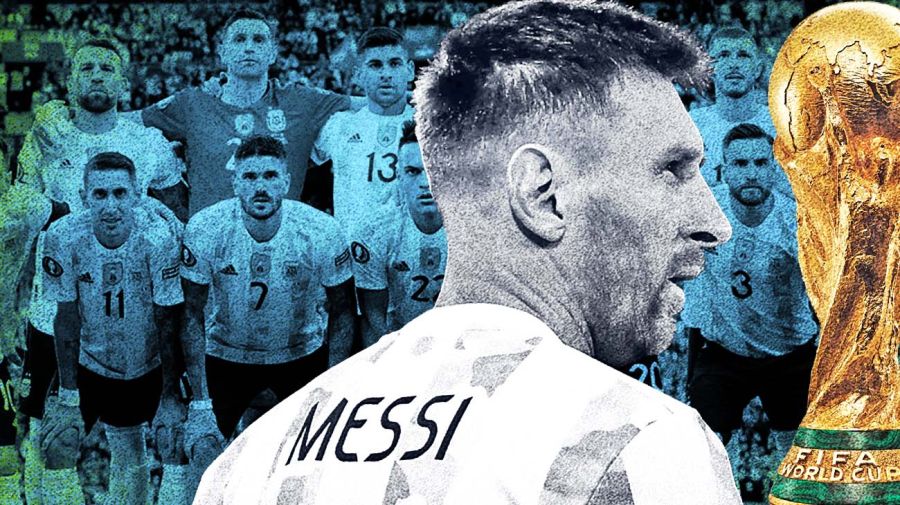 All of that has added up to more of a muted atmosphere than usual leading up to kick-off. In many countries World Cup fever has simply failed to catch, adding to fears that the next four weeks will prove a bitter disappointment and, more than that, a damning indictment of FIFA's seeming quest to prioritise revenue and commercial interests over fans' interests. We may be at a crossroads where the game is concerned, with supporters pushing back more and more over naked cash-grabs like the abortive efforts to create a European Super League, and if the World Cup ends up a flop, it will only add to the questions over where we go from here.
Not that any of that sentiment has been evident locally. Argentina has been gripped by the build-up to the competition, with a fervour and expectation that is palpable in every corner of the country. Whether it is the obsessive collecting of Panini stickers – causing a nationwide shortage and minor scandal earlier in 2022 – or the tens of thousands who have somehow defied the biting local economic crisis to arrive in Qatar and stay there for the duration, the excitement over this World Cup could barely be higher – and aside from the usual thrill of the global festival of football, Scaloni and his record-breaking troops are largely responsible.
It has certainly been a long journey for the coach. After a long and solid, if rarely spectacular, club career as a right-back which took in spells with Newell's Old Boys and Estudiantes locally and then the likes of Deportivo de La Coruña, Lazio, West Ham United and Mallorca as well as seven Argentina caps before he finally retired from the game in June 2015.
Scaloni was so captivated by life in Mallorca that he made the Balearic island his home after hanging up his boots, and while he awaited the chance to begin the next phase of his life in football. He began working with the club's youth divisions, all the while hoping to get the call from Sampaoli following his father's glowing asado recommendation that finally arrived shortly after taking the reins of Sevilla.
When Argentina turned to the 40-year-old in the wake of the 2018 World Cup it was a choice made almost by default. The nation's shambolic performance in Russia led to the inevitable decision to sack Sampaoli from his post after barely a year in charge and with him went most of the Albiceleste coaching staff, including assistant Sebastián Beccacece, one of the few men in the system with actual experience coaching at a first-team level. Scaloni managed to avoid the cull, asking to stay on, and was rewarded with a post at Under-20 level, where he immediately stood out after taking the Argentina youngsters to victory in the prestigious L'Alcudia tournament.
Even so, it was a rather slim CV for someone occupying one of the most important, pressured jobs in football. When Scaloni was appointed initially as the interim Argentina coach it appeared to be a short-term stopgap until one of the AFA's favoured candidates (a Marcelo Gallardo or Mauricio Pochettino, perhaps), made themselves available. Even the most optimistic could not have envisioned him staying on until Qatar, particularly after the Albiceleste's underwhelming 2019 Copa campaign which seemed to heighten the need for a change of personnel on the bench.
But Scaloni has faced his critics head-on and shut their mouths. He is not, admittedly, a tactical whizzkid, and is unlikely to be challenging the likes of Pep Guardiola any time soon when it comes to evaluating football's sharpest strategic minds. But what he seems to understand innately is that international football is as much about people as it is systems. Get the right team together, get them clicking, and the rest will follow.
On that last count, Scaloni has undoubtedly proved a huge success. The ever-crucial Messi is happier than ever at international level and showing it both in his body language around the camp and in every game he plays, including Wednesday's friendly where he contributed an assist for Álvarez and a typically magical goal to send out a warning to the rest of the competition. The need for renovation in the Argentina team had been evident since even the 2014 World Cup, but it was Scaloni who carried it out and made sure that not only would the next generation get their chance, but that the old guard would be respected and allowed to prove themselves. Di María is nine years Lautaro Martínez's senior, Nicolás Otamendi a full decade older than Romero; but all four have flourished under Scaloni and will be a key part of the quest for glory in Qatar these coming four weeks.
Whisper it quietly, then, lest we be accused of acting as a mufa and spelling doom for their chances, but there is plenty of room for optimism as we prepare to watch the Scaloneta click into top gear. The squad is brimming with confidence and ready to take the World Cup by storm, and much of the credit for that transformation over the last four years can be tracked back to the coach – and of course that pivotal asado in Casilda that set in motion this entire adventure.