This fourth edition of our annual review, compiled entirely from material from this newspaper, appears for the first time at the start of January rather than the end of December, thus looking back through the rear mirror at a year most people will want to leave behind.
We can all agree that 2020 needs little introduction, so without any further ado, here goes, week-by-week:
– JANUARY –
WEEK 1. The entertainment world bulks as large as anything in the holiday season with Justin Webster's Netflix documentary on special AMIA prosecutor Alberto Nisman's death just ahead of its fifth anniversary proving a widespread talking-point and United States film director Oliver Stone (feted by both President Alberto Fernández and Vice-President Cristina Fernández de Kirchner) in town. On the price front the government restores IVA value-added taxation to food items (eliminated by the previous Mauricio Macri administration as an electioneering gambit), while rolling back the 2020 extension of its transport fare freeze from six to four months after nixing the five percent hike in fuel pricing ventured by YPF chairman Guillermo Nielsen in order to lure investment for Vaca Muerta shale. Argentina starts the New Year out of "selective default" with Economy Minister Martín Guzmán servicing debt interest payments for now. As always, the third day of the year is the anniversary of the British occupation of the Malvinas Islands in 1833, bringing the usual assertions of Argentine sovereignty.
W2. President Fernández kicks off by confirming his plans to trim one percentage point off this City's slice of the federal revenue-sharing pie. The 4,000-peso pay bonus earlier awarded to the private sector is extended to all public employees earning less than 60,000 pesos a month, thus confirming an incomes policy based on lump sums rather than index-linking (already being denied to pensions). The Precios Cuidados price watch scheme is revived as a further move against inflation. Two new initiatives further tighten up one of the world's most closed economies – the 30 percent PAIS tax surcharge on all purchases and credit card spending abroad to discourage tourism and halving the span of non-automatic import licences over a broader range of products. Buenos Aires Province Governor Axel Kicillof pushes through major increases in property taxation although with amendments imposed by the opposition majority in the provincial Senate. Kirchnerite militant Félix Crous is confirmed as the new head of the Anti-Corruption Office. A change of tack over Venezuela – Elsa Trotta Gamus representing the Venezuelan opposition and granted full ambassadorial ranking by the outgoing Macri administration only two months previously is now denied that status. Yet none of the above generates as much public debate as the Nisman issue, as revived by the Netflix documentary – not helping the presidential nominee for Attorney-General, Federal Judge Daniel Rafecas, due to his dismissal of Nisman's report.
W3. The week closes with the fifth anniversary (J18) of Nisman's death as "the 86th victim" of the 1994 AMIA Jewish community centre terrorist bomb blast which he had probed for a decade – with neither the passage of five years nor six hours of Netflix proving capable of answering the question whether it was murder or suicide (there are holes in both theories with both sides more dominated by the urge to make a political point than find the truth). The presidential response to the anniversary is a symbolic and strategic decision to accept an Israeli invitation to mark another (the 75th anniversary of the liberation of Auschwitz on J23) in the Jewish homeland. Kicillof (whose Jewish origin has earmarked him to join the presidential entourage on that trip) is already anticipating provincial default, insisting that a J26 payment of US$275 million cannot be met and asking for a rollover until May Day. Meanwhile US President Donald Trump's reaction to the change of government here is to replace Argentina with Brazil as his candidate for Organisation for Economic Co-operation and Development (OECD) entry. National and Buenos Aires provincial Security Ministers Sabrina Frederic and Sergio Berni embark on the first of their many clashes, on this occasion over Taser stun guns.
W4. A president abroad in the summer holiday season is not the strongest basis for a busy news week. With little new on the political front from the previous week (President Fernández duly pays his homage to Shoah remembrance in Israel while Governor Kicillof accompanying him continues to play hardball with his creditors), the biggest media noise clusters around the brutal death of holiday-maker Fernando Báez Sosa, 19, at the hands of a group of rugby players in the Atlantic resort of Villa Gesell. Acting President Cristina Fernández de Kirchner spends much of her time watching or commenting on Netflix. Production Minister Matías Kulfas seeks to make a corruption mountain out of a relative molehill with the discovery of an envelope containing US$10,000 and dating from the previous presidency in a ministerial office. Foreign Minister Felipe Solá embarks on a minor purge of the diplomatic service with recalled envoys headed by Argentine Ambassador to London Carlos Sersale di Cerisano. Lord David Montgomery, a key figure in boosting Anglo-Argentine relations for many years as from their resumption in 1990, dies at 92.
W5. Scheduled to end March 31, the process of debt negotiations begins in earnest with restructuring given a green light almost unanimously (224-2) by the Chamber of Deputies in midweek while Guzmán heads to New York for "productive talks" with International Monetary Fund (IMF) officials. Kicillof rolls over his provincial debt J26 deadline to the next month with the help of the grace period. President Fernández moves from the Holy Land to the Holy See, naming María Fernanda Silva of Cape Verde origin as his Vatican envoy just before meeting Pope Francis in Rome. Coronavirus makes its first appearance in this newspaper as Health Minister Ginés González García plays down the threat posed by the World Health Organisation (WHO) declaration of an international health emergency (with 213 deaths in China reported, a tip of the Wuhan iceberg). A couple of appointments spark comment and controversy – former Cabinet chief Aníbal Fernández makes a comeback in a more secondary and remote posting as Río Turbio coal mine trustee while Macri is named FIFA Foundation president. More eyebrows are raised when Macri's former spin doctor Jaime Durán Barba describes Vice-President Cristina Fernández de Kirchner as "the most brilliant woman in Argentine history."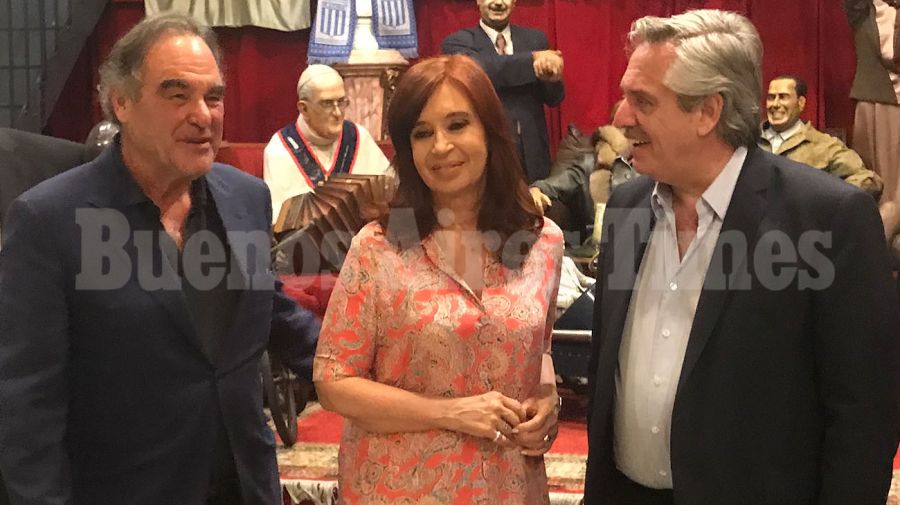 – FEBRUARY –
W6. Again a president abroad during the summer holidays diminishes the intensity of domestic news (especially with his veep in Cuba, presenting her book Sinceramente) although President Fernández could hardly be more active – the papal meeting in Rome is followed by a royal encounter in Spain plus Spanish premier Pedro Sánchez (naming Ricardo Alfonsín as his envoy to Madrid while in the Spanish capital), followed by German chancellor Angela Merkel and French President Emmanuel Macron with fishing for support for Argentina's negotiations almost invariably the dominant theme. But the presidential soft soap on the debt front abroad contrasts with Kicillof's extremes at home, playing hardball by threatening a default out of all proportion to the tiny sum at stake, only to capitulate at the last minute (F4) by paying in full on a debt incurred by Peronist ex-governor Daniel Scioli in 2011 and not Kicillof's predecessor María Eugenia Vidal, the preferred target for blame – a further dent in the credibility of Kicillof (who blinked first playing chicken before as economy minister), whose belated orthodoxy now includes postponing the payment of teacher salary arrears. Meanwhile the Senate unanimously rubber-stamps restructuring. Atlantic resorts report the best summer in half a decade as the PAIS tax does the trick in deterring tourism abroad but Argentina has its first coronavirus patient – a cruiser passenger off the coast of Japan. Last but not least, Federal Judge Claudio Bonadio, 64, the driving force behind Kirchnerite corruption trials, succumbs to a brain tumour (F4).
W7. Cristina's absence in Cuba does not necessarily keep her out of mischief – she becomes Argentina's first senior official to inject the word "haircut" into the conversation (Guzmán's focus, as he explains in Congress that week, is to bring interest rates down to current global near-zero levels rather than touching capital). She argues that the IMF has it coming for violating its own statutes by granting Macri the biggest loan in its history (US$56 billion, of which US$44 billion was disbursed) in order to fund capital flight. In midweek an IMF mission arrives in town, to be immediately greeted by a hostile demonstration. The previous day the government partially welshes on the AF20 bond, paying only interest and capital up to US$20,000 while "reprofiling" the rest until the end of September. Inflation of 2.3 percent is posted for January, a percentage also made the pension hike for the quarter plus a fixed sum of 1,500 pesos. Solá breaks some of the ice with Brazil's ideologically opposed President Jair Bolsonaro. Mercado Libre tycoon Marcos Galperín commences his exit from Argentina by stepping down from the local company helm. President Fernández sends Congress a bill designating an "alternative national capital" in every province for monthly Cabinet meetings with the aim of "deepening decentralisation and federalism" – a move perhaps underlined by the deaths of at least eight Wichi children in Salta from malnutrition and contaminated drinking water, a tragedy gripping the national conscience.
W8. Despite the hostile welcome, the IMF mission ends up as smooth sailing with a final statement declaring Argentina's foreign debt load to be "unsustainable" (and on Cristina Fernández de Kirchner's F19 birthday to boot). In retrospect the IMF would seem to have fallen for a "good cop, bad cop" strategy between a soft-spoken semi-orthodox economy minister (in the process of scrapping index-linking from pensions) and a stridently populist veep – why not tell the former what he wants to hear in order to keep the latter at bay? But with the IMF calling for "a meaningful contribution from private creditors," there might have been a tacit agreement to allow the former preferred creditor status at the expense of bondholders. Macri's INDEC statistics bureau head Jorge Todesca, father of Deputy Cabinet Chief Cecilia Todesca, dies of cancer at the age of 73. Macri returns to political meetings from a prolonged summer holiday while a rather silly spat breaks out in government ranks over the presidential denial of political prisoners in Argentina when there are still Kirchnerites behind bars facing corruption charges. Aníbal Fernández kicks off in Rio Turbio by firing over 400 workers hired under the Macri presidency. Abortion returns to the agenda with a huge midweek march. The Supreme Court makes its own contribution to preventive measures against coronavirus by urging the citizenry not to share mate gourds.
W9. A week of eerie calm, almost as if people were bracing for the pandemic (with the global death toll now reaching Italy approaching 3,000) and quarantine lying ahead. President Fernández confirms that legal reform would bulk large in his state-of-the-nation address to Congress (which passes a bill to downsize judicial and diplomatic pensions F27) but in the eyes of this newspaper the most important news of the week is the death of the US diplomat and human rights stalwart "Tex" Harris (1938-2020) – joined by the centenarian scientist and philosopher Mario Bunge in Canada and Youth Olympics javelin gold medallist Braian Toledo (26) in a motorcycle accident. But there is no doubt that Covid-19 (with three cases of contagion among recent arrivals in the country already suspected) is the big noise with panic buying of alcohol-based hand gel, face-masks, etc. Classes are set to start almost nationwide the next month with smooth sailing in collective bargaining with teachers whose militants suddenly morph into sweetness and light with a new government – little does anybody know… President Fernández again collides with progressive thinking when he is accused of "denialism" by Mothers of Plaza de Mayo leader Nora Cortiñas after speaking of "turning a new page" in the relationship with the Armed Forces but the other Mothers and Grandmothers leaders rally to his defence.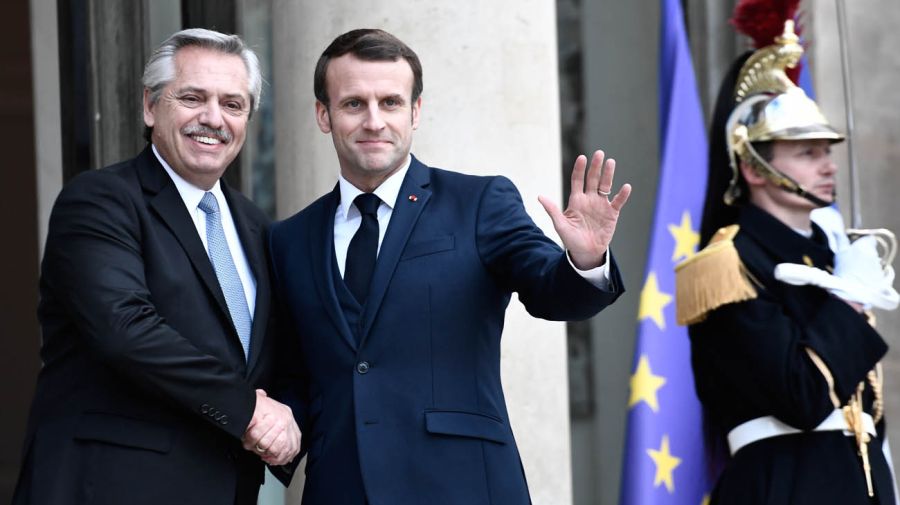 – MARCH –
W10. President Fernández delivers his state-of-the-nation address to Congress defining his agenda on the first day of the month, only for coronavirus to arrive officially in Argentina on the third (with eight confirmed cases by the end of the week, all recent arrivals from Europe) – in many ways the story of the year. The 80-minute state-of-the-nation speech goes much as scripted in advance – dominated by announcement of a bill to legalise abortion (alongside a parallel "1,000 days' plan" for mothers going ahead with their pregnancies) and judicial reform along with the foreign debt negotiations, a crackdown on state intelligence and three bills related to Malvinas sovereignty. Three days later a three percentage point hike in export duties is published in the Official Gazette, prompting the four main farming lobbies to call a four-day strike. Former Federal Planning minister Julio De Vido is released from prison (M5) but for reasons less related to the presidential judicial reform proposals than his pre-trial detention exceeding two years. A court dismisses any class action against the government's pension legislation, ruling that pensioners can only be individual plaintiffs.
W11. Covid-19 arriving in Argentina the previous week is joined by the grim reaper with Argentina's first two deaths (M7 and M14) among five in Latin America and over 5,000 worldwide. Late in the week (M13) President Fernández, striking a statesmanlike pose, declares a national sanitary emergency with a raft of preventive measures including flight restrictions, and a ban on any gathering of over 200 people, as well as adding 1.7 billion pesos to the Health Ministry budget but with just 34 confirmed cases the government still hesitates to go further – thus González García dismisses closing schools as "counterproductive." Meanwhile the outside world is entering into total panic with lockdowns crippling international transport and tourism while shattering bloated stock markets and oil prices (adiós, Vaca Muerta), eclipsing the worldwide 2008-2009 subprime meltdown when "toxic assets" had no medical connotations. All of which seems out of all proportion to this largely asymptomatic influenza variant whose count of confirmed cases has taken almost all this year to reach one percent of world population and whose death rate is 100 times higher among those aged over 80 than under 40, yet such less evident factors as a potential collapse of health systems (a ramshackle jumble of overlapping healthcare schemes in Argentina's case) and the legal and insurance costs of medically reckless behaviour also justify the alarm. Almost everything is placed on hold (including abortion reform despite a huge International Women's Day march) while the government starts admitting that its M31 debt renegotiation deadline will not be met. On this front the crisis carries a silver lining because bond values have crashed low enough to leave room for haircuts although it is a fine line because if they fall further, they will be snapped up by vulture funds whose litigation strategies would make default inevitable. The two-percent inflation announced for February virtually ensures a much lower annual figure for 2020 since pandemic shrinkage looms as a far more effective price control than government restrictions.
W12. This newspaper's screaming headline "LOCKDOWN" says it all. With just three deaths and 128 confirmed cases of Covid-19 on M19, citizens may only leave their homes to buy food and medicine for the rest of the month, a solemn President Fernández tells the nation that evening. Simple enough but carrying a terrible economic price placing the world back several years – but also ahead with coronavirus giving a whole new meaning to the phrase "going viral" via the accelerated omnipresence of digital technology. Yet at this stage hardly anybody doubts the wisdom of quarantine (opinion polls show 94 percent agreement with 79 percent approval for the president) – the only debate is whether the government is doing the right thing for the right reasons or for the wrong reasons (a splendid opportunity to advance state intervention and play debt hardball as well as the perfect alibi for economic mismanagement) but always the right thing. The lockdown announcement is preceded by closure of the national frontiers and the suspension of school classes the previous weekend and a massive package of socio-economic relief (M17), including wage supplements, extended benefits for low-income sectors and a price rollback to M6 while on the same day domestic flights and long-distance transport are suspended (ostensibly only for the long weekend but lasting far longer). All this overshadows everything else such as the M17 anniversary of the 1992 Israeli Embassy bombing.
W13. At the start of the week the vice-president triumphantly brings back her daughter Florencia Kirchner from a Cuban sojourn of over a year – at least somebody is happy with widespread media anticipation of lockdown being extended until Easter (officially confirmed during the weekend). March closes with confirmed cases of coronavirus contagion entering into four digits with 27 deaths while abroad British Prime Minister Boris Johnson becomes a high-profile patient among the 14,593 cases in his country (over half a million worldwide). Prisoners of all kinds (including the increasingly aged dictatorship minions convicted for crimes against humanity over four decades ago) are already pushing for release as risk groups with extremely violent mutinies in two Santa Fe jails – this issue alone suggests that government urgencies extend beyond physical and economic survival to ending such structural deficiencies as overcrowded prisons and slum housing. Over 140,000 people are detained for quarantine violations. The week starts with the birth of the IFE emergency payment of 10,000 pesos primarily for the self-employed with its beneficiaries optimistically calculated at 3.6 million households. Public utilities and telecommunication companies are prohibited from cutting off service if bills go unpaid over the next six months, followed by a decree to freeze rents for that period (M29). All frontiers are closed M26, thus stranding up to 15,000 Argentines abroad with only a daily trickle permitted at Ezeiza Airport. La Nación's Bartolomé Mitre dies M25 just a week before turning 80. The month ends with a cacerolazo saucepan-bashing protest (M30) calling for salary cuts for all three branches of government in order to share the quarantine sacrifices being endured by the private sector and a decree (M31) banning all dismissals and layoffs for the next two months. The debt restructuring deadline arrives without the government defining an offer to creditors.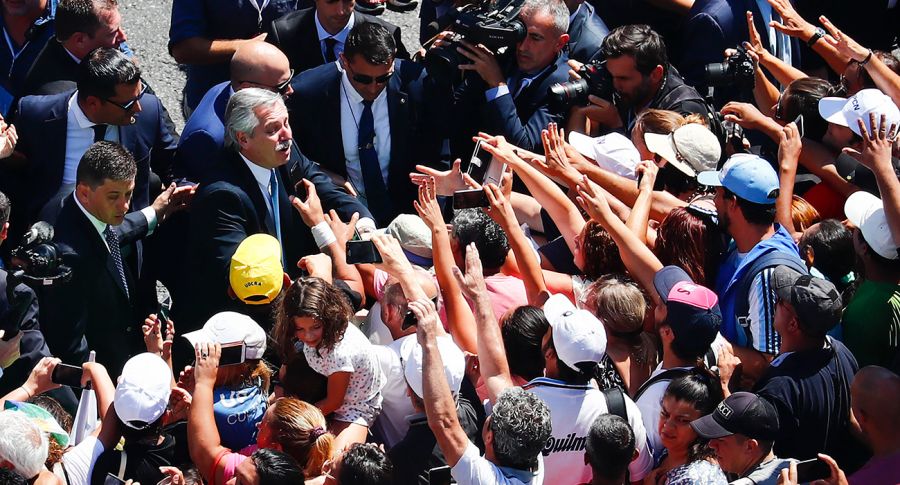 – APRIL –
W14. With Easter approaching, lockdown also starts applying to the news. Malvinas Day (A2) is also the 61st birthday of Alberto Fernández, who earlier in the week relaxes the statesmanlike pose briefly to aim swipes at his Brazilian colleague Bolsonaro and Techint CEO Paolo Rocca while lauding teamster leader Hugo Moyano. The next sandwich day sees a massive violation of quarantine in its first fortnight in the form of thousands of pensioners and AUH child benefit recipients stampeding banks at the same time to collect their money, an organisational glitch laid at the door of ANSES social security chief Alejandro Vanoli. Almost 11 million people have signed up before the Palm Sunday weekend for the IFE Emergency Family Income benefit launched only 10 days previously, as against the original estimate of 3.6 million (nearly eight million applicants are accepted). Roberto Alemann, the economy minister during the Malvinas war and for decades the driving force behind Argentinisches Tageblatt, dies at 97 the day before the war's anniversary and a week after his newspaper colleague Mitre.
W15. Good Friday sees the worldwide coronavirus death toll entering six digits (only 82 in Argentina but almost doubling the previous Friday) while here nationwide lockdown is extended until A26. For the world coronavirus is an endless list of problems without frontiers even if these are often closed. Pandemic aside, the week's main news item is the scandal surrounding overpriced food purchases (to the tune of some 300 million pesos) by the key Social Development Ministry – even if delayed state payment has long made overpricing standard practice in this sector, a vicious circle. Social Development Minister Daniel Arroyo defends himself by pleading the urgency of relief but his portfolio is tainted with suspicions of corruption and 15 of his officials are bounced. Former vice-president Amado Boudou serving 70 months for the irregular acquisition of Ciccone money-printing firm becomes an early exit from prison into house arrest (A6) although not belonging to any pandemic risk group while later in the week the Buenos Aires Province Criminal Cassation Court extends this benefit to those in such risk groups (those over 65, the pregnant and various health problems) convicted of minor crimes.
W16. The face of this city literally changes as masks for public transport, shopping and office work become mandatory in midweek (already imposed in several provinces pre-Easter). The government's offer to its creditors finally arrives (A16) after over a fortnight's delay, announced by President Fernández (flanked by his vice-president and City Mayor Horacio Rodríguez Larreta), who defines it as a "virtual default" – a haircut of 62 percent on interest payments, 5.4 percent on capital and a grace period of three years, freeing his presidency from any serious debt payments. Market reactions are neutral in the face of what is an opening bid in highly abnormal times with the devil in various details such as jurisdiction and the famous exit yield. Parallel exchange rates are less indifferent, entering three-digit territory. INDEC posts March inflation of 3.3 percent (with education the main culprit with 17.5 percent despite no classes).
W17. Less than a week later the government's offer to creditors proves a non-starter with the almost free ride of zero payments for the next three years singularly unattractive (especially coming from a country heading for a US$20-billion trade surplus this year) but Guzmán sticks to a "take it or leave it" attitude. The government skips interest payments of half a billion bucks on three global bonds on A22, thus setting the clock ticking for a May 22 default after a 30-day grace period – the jury is still out on whether President Fernández genuinely dreads default after the 2001-2002 collapse, as he voices, or whether he feels there is nothing to lose with no investments coming Argentina's way anyway as against potential political gains from grandstanding against 'vulture' funds. The debt situation arguably feeds quarantine overkill since it bolsters the government's professed inability to pay. Both houses of Congress start prodding for a resumption of activity, whether conventional or virtual. The coronavirus spotlight starts falling on nursing homes for the elderly, submitted to a massive inspection dragnet, while other fronts open up with the first Covid-19 cases confirmed in the Villa 31 shantytown outside Retiro station and in the overcrowded prisons of Buenos Aires province.
W18. Those prisons become an issue with clamorous cacerolazo pot-banging protests against releasing dangerous convicts across the capital as from the last evening of the month. Vanoli pays the price for the chaos at the other end of the month although his delays in naming state directors to companies where ANSES holds shares may have contributed more to his exit (A30) – he is replaced by La Cámpora militant and unsuccessful Mar del Plata mayoral candidate María Fernanda Raverta, the daughter of former Montonero guerrilla treasurer Mario Montoto, who now runs the metropolitan surveillance camera market. In the last weekend of the month all air tickets are banned until September 1, a major step towards a monopoly for state-subsidised flag carrier Aerolíneas Argentinas since other airlines would be pressed to survive a four-month freeze. Argentina extends the quarantine spirit to the region with the voluntary isolation of withdrawing from all Mercosur free-trade negotiations with the outside world save the European Union out of a protectionist anxiety for an industrial employment now jeopardised by the pandemic in a shrinking private sector already reduced to six million jobs before coronavirus (some in the economy's most dynamic sectors but some also in protected dead-end labour-intensive industries with low productivity), viewing the likes of South Korea as a competitive threat rather than a promising food market. But even from an industrial protectionist viewpoint, 60 percent of Argentine exports to Mercosur are manufactured products as against an average of 25 percent worldwide. The sour relationship with Bolsonaro obviously complicates Mercosur but pulling out only enhances the far bigger neighbour as the natural overseas investment focus, leaving Argentina as one of the world's seven most closed markets with its trade volume just 30 percent of the economy. Vice-President Fernández de Kirchner presents a protocol for the Senate with herself as the only person in the chamber orchestrating the 72 senators. April ends with almost 4,500 confirmed cases of coronavirus and 220 deaths with lockdown extended until May 10 (announced late A28).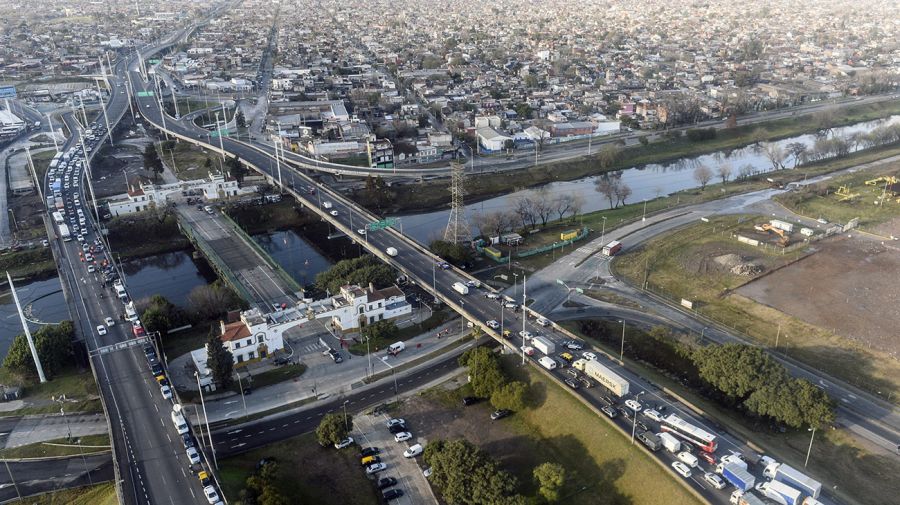 – MAY –
W19. The month starts with the traditional May Day worker demonstrations largely muted by the pandemic. Following non-payment of the US$2.1 billion owed the Paris Club (which had ignored a request for a one-year rollover) by the M5 deadline, the government's self-imposed M8 deadline for foreign creditor acceptance of its aggressively unilateral offer of April 16 expires with majority rejection despite the good offices of Guzmán's mentor Joseph Stiglitz and other renowned economists. But it is premature to speak of default with a fortnight still left in the global bond grace period. Ecuador's alternative of a four-month standstill in order to permit more reasonable negotiations in more normal times (enjoying 91 percent creditor acceptance) is available but ignored by a populist and impatient Argentina apparently more interested in making the most of pandemic uncertainty as the best rather than worst time to negotiate. The "blue" dollar responds by hitting a new record of 122 pesos. President Fernández extends quarantine to M24 while allowing factories and shops to reopen with strict protocols after seven weeks of lockdown but restrictions are also tightened at an individual level with face-masks at all times outside the home now becoming mandatory in this city. Aerolíneas and Austral announce their merger in the face of the pandemic aviation crisis as of the next shareholders' meeting.
W20. Both houses of Congress make history by holding their first sessions of the year virtually (after various glitches) more than 10 weeks after their inauguration, basically to rubber-stamp pandemic emergency legislation (M13). The Anti-Corruption Office withdraws as a plaintiff from all money-laundering cases involving the Kirchner family's Patagonian hotel chain (M14), prompting an opposition outcry. INDEC turns in an inflation figure of 1.5 percent for April, which nobody imagines to be a Kirchnerite fabrication as of yore – instead it is a true measure of the ferocious recession generated by the recession. Even so, food and beverages weigh in at over double (3.2 percent). A judicial response to the cacerolazos of a fortnight ago – the Buenos Aires provincial Supreme Court orders a review of all releases and house arrests. Oblivious of economic collapse, President Fernández launches a 29-billion-peso housing plan for 43,000 units creating 750,000 jobs. Singer Sergio Denis dies 14 months after an onstage fall at 71 (M15).
W21. Argentina enters into a "soft default" (Guzmán dixit) on the same day confirmed cases of coronavirus enter five digits when the Global bond grace period deadline passes without payment (M22), dismissed by the minister as an "anecdote" while Alberto Fernández says that the default precedes his presidency – the two phenomena are not unconnected because maximising lockdown bolsters the case for a debt holiday. Not the end of the line with another month before cross-default on June 22, especially with neither side standing to gain from full default, but what turns out to be the final settlement could have been reached much sooner while quibbling over two places of decimals seems surrealistic amid pandemic mayhem. As it is, Argentina extends its bond swap offer to creditors until June 2. Again international markets are neutral. A 6.12 percent pension increase is announced for June (M17), raising some protests since the suspended index-linking system of the previous Macri administration would have granted 10.9 percent. The layoff ban on pain of double severance is extended a further two months.
W22. Argentina places an improved debt offer on the table while rejecting creditor counter-proposals (M28) as the differences narrow but with agreement no closer. The 210th anniversary of nationhood (M25) in an empty capital is a sad contrast to the jamboree bicentenary of 2010 with millions in the street. And while the global pandemic crisis might also seem an opportunity for the government to spearhead a national rebirth with massive state aid still the only answer worldwide at this stage, the state seems more the problem than the solution in Argentina when President Fernández picks that week to praise backwater Formosa (95 percent dependence on federal revenue-sharing funds, a private sector of under 30,000 employees and an export volume of US$20 million) as his "model." As winter approaches, the pandemic worsens – the shantytown proliferation of coronavirus cases prompts Governor Kicillof to seal off Villa Azul with 1,000 policemen for the next fortnight as Argentina's death toll tops 500 in midweek (when González García is rushed to hospital with a cerebral blood clot but emerges unscathed) in a period when South America is becoming the epicentre of the global pandemic. This city reports a grand total of seven property sales (mostly bedsitters) for April. Macri heads the indictments for illegal espionage during his presidency (M29). This is also the week when George Floyd falls victim to police brutality in Minneapolis (M28), generating a "Black Lives Matter" noise which resonates even down here – even if deaths in provincial police hands around the same time in the pro-government provinces of Tucumán, San Luis and Santiago del Estero plus a brutal invasion of a Qom community hamlet in Chaco fail to trigger any comparable impact, downplayed by the national Security Ministry.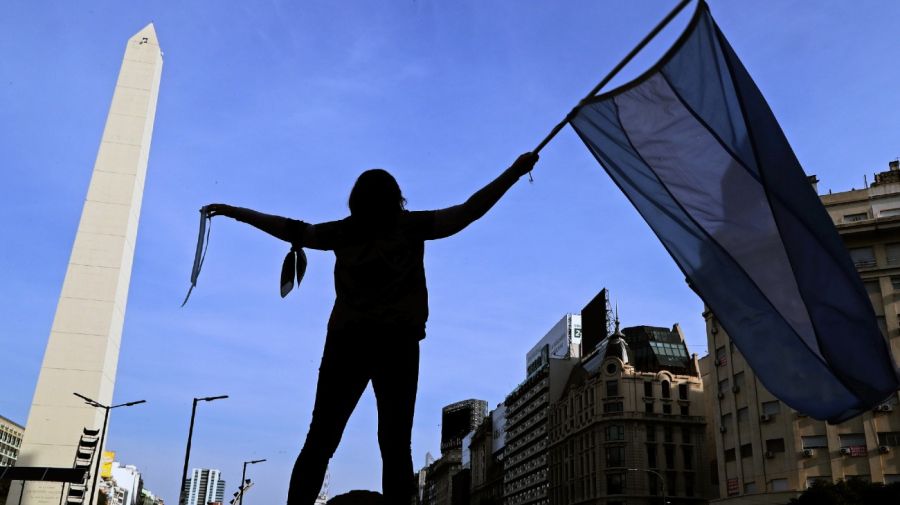 – JUNE –
W23. On the first Thursday of the month President Fernández ensures a world record by extending quarantine until J28, even if there is also considerable relaxation with DISPO (preventive social distancing) replacing ASPO (social isolation) everywhere except the metropolitan area and four inland urban centres, while even in ASPO zones most shops are re-opened and family outings are permitted on both weekend days. This perhaps reflects a growing quarantine fatigue with the Necochea baby shower outbreak in that week a good example. The government's bond swap offer is renewed until J12 with the exit yield differences narrowing but no end in sight.
W24. Amid growing quarantine fatigue and debt deadlock, the government makes its first real attempt to change the agenda in almost three months – President Fernández kicks off the week by slapping a national trusteeship on the debt-riddled food conglomerate Vicentin as a prelude to expropriation (an initiative which lends itself to a dual interpretation of Winston Churchill's famous V-sign), a move widely seen as the prelude to a "food sovereignty" bid to grab the grain export cash cow in desperate economic and fiscal times, not least given the bleak prospects for Vaca Muerta shale, although presented as an endeavour to save jobs and the arrears owed the company's farming clients. Not the best timing in the midst of debt negotiations (nothing new here apart from the bond swap offer acceptance deadline being extended to J19) when a government without a cent suddenly has an extra billion to absorb Vicentin's mammoth debts, especially with export-linked coupons forming part of those talks and also given the question-marks raised over legal security (although country risk stands still). The backlash to this audacious move (including cacerolazos) is immediate and strong with the moderate wings of the government soon leaving the door ajar for a U-turn. In any case the populist dream that a state-driven Vicentin could be a YPF or a latter-day National Grain Board is a non-starter in a world whose grain markets are defined in Chicago and China, not Rosario and Buenos Aires. May inflation is posted at 1.5 percent, thus reflecting the depth of the recession (with April's industrial output 33.5 percent down from the same month last year). On the pandemic front joggers become an issue. The Juntos por el Cambio opposition nominates for Auditor-General (as is its prerogative) Macri's 2019 running-mate Miguel Angel Pichetto.
W25. Debt talks continue to stall with the government extending its bond swap offer by fully five weeks to July 24 (J19) – a deadlock hard to understand when triggered by not meeting a debt payment amounting to 0.15 percent of Gross Domestic Product with a difference of less than two percent between the two sides. Flag Day (J20) – also the bicentenary of the death of the banner's creator Manuel Belgrano – is marked in the throes of "food sovereignty" debate. At one level the Vicentin expropriation is going with the flow of state empowerment so heavily driven by the pandemic (with 89 percent of the population depending in whole or in part on the state, a government report that week reveals, with the money now being printed outweighing genuine revenue in order to pay for that assistance) but moving forward in that direction is incompatible with a reversion to an anachronistic, corrupt and dysfunctional past, as favoured by the ruling coalition's ideology. On the eve of Flag Day, a Reconquista judge (the local magistrate for Vicentin) rules against the government, demoting the state trustee to overseer and returning the company to its board of directors. Over half a year after taking office, Cabinet Chief Santiago Cafiero makes his first appearance in Congress, fielding 624 questions dominated by the Vicentin issue and denying any further nationalisations. The daily total of coronavirus cases starts topping 2,000 for the first time. Latam Airlines calls it quits in Argentina (J17) after 15 years, finding it impossible to continue when forced to pay full salaries with zero flight revenue – clearer skies now lie ahead for an Aerolíneas Argentinas monopoly. The ambitions of Strategic Affairs Secretary Gustavo Beliz to head the Inter-American Development Bank (BID in its Spanish acronym) where he worked for almost 15 years are dead in the water when Trump nominates Mauricio Claver-Carone from Washington's State Department.
W26. Quarantine marks 100 days (J27) just before midyear and is tightened up in the metropolitan area at least through to July 17, restricting transport and shopping to the essential. A Hundred Days with no Waterloo against Covid-19 or Congress of Vienna to redefine the global order, only total uncertainty with the chain against the pandemic only as strong as its weakest link. The notion of a false dilemma between public health and the economy is starting to crack with quarantine saving thousands of lives but lockdown spelling meltdown. The economic devastation from an unprecedented simultaneous collapse of supply and demand with double-digit shrinkage already creating an impossible strain for many businesses are much plainer to see than the public health hazards but the cheekily nicknamed "Kung flu" pathogen is dangerous precisely because it is largely asymptomatic – the 100 days have left a death toll of 1,199 (having hit four digits on Father's Day) with infection confirmed for just 0.0025 percent of Argentina's population but the compound multiplication is constant with the collapse of the health system (including the psychological stability of its workers) a very real danger. The government's handling of an impossible situation is open to criticism on many points but constructive alternatives are also thin on the ground. Vicentin moves to the backburner following the Reconquista court ruling as both the national and Santa Fe provincial governments size up a mixed management for the troubled company. That province loses a stellar figure – Hermes Binner, 77, the first socialist to govern Santa Fe and 2011 presidential runner-up, who dies of acute pneumonia (but not coronavirus). The month ends with INDEC posting the worst slump in Argentine economic history for April, the first month with lockdown end to end: minus 26.5 percent with construction, hotels and restaurants all down over 85 percent.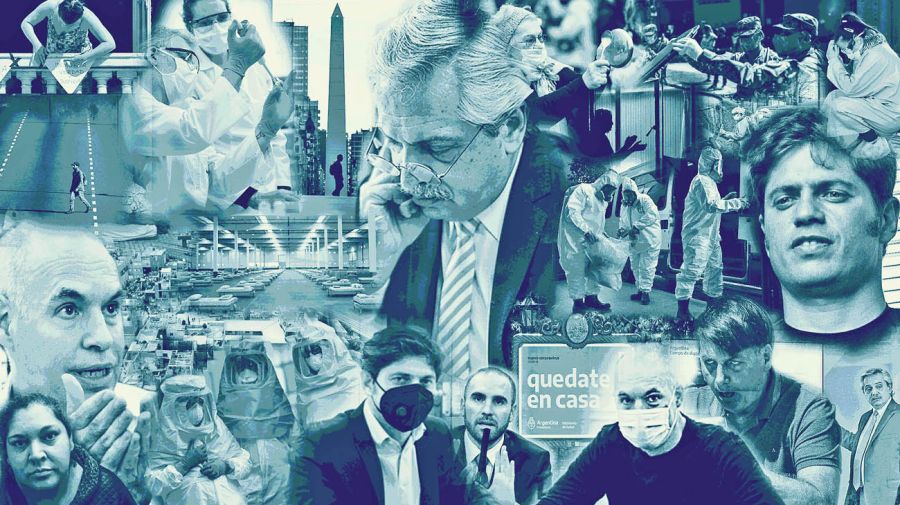 – JULY –
W27. Entering the second half of the year and winter, the death toll starts to accelerate, topping a daily 50 for the first time, while there are now no more provinces free of coronavirus with Catamarca's first case ending a shutout of over 100 days (J3). But on that same day restaurants and bars re-open in Mar del Plata. Little progress on the debt front with BlackRock investment fund complaining of no meaningful talks since June 17. President Fernández makes his Mercosur regional summit début (J2) in an event downgraded by the pandemic into a brief Zoom contact with his centre-right colleagues of Brazil, Paraguay and Uruguay – no results with a protectionist Argentina resisting any new free trade agreements (while France expresses scepticism about the mega-deal between Mercosur and the EU but at least the four leaders are on speaking terms That same day ex-president Carlos Menem turns 90. Radical party chairman and former Mendoza governor Alfredo Cornejo responds to the national government's decision to freeze funding for the Portezuelo de Viento dam by muttering about the province's secession (even local Kirchnerites are indignant).
W28. In contrast to the second quarter, an accelerating polarisation is arriving to stay in the second half of the year despite national unity being the main theme of the presidential Independence Day message while the week's news seems to tilt the spotlight toward the hitherto silent (and sometimes absent) vice-president – the murder of her ex-secretary Fabián Gutiérrez and the house arrest granted Kirchnerite tycoon Lázaro Báez. The pandemic finds this Independence Day (J9) feeding the ultra-nationalist illusion that Covid-19 will destroy globalisation and the private sector while carrying dependence on the state (89 percent according to last month's report) to extremes with quarantine serving both nationalistic isolationism and an autistic technology. The onset of winter only intensifies the pandemic with the total of confirmed cases overtaking China, the cradle of coronavirus, (J8) as the daily infection rate almost doubles while elsewhere in the region leading figures fall afoul of coronavirus – Brazil's Bolsonaro, Bolivia's acting president Jeanine Añez and Venezuela's Diosdado Cabello. Strict quarantine (in some ways the victim of its own success in keeping Covid-19 impact well below the regional average and thus encouraging relaxation) would thus seem more warranted in the third quarter of the year than the second. The shock weekend slaying of Gutiérrez (J2) displaces all topics for a while but its potential to be another Nisman (or Santiago Maldonado) fades as sordidly private details emerge to brand it as a common crime, not political murder. Yet his improbable multi-million fortune (a prime motive for murder) returns corruption to the limelight – and even more, the house arrest (J8) granted to Báez (the main beneficiary of Patagonian public works contracts), which triggers outraged protests. While the reactions are less immediate, a tax moratorium potentially whitewashing the evasion of other crony capitalists is submitted to Congress (J7). Last but not least, the first new development on the debt front in almost a month – the government formally presents a new and "final" bond swap offer upping the net present value from 39 to 53.5 cents per dollar (J6) although it might be worth asking how a country which could not pay more than 39 cents in pre-lockdown March can now afford 53 amid economic collapse. But no immediate breakthrough.
W29. Despite the coronavirus pandemic entering into six digits of confirmed (J12) and crossing the threshold of 2,000 deaths (with 86 percent in the AMBA metropolitan area, J15), President Fernández relaxes lockdown (J17) in a bid "to return to normal life" in response to growing quarantine fatigue, also passing responsibility onto the individual citizen – ASPO finally ends for AMBA after 109 days. A June inflation figure of 2.2 percent results in a total of 13.6 percent for the first half of the year thanks to recession as much as price controls. Government support for the United Nations report on human rights violations in Venezuela provokes a fierce backlash from ultra-Kirchnerites in midweek. Falling on a weekend day in the midst of quarantine, the 26th AMIA anniversary (J18) is inevitably muted, despite the buzz earlier in the year over Nisman (whose mysterious death is also a distraction from the terrorist atrocity itself).
W30. As winter advances, the pandemic worsens with the daily death toll now regularly in three digits while confirmed cases cross the threshold of 150,000, at odds with the new and more flexible stage of quarantine with the reopening of various industrial and commercial activities, as well as services. Within a few days of relaxation Jujuy and Santa Cruz at opposite ends of the country are both reverting to strict ASPO quarantine. On the debt front the three main creditor groups make a counterproposal (J20) to the Argentine offer a fortnight previously which the government continues to consider "final" – a stance stiffened by President Fernández when he tells the Financial Times that he shuns economic plans. Currency markets remain jittery with the "blue" parallel dollar soaring to 140 pesos, even if the differences between the two sides of debt restructuring talks are considered too close to leave room for failure with neither side standing to gain from default. A May slump of 20.6 percent is measured by INDEC from the same month in 2019. Crime returns to the news when grey panther Jorge Ríos, 71, guns down one of a gang of burglars, thus reviving the issue of vigilante justice for debate between opposite ends of the political spectrum.
W31. Now that the pandemic is theoretically under control with a relaxed quarantine on automatic pilot until August 16 (not that Covid-19 pays any attention to such official wishful thinking), President Fernández feels free to embark upon his pre-coronavirus agenda almost five months late, starting with judicial reform announced in midweek – dear to the vice-presidential heart but hardly a priority for anybody else with the daily death toll now topping 200 and unprecedented economic collapse. Why judicial reform at all, politically estranging a people with so many other urgencies quite apart from the ethics of this autistic move? But if coronavirus mutates, so can judicial reform – if President Fernández (also a law professor) envisages it as a neutral decentralisation of justice doubling federal judges both in the capital and inland while the investigating magistrate is replaced by the prosecutor as the hub of criminal trials, his veep has other ideas and increasingly imposes them, not so much a lurch for impunity by directly scrapping all the corruption trials against her (maintaining an unreformed system of compliant judges would have similar results) as ensuring sufficient control over the Judiciary to achieve those ends, perhaps more dangerous. But the trigger here might well have been not so much the Kirchnerite graft trials as the mid-June Reconquista court ruling nixing the Vicentin trusteeship (with the government admitting defeat by repealing Decree 522/2020 advancing the expropriation in the last hours of the month) – if an obscure provincial judge could derail this ambitious "food sovereignty" drive to grab the country's leading cash cow sector, then nothing less than total control of the justice system would suffice to govern. The presidential judicial reform bill immediately drew an opposition outcry but equally provocative is the 11-strong Consultative Commission including Cristina Kirchner's lawyer Carlos Beraldi, invited to make sweeping recommendations even extending to potentially restructuring the (not so) Supreme Court. Yet a third decisive move on the judicial front this week is Council of the Magistrates approval for a Senate review of the transfer of 10 key judges (three of them investigating the vice-president, among other cases). But this does not exhaust the week's judicial news – on the same day as the presidential reform bill announcement (J29) the controversial federal judge Rodolfo Canicoba Corral enters retirement upon turning 75 after 27 years on the bench. Not much news on other fronts – the Senate passes by a 40-30 vote a new bill for working from home which is criticised by the opposition for setting rigid timetables and obliging the company to pay for the employee's computer. The month closes with 191,302 confirmed cases of coronavirus and 3,543 deaths, fractions of the current figures as the year ends.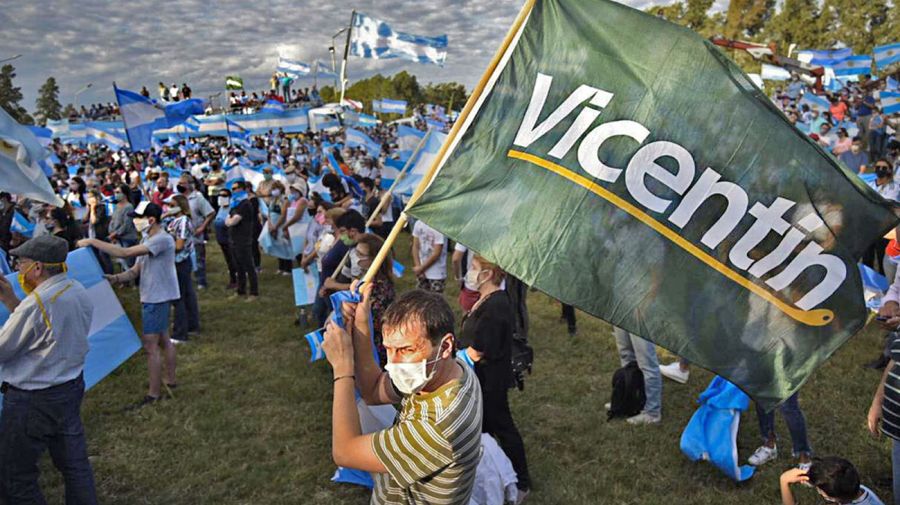 – AUGUST –
W32. In the small hours of A4 the government and the three main creditor groups finally hammer out a debt restructuring deal more than 15 weeks after the first bond swap offer – a curious case of a government ironing out problems of the future (minimising debt payments over the next five years) ahead of the current urgencies of pandemic havoc and economic meltdown. Yet anything averting default deserves the praise generally received with peso pickup in all exchange rates. The 37 percent haircut is the exact average of sovereign restructuring agreements worldwide over the last four decades while also falling on anachronistically high interest rate payments rather than principal. The deal's net present value is 54.8 percent per dollar ("unsustainable" back in March, according to Guzmán), splitting a difference which had shrunk to three cents. Now comes the US$44 billion owed the IMF where haircuts are not an option and where Argentina will need a plan (including corrective action on a fiscal deficit approaching a double-digit percentage of GDP) – quite apart from the presidential aversion confessed to the FT, the best laid plans of mice and men are totally at odds with a chaotic pandemic universe and the accelerating technological changes behind and beyond it. More relief than belief as the yawning gap between official and parallel exchange rate persists, draining the dollars away from Central Bank reserves despite currency swaps with China. President Fernández follows up the clearer horizons by relaunching the Procrear housing plan and announcing public works to the tune of almost half a trillion pesos. On the pandemic front all social meetings are prohibited in a week in which Argentina overtakes France and Germany for confirmed cases with each day worse than the last. The Criminal Appeals Court rules the government's judicial reform proposals unconstitutional (A5) while on the same day a Lomas de Zamora judge commits the AFI intelligence helm of the Macri presidency to trial for illegal espionage. With A8 marking 100 days since 22-year-old Facundo Astudillo Castro went missing in southern Buenos Aires Province, his mother's search starts receiving major media coverage.
W33. The ongoing vaccination saga begins in this week (A12) with President Fernández proudly announcing that Argentina and Mexico will be co-producing up to 200 million doses of the coronavirus vaccine produced by Oxford University and the Cambridge-based Anglo-Swedish Astra-Zeneca pharmaceutical firm in the first quarter of 2021 while he closes the week by extending lockdown for the rest of the month, extending strict ASPO quarantine to several inland cities as Covid-19 starts to spread nationwide. Yet while extending quarantine, President Fernández also denies its existence due to the number of people on the streets with all shops and factories open. The Covid-19 death toll tops 5,000 with over 1,000 deaths reported in the week (although not necessarily responding to that week) while on the brighter side school classrooms reopen in rural San Juan and Formosa. On the political and economic fronts, the opposition aims all its fire at judicial reform and populist policies defying market laws but – short of Argentina hitting bottom in an anything but asymptomatic crisis and changing course (like Chile after its 14 percent GDP plunge of 1982) – the general thrust is towards more state in the post-pandemic world, in which case state reform for a drastic transformation from the current bloated and rusty machinery would be a useful Plan B, instead of pinning all hopes on the market. The Senate passes the tax moratorium by a 41-28 vote (A14) with opposition criticism centred on the amnesty including the Kirchnerite tycoon Cristóbal López, charged with multi-billion fuel tax evasion. July inflation is posted at an unexpectedly low 1.9 percent although core inflation is 2.5 percent (due to wholesale cost-push inflation despite food and beverages barely reaching half that level at 1.3 percent} – domestic appliances climb more than double the average at 3.9 percent as a refuge for some of the three trillion pesos printed in the year and denied dollar purchases. Yet even 1.9 percent is far too high when measured against the depths of lockdown recession, as reflected by the losses of 85 billion pesos (US$1.1 billion) reported by YPF for the second quarter – even this subdued inflation makes the sum needed to avoid the poverty line more than quadruple the IFE emergency family benefit of 10,000 pesos. Apart from the 209 people also dying of Covid-19 that day, there are two deaths in midweek – Vicentin CEO Sergio Nardelli (59) from a sudden heart attack and ex-judge Jorge Urso (63), of Carlos Menem gunrunning trial fame, after falling off his horse.
W34. Children's Day (A16) marks the 150th day of quarantine in the AMBA metropolitan area at least while the A17 public holiday the next day sees a nationwide protest – against lockdown but also other targets including judicial reform, pension shortfalls (with a 7.5 percent increase announced just before the long weekend instead of almost 10 percent under the suspended updating system) and the crime wave. The coronavirus figures (moving past 6,000 deaths and 300,000 confirmed cases A18 to leave Argentina 13th in the world) continue to worsen while the pandemic is increasingly nationwide with the previous AMBA monopoly of 95 percent of cases now down to 75-80 percent. González García denounces the discovery of four million doses of expired vaccines against the type A flu of 2009, whose disuse he blames on the Macri administration. The body of Facundo Astudillo Castro is found 108 days after he went missing with suspicion falling on the Buenos Aires provincial police. With only Vanoli in April resigning until now, more resignations now follow – Deputy Education Minister Adriana Puiggrós (A19) and Energy Secretary Sergio Lanziani (A21), the latter replaced by Neuquén deputy Dario Martínez, closely linked to Vice-President Cristina Kirchner. The economy dived 12.9 percent in the first half of the year, INDEC confirms on Thursday, with hotels and restaurants down 62.7 percent and construction 42 percent – why is anybody even talking about judicial reform with this plunge when the 2019 contraction of -2.1 percent was denounced as "scorched earth" by the incoming Frente de Todos administration? Even the pandemic emergency still begs the question of why the plunge is twice as high as in neighbouring Brazil or Chile with a heavier cost in human lives. In the last hours of the week a decree rebrands telecommunications, the defining sector of the century and even more of this quarantine year, as a public service – this monster will now be asked to invest in dollars and collect in pesos as defined by populist pricing. The level of ambition remains unclear – will the sector simply be regulated like gas and electricity or is the idea a more complete state monopoly like Aerolíneas Argentinas and YPF oil or to grab a cash cow altogether? If there is method in the madness, is it deliberate sabotage of a globalised future to safeguard a protectionist model of labour-intensive import substitution industries or could something be cooking with China?
W35. The month ends with the most important success of the Alberto Fernández presidency so far – its bond swap offer covering some US$66 billion of debt receives the adhesion of 93.5 percent of creditors or even 99 percent taking class action clauses into account. Guzmán quantifies the debt relief at US$37 billion, accompanying the announcement by revealing that the 2021 budget would shoot for almost halving the fiscal deficit to 4.5 percent of GDP. Lockdown is extended until spring as daily infection rates enter into five digits while allowing outdoor catering and social gatherings up to 10 people. The month closes with Argentina moving into the top 10 of confirmed coronavirus cases worldwide, overtaking Chile. Judicial reform clears the Senate by a 40-26 vote along strict party lines (A28) although opposition critiques are surprisingly joined by a vice-presidential tweet in which supposedly the main driving force behind the move dismisses the reform as "neither genuine … nor integral." On the same day the wealth tax on fortunes exceeding 200 million pesos and aiming to net over 300 billion pesos enters Congress after first being floated in April. The government formally requests (A26) negotiations with the IMF for a new programme to replace the 2018 agreement lending a record US$57 billion. Ex-president Eduardo Duhalde forecasts a doom and gloom scenario for the near future, including cancellation of this year's midterms and a possible coup d'état. Wildfires raging out of control in the Paraná Delta and elsewhere inland increasingly become an issue. But for many people the big news of the week is Lionel Messi leaving Barcelona – except that he doesn't.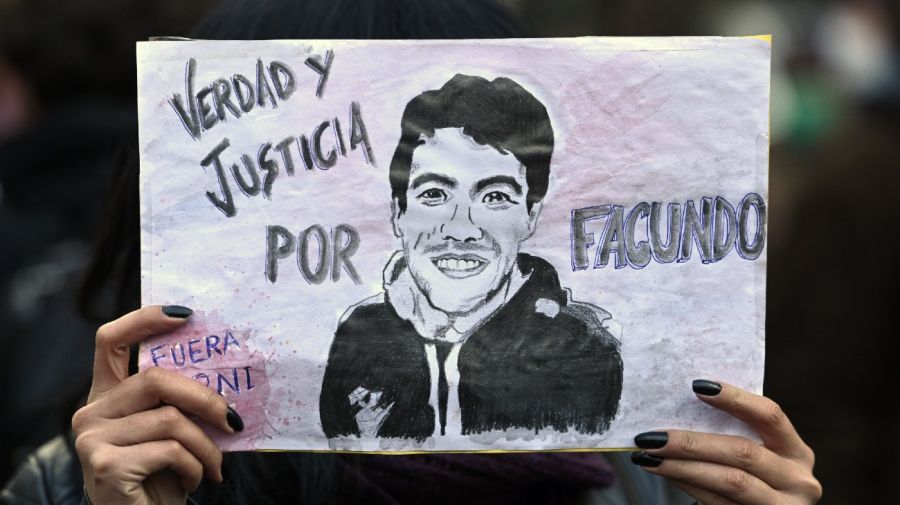 – SEPTEMBER –
W36. Forensic examination of the remains found in mid-August in swampy ground near Bahía Blanca confirm that they belong to Facundo Astudillo Castro (S2), thus elevating the case into a national controversy due to the suspected Buenos Aires provincial police responsibility for his death despite Berni's fiery denials. The Covid-19 death toll tops 9,000 (S2) with health workers increasingly complaining about the strain. President Fernández marks Industry Day (S2) with a raft of measures to aid the manufacturing sector totalling over seven billion pesos. Squatters in Greater Buenos Aires and in Patagonian Villa Mascardi bulk increasingly large as an issue of public debate. The national government generally takes a passive "where there's a need, there's a right" attitude to the problem, given the acute housing shortage in a country with so much land, but authorities closer to the ground like Greater Buenos Aires Peronist mayors are less philosophical – partly responding to low-income voters who have sacrificed all their lives for their little acre, only to see intruders grab land and public services free of charge, but also reacting against slum racketeers poaching on their traditional political patronage from brokering land rights for newcomers. Nevertheless, illegal although these land seizures are (and sometimes dangerous when on dumpsites containing toxic waste), they reflect an endemic poverty which cannot be ignored – building on the 2018 law to expropriate shantytown land and then distribute property deeds to over 85,000 resident families, transforming them into stakeholders within a new real-estate market, could be recommended here.
W37. A Buenos Aires provincial police mutiny (more related to pay grievances than to Facundo Astudillo Castro aspersions) effectively ends six months of pandemic truce between the national government and City Hall with the latter required to foot the bill for placating three days of police unrest with its slice of the federal revenue-sharing pie being cut from 3.5 to 2.32 percent (a plank in the 2019 Frente de Todos election platform delayed by coronavirus). Nothing wrong with transferring money to a historically underfunded province on behalf of a scandalously underpaid police force more essential workers than ever in the pandemic (which also slashed their overtime earnings from football matches, shows and private security work at shuttered businesses) – the problem is when virtually extortion at gunpoint, a dangerous precedent even if the new net basic monthly pay of 44,00 pesos solves the immediate problem. But doubled in size to 90,000 since 2013 (in large part due to the clamour of the law-and-order brigade), the Buenos Aires provincial police will continue to be a pay burden, the problem as much as the solution. The Covid-19 death toll enters into five digits (S7) with Catamarca the only province yet to report a fatality while the next day confirmed cases reach half a million, just one of 10 such countries worldwide. Báez can finally avail himself of the house arrest granted two months ago to spend it at his house in a Pilar gated community (S7), only to be repulsed by a barrage of stones, eggs and insults from indignant neighbours, later moving more discreetly to an undisclosed gated community (S9). Argentina officially ends 108 days of default, the ninth of its history, when its credit rating is upgraded to CCC+.
W38. Quarantine is extended until October 11 (S18) with tighter enforcement in some inland provinces as the pandemic becomes increasingly nationwide. But the week's biggest lockdown is on the currency front where the Central Bank drastically tightens capital controls to protect dwindling reserves (S15) – especially stiff is the rule obliging all private companies owing seven-digit dollar sums monthly to reschedule or refinance 60 percent of that debt out of their own means (which often means reallocating investment capital, as well as complicating export financing), thus virtually forcing them into the default which the government has just escaped. As President Fernández himself sagely commented the last time capital controls were this tight in 2013-2015, the problem with denying dollars egress is that they are also denied entry, All the market confidence gained by the successful conclusion of a painstaking bond swap stretching over five months is thus rattled within a week of formally ending default but the tardy negotiations are also to blame since there could have been exit from default with 11-digit reserves instead of virtual depletion. Instead of directly restricting the monthly US$200 purchases by savers (deplored by the government as unproductive panic hoarding), a 35 percent surcharge is added to the 30 percent PAIS tax. In reaction, the "blue" parallel dollar shoots up from 131 to 145 pesos while country risk closes the week at 1,237 points from just over 1,100 at the start. The Central Bank crackdown wholly overshadows the punctual submission of the 2021 budget on the same day, forecasting 5.5 percent growth, a fiscal deficit at 4.5 percent of GDP, 29 percent inflation, an investment rate of 18.1 percent, a lower trade surplus and an official exchange rate of 102.40 pesos per dollar by the end of the year. INDEC reports 2.7 percent inflation for August or 18.9 percent thus far in the year (S16). Claver-Carrone duly becomes BID president-elect (S15). The Senate goes on the warpath, first quashing 2016 decrees transferring three judges (Leopoldo Bruglia, Pablo Bertuzzu and Germán Castelli) to federal appeals courts where they are investigating Cristina Kirchner in corruption cases from whence they must now return to their original benches and then receiving a presidential bill to overturn all the federal revenue-sharing increases granted the City by the Macri presidency to fund the transfer of the Federal Police, taking its slice down to the pre-2015 1.4 percent. The week's deaths include politician Mario Cafiero (64), constitutional law expert Gregorio Badeni (77), fashion designer Elsa Serrano (73) and ex-minister Carlos Casamiquela (72), only the latter from Covid-19.
W39. Following a record 470 deaths, even if reported for rather than occurring in one day (S22), the coronavirus death tolls tops 15,000 (S25) but this tragedy is quite possibly eclipsed in the news by farce when on the same day deputy Juan Emilio Ameri (Frente de Todos-Salta) resigns after being caught showing more interest in a partner's bared breast than in a remote session of Congress debating the wealth tax presented by his own government. Perhaps not a new Monica Lewinsky but qualifying to bring politics into a terminal disrepute and trigger a revival of the "begone with them all" of 2001-2002 in indignation over how a party hack thus earns a monthly 240,000 pesos in times of economic collapse while his female aide nets 140,000. A presidency busy eroding the judicial branch thus finds the legislative branch deepening its disrepute, even if President Fernández now finds his approval ratings of 80 percent at the outset of the pandemic halved while the silver bullet of the bond swap has failed to stop the financial rot. A downward spiral all century with each presidential term doing worse than the one before it, even with the same president (Cristina). Meanwhile the pandemic spreads with half the winter's confirmed coronavirus cases arising in the hinterland as Mendoza reverts to ASPO quarantine. The economic data are no better with a steady stream of negative data from INDEC – the worst plunge in Argentine history with a contraction of minus 19.1 percent for the second quarter, unemployment reaching 13.1 percent and the trade volume shrinking 15.3 percent. Guzmán presents the 2021 Budget to Congress in a tense financial week which sees country risk rise from 1,237 to 1,342 points. President Fernández makes his United Nations début, addressing the 75th UN annual general assembly without going anywhere near New York City – insisting that no country can pay its debts at the cost of its people, calling on Iran to cooperate in the clarification of the AMIA terrorist bomb attack and affirming Malvinas sovereignty are his main themes.
W40. A month ending with the death of Quino, 88, (author of the unforgettable Mafalda cartoon strips) sees the Covid-19 death toll move into the world's top dozen. The month also closes with INDEC's latest poverty figures – two out of every five Argentines (40.9 percent) below the poverty line and four out of every seven children (56.3 percent of those aged under 14) living in impoverished households, a negative projection for the future, especially given the widening educational and digital gaps. The Supreme Court unanimously decides to accept the per saltum appeals of judges Bruglia, Bertuzzi and Castelli against the Senate vote transferring them for their current federal appeals court benches (S29). The next day the Federal Criminal Cassation Court confirms the corruption trials against the vice-president.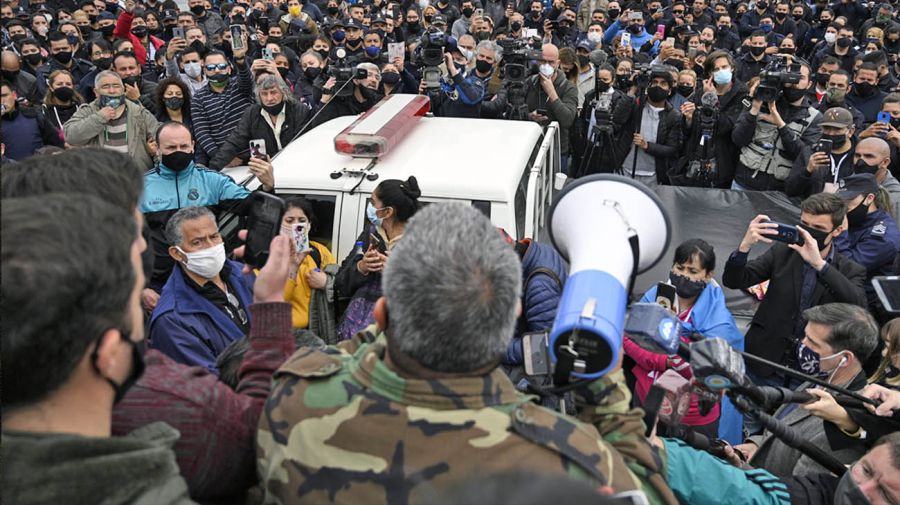 – OCTOBER –
W41. The month begins with export duties being trimmed to coax dollars (although upping the return from 51 to 54 pesos per dollar is not much of a lure when the "blue" is hitting 160 pesos) plus dollar-linked bonds (with the official exchange rate the reference, obviously) in order to soak up all that peso liquidity. The start of the month also sees an ambiguous autopsy on the drowning of Facundo Astudillo Castro, after which the issue fades. All the economic and pandemic urgencies notwithstanding, the month's first big crisis for a government with its own agenda is Argentina's Geneva vote in support of a UN report denouncing human rights violations in Venezuela (O6). This decision (attributed to the Foreign Ministry although probably also appreciated by an Economy Ministry angling for US support in the upcoming negotiations with the IMF) splits Frente de Todos ranks with fiery outbursts from ultra-Kirchnerites while Ambassador to Moscow Alicia Castro resigns from a mission she has yet to start. An autistic Kirchnerite agenda also includes backlash against the previous week's per saltum in the form of demanding the impeachment "for seeking the impunity of state terrorists" of Supreme Court Chief Justice Carlos Rosenkrantz (who cut his legal teeth at the 1985 junta trials). The divisive Geneva vote on Venezuela coincides with the 200th day of quarantine when Argentina overtakes Russia's death toll to move into 12th place in a world whose star patient is Donald Trump (as from O2). President Fernández takes the next round of quarantine inland as never before (O9), restricting circulation in 18 provinces. The 200th day of quarantine also sees an IMF mission in town beginning talks with and beyond government officials. The Nodio media observatory is created (O8).
W42. Not too much new in the week between the Columbus Day public holiday (O12) with nationwide banderazo protests and the 75th Peronist Loyalty Day (O17) that Saturday, shunned by Vice-President Cristina Fernández de Kirchner – not the movement's most glorious moment with coronavirus pandemic, economic slump and monetary chaos but then the 10th, 30th, 40th and 70th anniversaries all came just before or after exit from government or electoral defeat. The government tries to balance the previous week's Geneva vote by refusing to sign a Group of Lima communiqué condemning human rights violations in Venezuela on the grounds that it recognises Juan Guaidó instead of Nicolás Maduro as president (O13). The next day INDEC posts September inflation of 2.8 percent or 22.3 percent for the year with recession and government price and monetary controls as powerful restraining factors. The government hikes the minimum wage for the first time in 13 months and the 56th IDEA business symposium is for the first time expelled by the pandemic from Mar de Plata to be held in a virtual cloud but in general let's just call this another quarantine week.
W43. The total of confirmed coronavirus cases becomes millionaire (O19), making Argentina one of just six countries with a seven-digit total, (at least according to official figures with Argentina's high total perhaps also testimony to an advanced public health system in reporting a largely asymptomatic disease) and lockdown is predictably extended for another fortnight with almost no changes (O23) although the previous day domestic flights are resumed in a trickle. Despite such escalation public opinion polls show only 30 percent registering Covid-19 as their biggest worry with two-thirds giving pride of place to economic anxieties (as against 16 percent at the start of the pandemic). INDEC reports the economy as shrinking 11.6 percent in August as against the same month in the previous year (hotels and restaurants down 56 percent). Squatters mobilised by the picket leader Juan Grabois take advantage of a family inheritance spat to overrun the ranch of Macri's Agriculture minister Luis Miguel Etchevehere in Entre Ríos (O20), thus opening up another front. On the same day the Anti-Corruption Office withdraws as a plaintiff from 32 corruption cases (28 of them involving Kirchner presidencies). With just 53 Covid-19 deaths all year, Uruguay closes its borders for the summer (O22). In Bolivia Luis Arce of the Movement to Socialism (MAS) wins a presidential landslide with 55 percent of the vote (O18) with Fernández one of only three South American presidents to attend his inauguration three weekends later.
W44. Government patience with the squatters finally runs out and they are cleared out of the main Greater Buenos Aires hotspot of Guernica and the Etchevehere ranch in contrasting fashion – a typical Berni show of force with tear gas and rubber bullets in the former and negotiated in the latter (O29). Weeks of fruitless negotiations (including the last-minute offer of a 50,000-peso monthly subsidy to abandon the site, topping the 44,000 pesos recently granted the police and surely an invitation to blackmail) had convinced the Buenos Aires provincial government that there was a hard core of squatters more interested in flagging the housing problem than solving it. Governor Kicillof tries to maintain a progressive image by arguing that gated communities are the real squatters since they "mostly" pay no taxes but his own ARBA tax bureau clarifies that only 230 of the 870 are in arrears, usually for not upgrading their real estate from farmland status or due to a reversion from digital to paper registration imposed by Kicillof rather than outright evasion. Yet all this receives less media coverage than the curious antics of the vice-president, who in a week ending in Halloween not only shuns the elaborate ceremony prepared to honour the 10th anniversary of her own husband's death after repatriating his statue from Quito (O27) but also pens a public letter questioning the government of her own creation (as if she did not have the option of a more private word in the presidential ear in a purely verbal exchange). She also makes the unexpected proposal of an omni-sector agreement (from which she excludes herself as fully represented by the President) to end Argentina's chronic dollar dependence, even admitting that her own model presidency had shared that problem – less startling than it seems since the Alberto Fernández presidency had been envisaged as a new Duhalde-style transition doing the dirty work to exit crisis and pave the way for a new decade of Kirchnerismo. The months closes with the "blue" parallel dollar peaking for the year at 195 pesos while country risks tops 1,500 points at times after Central Bank reserves fall below US$40 billion in midweek but the dollar-linked and other bonds are already doing the trick, netting over a quarter trillion pesos to finance the Treasury in one day (O27). In midweek ATP wage supplements are limited to the hardest-hit sectors (tourism, culture and catering) while the five-child limit for AUH family benefits is lifted. Civic Coalition leader Elisa Carrió urges opposition support for the presidential nominee for Attorney-General Rafecas as a lesser evil to a more extreme alternative.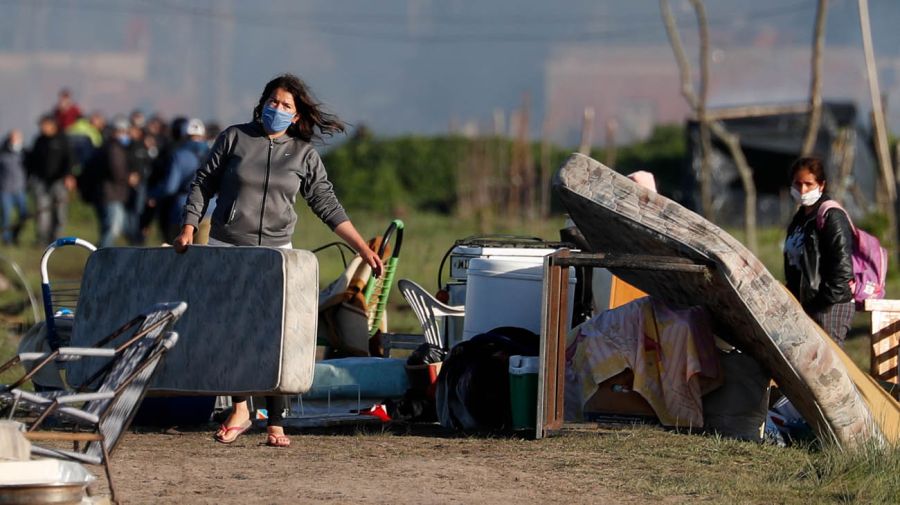 – NOVEMBER –
W45. There was no edition of this newspaper for the first week of November due to News Vendor's Day falling on a Saturday this year. We could search elsewhere for local information but let's be honest – who didn't spend more of that week following the painstakingly endless count of US mail ballots as Joe Biden finally evicts that ultimate bad loser Trump from the White House by the same 306-232 electoral college result whereby the Republican had entered it in 2016 while the Democrats win the popular vote by 81.27 million to 74.21 million?
W46. After almost eight months of quarantine, the government decides that the time has now come to start planning the vaccination stage with the aim of inoculating 11 million people against Covid-19, pinning their hopes mainly on Russia's Sputnik V and the Anglo-Swedish Oxford-AstraZeneca while talking to Pfizer, which claims to be 90 percent effective (N9) only for Sputnik to claim 92 percent two days later. The Covid-19 death toll climbs beyond 35,000, apart from the most famous name so far – veteran film director and politician Fernando "Pino" Solanas, 84, who dies in Paris (N7) where he is serving as ambassador to UNESCO. Housing Minister María Eugenia Bielsa, heading a portfolio stillborn by the pandemic, resigns (N11), to be replaced by the far more Kirchnerite Avellaneda Mayor Jorge Ferraresi. An IMF mission returns to town (N10) in response to the government's request for an Extended Fund Facility to postpone payment on the US$44 billion lent since 2018 with a 54-month grace period sought In return the government is prepared to discuss structural reforms, having already removed index-linking for inflation from pensions as well as weeding pandemic emergency wage and income supplements out of the 2021 budget. October inflation weighs in at 3.8 percent, the highest so far in the year, with the key item of food and beverages the main culprit at 4.8 percent. The "blue" dollar, which had fallen from 195 to 157 pesos in the first week of the month, now returns to 172 pesos. The eighth nationwide banderazo anti-government protest (N8).
W47. Congress now becomes the focus with a marathon 20-hour lower house session to approve the wealth tax and a bill to counter the recent wave of wildfires for suspected agricultural and commercial exploitation (N18), the day after President Fernández dons a green tie to send Congress a bill to legalise abortion in the first 14 weeks of pregnancy, as well as a "Thousand Days Programme" to help mothers going ahead. While the sincerity of the consistent presidential pro-choice stance has never been in doubt, there are suspicions that the timing might be aimed at side-lining judicial reform (whose consulting commission delivers a generally inconclusive report on the scheduled date of N18), more trouble than it is worth as a divisive issue both within the government and beyond as almost nobody's priority in this pandemic year. Abortion could also change the subject from the government's willingness to discuss structural reforms (one synonym for austerity) with the IMF, offering the end of pension index-linking and pandemic emergency supplements as tokens of good faith – a budding austerity which produces an early backlash in the form of a stiff letter from the Frente de Todos Senate caucus (N15) admonishing the IMF "to abstain from demanding or conditioning Argentina's economic policies." This may in turn have accelerated the wealth tax in order to avoid further spending cuts from the revenue end – with the tacit approval of the IMF, more interested in closing the fiscal gap than how as well as critical of Latin America's extreme income inequalities. While taxing fortunes topping 200 million pesos might look like the purest social justice, the tax base of the end of 2019 could include assets liquidated by the pandemic and even where profit margins have survived, the tax percentages will largely absorb them at the expense of investment. Perhaps this levy should have awaited the more general tax reform promised and long overdue. The wealth tax is passed by a 133-115 vote and the fire bill 132-96 – both dear to the heart of Frente de Todos caucus chief Máximo Kirchner. On the coronavirus front, President Fernández gives various dates for the start of vaccination and the Supreme Court rules against Formosa's total closure of its frontiers. Pensions are hiked five percent for the end of the year (N18). City Education Minister Soledad Acuña kicks up a minor storm by accusing the teaching profession of degenerating into militant ideological indoctrination and a job opportunity for the lowest socio-economic sectors failing elsewhere. Billionaire banker Jorge Brito, 68, of Banco Macro fame, is killed in a helicopter crash in Salta (N20).
W48. "Diego (1960-2020)" are the only words on our front page. A sporting legend, Maradona's importance is nevertheless as a supreme example of upward social mobility in a country which has largely lost it, rising from the subhuman slum conditions of Villa Fiorito to football deity. But also sad confirmation that even when people manage to escape the poverty trap, they never really do – when Maradona found the way out, it eventually destroyed him, a modern Moby Dick. A walking contradiction between supreme creative talent and extreme self-destructive tendencies which somehow reflects his country. His wake at Government House is chaotic (N25) and the avoidability of his end has been a news issue ever since. Maradona becomes the only news as soon as he fails to wake up in midweek – before that the main focus for national emotions is the plight of Abigail Jiménez, 12, the cancer-stricken girl who has to be carried across the Santiago del Estero border by her father because provincial policemen enforcing quarantine restrictions will not let his car through (a cheap opposition bid to discredit lockdown, according to Cafiero). In the previous weekend President Fernández makes the pandemic his main issue when addressing the G20 summit in Saudi Arabia from the Atlantic resort of Chapadmalal. The Vaccination Committee holds its first meeting with the aim of inoculating a quarter of the population before the arrival of winter (N24). Economic activity in September only dips 6.9 percent from the same month in 2019 (nevertheless a low base as the first full month after the shock PASO primary results), INDEC reports, suggesting that the downturn could be evening out. Federal Judge Marcelo Martínez de Giorgi acquits Vice-President Cristina Kirchner and over 200 co-defendants in a corruption trial involving the misallocation of bus subsidies on the grounds that the so-called "cuadernos" (the notebooks of former Federal Planning Ministry chauffeur Oscar Centeno chronicling over a decade of public works graft) are not admissible evidence but on the last day of the month the Federal Cassation Court underwrites the validity of graft trial testimony by whistleblowers. In one of the year's few elections Córdoba Peronists retain Río Cuarto City Hall (N29) while President Fernández rounds out his month with telephone calls to US president-elect Biden and Bolsonaro – the former call ends with negative fallout when Solá is taken to task for "misquoting" Fernández as denigrating Trump's man on the IMF, Mark Rosen, on order to win brownie points with Biden, only to discover that Rosen will be staying on for now (does Solá really have that much creative imagination or was he the fall guy for a presidential gaffe?). The month closes with a new rugby scandal as three Pumas (including their captain Pablo Matera) are suspended for racist and xenophobic social network messages.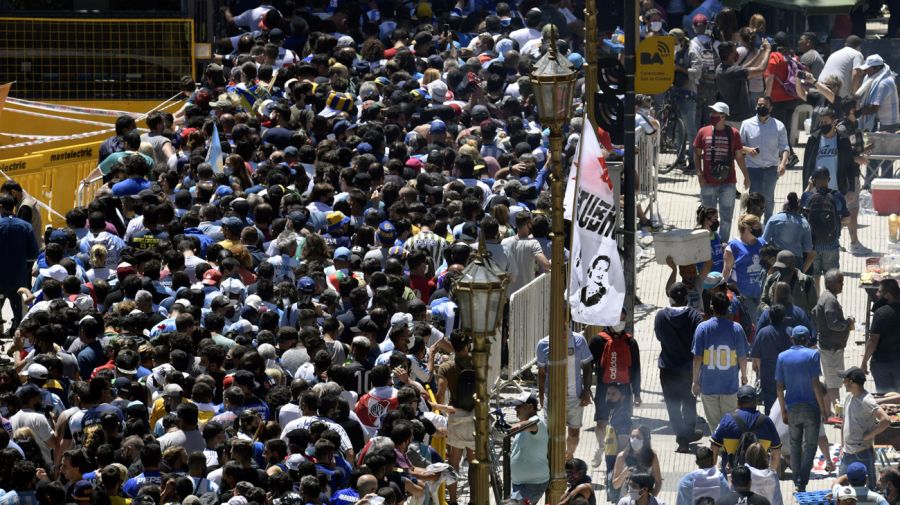 – DECEMBER –
W49. The Chamber of Deputies kicks off the month by knocking this City back to its 2015 slice of 1.4 percent of federal revenue-sharing funds by a close 129-118 vote after another marathon 20-hour debate. In 2016 Macri had upped the share to 3.75 percent (later trimmed to 3.5 percent) in order to fund the transformation of the Federal into the Metropolitan Police but government deputies argue that almost trebling the transfer wildly overshot the true costs of policing, which will now be defined in two months by a joint commission of national and municipal governments – an amendment sending the bill back to the Senate. Rodríguez Larreta (a runaway leader in the opinion polls) immediately denounces the move as a "political attack" to undercut an electorally dangerous rival. The politics of envy fostered by the Kirchnerite bastion of Greater Buenos Aires against an "opulent capital" is indeed at work here and even a 3.75 percent slice grossly short-changes the almost a quarter of the nation's revenues collected in its capital but concentrating that quarter of the national wealth also makes this city an island of First World prosperity in an increasingly Third World country while its national subsidies are inordinately generous (around 50 times those going to the province of Santa Fe with a comparable population). These latest cuts, triggered by the urgency of appeasing the Buenos Aires provincial police in September, stem from a zero-sum game between City and Province but these need not be so – not only has the loss of one not necessarily been the gain of the other but both are short-changed with barely a quarter of federal revenue-sharing between them while accounting for almost two-thirds of tax collection and economic output. At the other extreme this system has allowed provinces like Formosa and Santiago del Estero to maintain quarantines which defy the laws of economics. The Supreme Court dooms former veep Amado Boudou to a Christmas behind bars when it upholds his 70-month sentences for irregularities in the sale of Ciccone money-printing firm (D3), thus provoking a storm of indignation in Kirchnerite circles about "lawfare" and "political prisoners" and even calls for the impeachment of the top tribunal. On the same day UCA Catholic University calculates 44.2 percent of the population as lying below the poverty line with fully 64.1 percent of children growing up in impoverished households.
W50. "Halfway to history" reads our main headline as the bill to legalise abortion clears the lower house by a 131-117 vote while Alberto Fernández marks his first year in office (D10). A year in which everything has changed with coronavirus – and also very little. The presidential contradictions are legion but at the same time he has stuck to his chosen course – the City federal revenue-sharing cuts of his election campaign (confirmed D10 by a 40-25 vote in the Senate), the judicial and abortion reforms announced in his March state-of-the-nation message – with remarkable constancy, given the competing public health and economic priorities. The coronavirus pandemic defining the first year of his presidency has brought Fernández numerous headaches but also some benefits – record approval ratings of up to 84 percent in the initial spell, a green light for state intervention, the perfect alibi for any economic failings and guaranteed success for his foreign debt negotiation despite plenty of fumbling because the sums at stake lost all importance against the trillions being lost (and printed) worldwide. Yet the grim bottom line is the number of lives lost, which crosses the threshold of 40,000 on D8. While the president marks the first anniversary by announcing the purchase of 10 million doses of Sputnik V vaccine, his veep has her own way of celebrating with yet another public letter on its eve in which she makes no mention of the president but launches a savage "lawfare" attack on the Supreme Court, at whose door she also lays the sabotage of economic policies and the foreign debt. INDEC reports industrial production down 9.9 percent for the first 10 months of the year. Deaths include the 2014 World Cup final coach Alejandro Sabella (66) and actor Carlos Andrés Calvo (67), neither of Covid-19, while over the water Uruguayan two-term ex-president Tabaré Vázquez, 80, dies of lung cancer (D6).
W51. The Sputnik V vaccine becomes the week's main talking-point following Russian President Vladimir Putin's extraordinary admission that it has yet to be cleared for those over 60. The shot's murky testing and approval procedures lead to it being demonised in opposition media, perhaps unfairly since it seems to follow broadly similar scientific and medical parameters to its competitors – but in that case why is there no global vaccine with all the economies of scale to produce the billions of doses needed, instead of so much national rivalry? There are calls for González García's interpellation and even impeachment. The economic data stays negative – a -10.2 percent year-on-year contraction for the third quarter of the year (with the Economic Commission for Latin America and the Caribbean forecasting -10.5 percent for 2020), 3.2 percent inflation for November with 3.9 percent core inflation or 30.9 percent for the year thus far while unemployment is 11.7 percent with the workforce 37.4 percent of the population. El Palomar airport servicing low-cost airlines is finally shuttered (D14), a further step towards a virtual Aerolíneas Argentinas monopoly. A total eclipse of the sun the same day.
W52. The first batch of 300,000 doses of Sputnik V vaccine arrive from Russia on Christmas Eve just in time to go under the Christmas tree, having received hasty approval the previous day from ANMAT (Argentina's equivalent of the US Food & Drug Administration), an approval previously extended to Pfizer (D22), which may, however, prove beyond Argentina's means. The Russian vaccine is very much the theme of a brief presidential Christmas message. Also lining up under the political Christmas tree are the legalisation of abortion and the new mechanism for updating pensions, both up before Congress the following Tuesday. Abortion is too deep a controversy for this space – the removal of inflation from pension index-linking has been questioned but so far retirement benefits have suffered more from denial of previous shortfalls than from inflation, which has been partly tamed by recession and tight state controls. The Christmas spirit also seems to seize Fernández de Kirchner, who continues weeding any austerity out of the 2021 Budget. Ailing ex-president Carlos Menem, 90, spends Christmas in an induced coma. More bad data – a minimal November trade surplus of US$271 million and October's economic activity 7.4 percent down on the same month in 2019. Just three days before the New Year, the Senate begins its marathon session debating bill to legalise abortion – the measure is passed 38-29 the following morning, sparking wild celebrations among pro-reform campaigners on the streets outside. An hour later, the '1,000 Days' bill also wins approval. Soy-crushing workers end a 20-day strike that had paralysed exports, while Amado Boudou is ordered back behind bars as his house arrest is revoked. The government ends the year with three coronavirus vaccines approved by ANMAT, as the AstraZeneca-Oxford jab is waved through. Teachers union boss Roberto Baradel and Santa Cruz Governor Alicia Kirchner both catch Covid-19 in the closing days of the year – a reminder that the crisis is far from over and that the coronavirus will continue to dominate the coming 12 months (though let's hope not as much).
A Happy New Year to all readers – thanks for joining us!