Argentina's March 31 deadline to wrap up talks with bondholders is increasingly looking like a long shot.
President Alberto Fernández's government gave itself just two months to collect ideas, host the International Monetary Fund and finalise an offer with its creditors as the country stares down a total debt load of more than US$300 billion. Analysts doubt there will be enough time.
"This is an extraordinarily ambitious timeline for such a complex undertaking," said ING Financial Markets chief Latin American economist Gustavo Rangel in New York. "We don't know the incentive: Do they want this quickly or do they want it to be sustainable?"
Tight timeline
Fernández, whose government took office in early December, hasn't offered a clear reason for picking the March 31 date or provided detail on what an offer to investors may include. The challenge will be striking a balance in a plan that appeals to investors while still giving the nation much-needed relief.
While the nation's roadmap may lead to some version of an initial offer, there's little chance it'll be the end of debt talks, said Stuart Culverhouse, head of sovereign and fixed income research at Tellimer Markets Inc. in London. Bondholders will want clarity on what an agreement with the IMF will look like and what kind of concessions Argentina wants.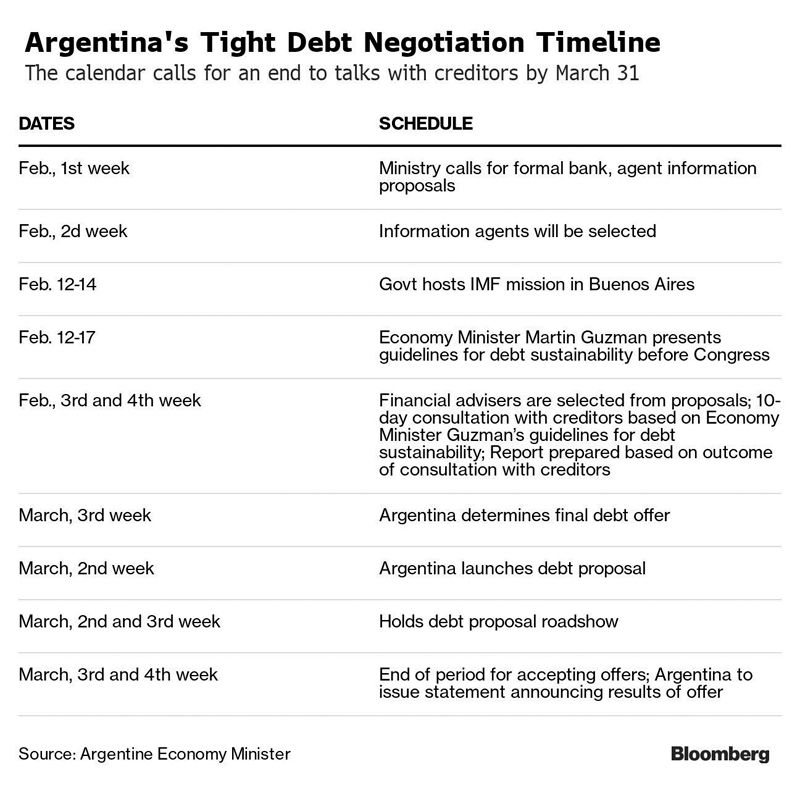 "My first impression is that the plan is wholly unrealistic," he said in an interview. "It raises the possibility that it will have to be a very friendly deal to get it done that quickly, but it doesn't seem consistent with what they've said they've wanted in the past."
The nation's foreign-law dollar bonds still trade at just 40 to 50 cents on the dollar – barely changed since Fernández swept to an unexpected PASO primary victory back in August. The prices underscore expectations of low recovery values, a long, negotiated grace period, coupon reductions and debt relief, ING's Rangel said.
"It's a trade-off between the litigation risk and the debt sustainability," said Gabriel Sterne at Oxford Economics in London. "It suggests they'll try and do a can-kick because that is the kind of deal they can get through now."
Two months
The tight timeline is "a positive development and helps with transparency," Dirk Willer, managing director at Citigroup Capital Markets for emerging-markets fixed-income strategy, wrote in a note. Still, with a deadline just under nine weeks away, there's a risk that the government moves to unilaterally impose the guidelines and gets pushback from creditors, he wrote.
There's also the question of whether bondholders will agree to extend debt maturities and forfeit coupon payments without the certainty of future payments, said Siobhan Morden at Amherst Pierpont Securities in New York.
"This is not a traditional process, but rather a strategy to quickly reach a deal with bondholders that solves a political problem," she said in an interview. "The intentions are not to solve an economic problem."
– with assistance from Jorgelina do Rosario.
by Sydney Maki & Scott Squires, Bloomberg