They cruise through the deserted streets of Buenos Aires on motorbikes or in cars with tinted windows. If police stop them, they show permission slips to deliver food or home cleaning supplies.
But they're actually delivering US dollar bills – illegally.
Demand for hard currency in Argentina is surging as fear of an imminent debt default revives traumatic memories of past crises. At the same time, the coronavirus lockdown is forcing savers to get creative about the way they use the black market to evade strict currency controls introduced in September, and ditch depreciating pesos for the safe haven of dollars.
"In the last 70 years, Argentina has seen a vertical drop in the peso's value, so the only refuge people have to preserve savings is a stable currency – the dollar," said Gustavo Quintana, an analyst at PR Corredores de Cambio, a currency broker in Buenos Aires.
The peso has lost about a third of its value on the black market since the lockdown started on March 20, slumping to a record of 120 pesos per dollar in recent days, according to data compiled by news site Ámbito Financiero. The cost of buying a dollar at the unofficial rate is now nearly double the Central Bank's official rate of 66 per dollar.
The crash alarmed policy makers who are taking steps to curb volatility. Argentina's securities regulator may reduce the amount of dollar liquidity open-ended mutual funds can hold to reel in a separate unofficial rate known as the blue-chip swap, which has a knock-on effect in the black market.
President Alberto Fernández's government is trying to restructure US$65 billion in debt and recently made an offer to foreign creditors. It missed interest payments last week, and if no deal is reached by May 22, the nation will default for the fifth time since 1980.
After decades of defaults, currency crises, high inflation and volatile politics, men yelling "exchange! exchange!" in downtown Buenos Aires became part of the city's fabric. Amid the coronavirus pandemic, though, no-one is selling on the streets and instead they're delivering to customers' homes.
The business isn't risk free. Police stopped one man claiming to deliver cleaning products who was wearing an expensive watch. They ultimately let him go after he showed them a box of cleaning supplies.
"It's nothing new, we're used to them chasing us," he said, asking not to be named since he's breaking the law. "Argentines know that really high inflation is coming so they're trying to put everything into dollars."
Another dollar dealer who spoke to Bloomberg News said he also works as delivery man for Glovo, a food delivery service that competes with Uber Eats. Both delivery men noted that demand is surging because of economic fears while some black market exchange houses aren't working during quarantine, reducing the dollar supply and adding extra pressure to the rate.
Argentines can only legally buy US$200 a month, and must also pay 30 percent tax on all legal dollar purchases. Saving in pesos is also a guaranteed money-loser, since the Central Bank has slashed interest rates far below the inflation rate of 48 percent.
"Most of the drivers of the unofficial rate spiralling up are the negotiations with the debt," said Luis Schiumerini, an Argentine political science professor at the University of Notre Dame who co-authored a paper on the illegal exchange rate. "Part of the reason also why the blue went up is that money is being printed."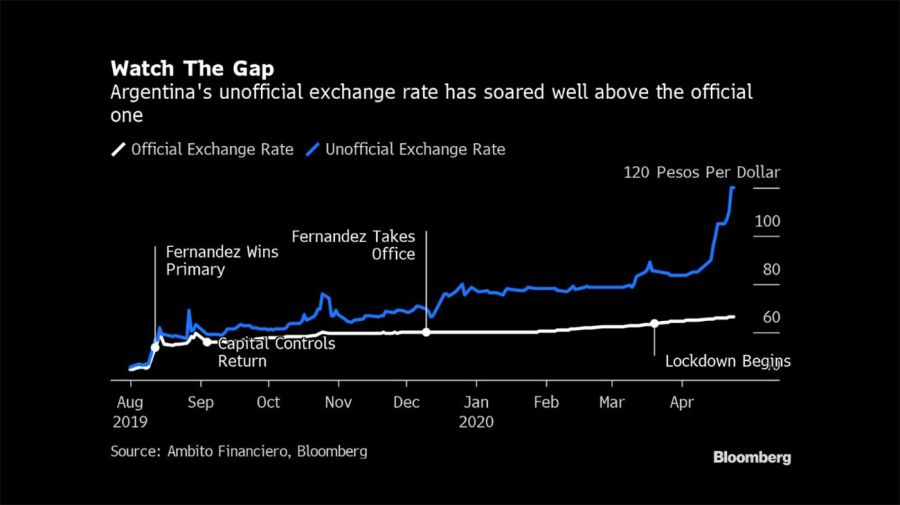 by Patrick Gillespie, Bloomberg