In Colonia Liebig, Corrientes Province, northeastern Argentina, the town's inhabitants number more than 4,000. Almost all of them depend on a yerba mate farming cooperative founded a century ago by German settlers, but a fierce drought is killing crops. After breaking production records in 2021, a mate slump is now looming.
"The plants are withered. Sixty percent are dead. Losses are in the millions and we are still falling – we still haven't reached the bottom. The situation is a total disaster," says Orlando Stvass, the vice-president of the Liebig Agricultural Cooperative, producer of the popular Playadito brand of mate, the market leader.
In the yerbales, or mate plantations, of Colonia Liebig, the fields are usually a deep green. Now, the plants combine to create a brown sea of dry bushes.
"They burned like they were in an oven," says agronomist Alberto Müller as he walks through the plantation, surveying the damage.
Colonia Liebig, along with areas of Misiones Province, is the prime region in Argentina that's suitable for the cultivation and growing of yerba mate, the leaves of which are used to prepare the traditional infusion that is exported to Syria, China, Chile, Lebanon, the United States and Spain, among other destinations.
This new blow to producers will not reach the consumer until 2023 because yerba requires about 10 months of storage before it is packaged.
"This year's stock is assured, but after that there will be a shortage," warns Stvass.
Argentina is the leading exporter of mate and second in production only to Brazil. Along with Paraguay, the three nations are the world's main suppliers.

Disaster
Cultivating yerba mate requires iron-rich soils and a subtropical climate with no dry season. But local production areas have not had rain for more than three months, temperatures are running unusually high and the region is under continued threat from the fires that have devastated 10 percent of Corrientes Province.
According to producers, the region is enduring the worst drought since 1944.
"We have been suffering from a significant water deficit, [which has been] accentuated in the last three months by high temperatures of up to 45 degrees Celsius – four or five degrees above average," explains Müller.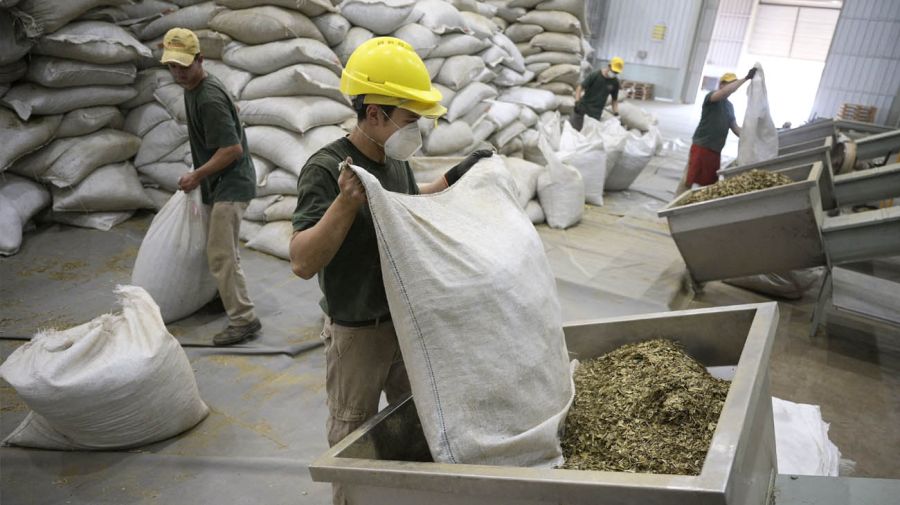 April is normally when the harvest season peaks, but those closeby say there are no leaves to harvest.
"We can't yet measure the extent of the social problem. Ninety per cent of the harvest is done manually and these people will be left without work. I don't know what we are going to do," says Stvass.
In Liebig alone, a thousand workers are directly involved in the harvest. Thousands more will also be affected.
"It's going to be a terrible social problem," Svatss remarks, recalling that Liebig "boasts of having full employment" in a country where unemployment stands at almost 10 percent.

Millions in losses
"The drought ruined a decade of research and development, the time it takes for the plant to reach maximum production," says Müller.
In Liebig "the plots are dry and have lost all their leaves – most of the plants are dead, we can no longer recover them with rain," reports the agronomist.
Drought also compromises seed collection and the unique 'blend' created by each producer.
Last year, production in Argentina produced the best yield of the last five years with a record 882 million kilos – a jump of 8.5 percent compared to 2020 and almost 28 percent higher when compared to 2017.
"We expect that cushion to soften the fall," Stvass hopes.
During the last two years Argentina has imported yerba from Brazil to meet growing domestic demand and maintain its international expansion, which has mainly been in Arab countries where the infusion was brought in by the return of Syrian immigrants who had come to Argentina in the last century.
"This year we saw a 30 percent drop in the total production of yerba mate in Argentina, which is extremely important and will be passed onto [consumer] prices," Stvass predicted.
According to the National Institute of Yerba Mate (Instituto Nacional de la Yerba Mate), Argentines consume around six kilos of yerba per person per year, with mate present in around 90 percent of households.
"Mate for me is a daily thing, at breakfast, at snack and after dinner, I never miss it," says Agustín Litwin, a 20-year-old student worried about the effect the drought will have on the prices of his favourite brand.
Preliminary estimates put the losses to the economy at four billion pesos (about US$35 million).
"We haven't had a drop of water since November 15 and we don't know how much longer it will continue. It's not over yet," Stvass warns.

by Sonia Avalos, AFP