Argentina's economy has taken a big blow from the coronavirus pandemic and the national government is betting on lithium mining as a significant source of revenue in the coming years.
The Alberto Fernández administration hopes to boost annual lithium carbonate production to more than 230,000 tons by the end of 2022, a sharp rise from the current level of 40,000 tons. This ambitious estimate would arrive thanks to a US$1-billion investment over the next three years, with the government expecting new lithium mines to open up soon.
Mining Secretary Alberto Hensel said in a recent conference that the government is analysing investment incentives for lithium mining, including a possible exemption for profit repatriation. Argentina could even have a system of "progressive" export taxes to charge lower rates at the start of a new project, he added.
"Argentina has the potential to triple its mining exports, including lithium, and reach over US$10 billion. There are 34 projects in the pipeline," said Hensel.
The government is now working on a strategic road map for the mining sector for the next 30 years, which should be completed by March 2021, he added.
However, energy experts warn that the government's ambitions are unrealistic and will require greater investment, while social and environmental organisations are also expressing concern over what they fear is an uncontrolled expansion of the activity in Argentina.
Growing demand
Described by some as white gold, lithium is a key resource in the manufacturing of batteries for mobile phones, computers and electric vehicles, among other products. Thanks to growing demand by automobile manufacturers, its price has soared over the last five years from US$4,000 to US$13,000 per ton.
Argentina has the world's third-largest lithium reserves and is located in the so-called 'lithium triangle' that also includes Bolivia and Chile. The area is home to more than 60 percent of the world's annual lithium production. But while its Latin American neighbours consider lithium to be a strategic resource, according to most experts, Argentina is lagging behind in its development.
In national territory, lithium is currently extracted from salt mines in the northern provinces of Jujuy, Catamarca and Salta. There are two large mines currently in operation: Salar Olaroz in Jujuy Province and Salar del Hombre Muerto in Catamarca Province. The latter region extracts as much as 30,000 tons per year, representing 15 percent of global production.
There are many projects in the pipeline too. The Cauchari Olaroz mine, run by Minera Exar, is set to start extracting lithium in 2021 in Jujuy and will be capable of producing 50,000 tons per year. Altogether, there are also 16 projects in advanced exploration, which could eventually start production, and another 40 in an early stage, according to government data.
Companies from Canada, Japan, South Korea, Australia, New Zealand, the United States, France and especially China have expressed interest in lithium extraction projects in Argentina. Cauchari Olaroz, for example, is a joint venture between Lithium Americas from Canada and Ganfeng Lithium from China.
"Argentina's lithium production could expand tenfold by 2024 if all these projects that are now in the pipeline become operational," Alberto Carlocchia, head of the Chamber of Mining Businessmen (CAEM), told the Times. "We could become the third producer in the world over the next few years, reducing the gap with Australia and Chile."
Challenges ahead
The coronavirus pandemic forced the government to hit the pause button this year over its lithium expansion plans. The mines currently in operation halted activity for a large part of the year under measures introduced to tackle the spread of Covid-19 in Argentina. The extended lockdown even caused operators to pull the plug on at least one upcoming lithium project, the Centenario Ratones site in Salta.
With restrictions now relaxed significantly, with Argentina now in a stage of social distancing rather than isolation, the Fernández administration is dusting off its plans and studying how it can reignite the sector.
Experts, however, say there are significant challenges that need to be overcome if the government is going to reach its targets. For example, while Argentina has attractive lithium resources, they are located in areas difficult to access, said Emily Hersh, executive vice-president at US Critical Minerals LLC and a leading industry expert.
"Expanding production will require reliable infrastructure and energy for the mines, something that isn't there yet and will take time to develop," Hersh told the Times.
The foreign currency restrictions currently in place also represent a challenge to the sector's expansion, with foreign companies facing limitations on taking their profits overseas. Carlocchia said the country needs "clear rules and normative fiscal stability" if investment is to arrive for the lithium mining sector, a familiar sentiment that applies to much of Argentine industry.
"We are encouraging the government to create a law for large-scale investments to support all large projects that want to be carried out in the country, ensuring the conditions and stimulus for their development," said the CAEM expert. "Argentina has to continue encouraging investments in the mining sector."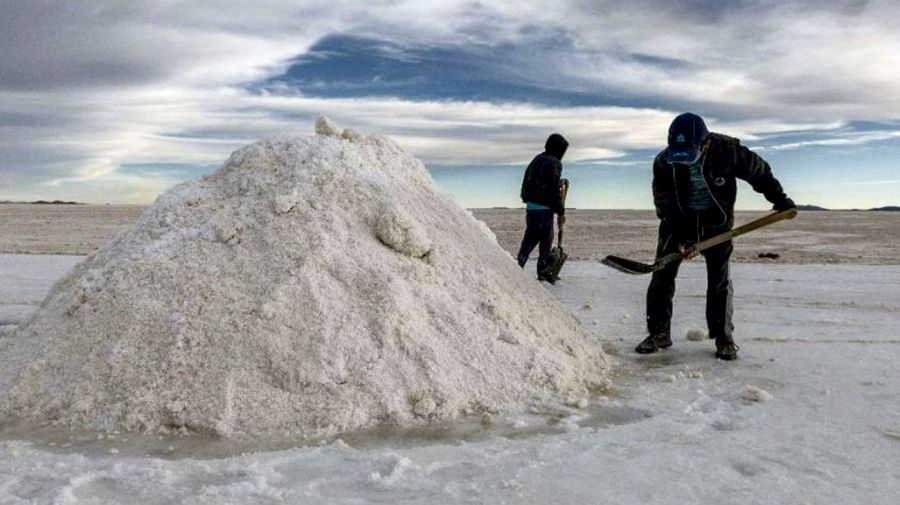 The overall expansion of lithium extraction has also forced a debate among experts about the role the country should play. Experts question why the mineral is largely exported with no added value, with authorities having so far disregarded the possibility of Argentina manufacturing its own batteries for export.
Demand will certainly be there for decades to come. A shift towards electric and hybrid cars in developed countries has dramatically increased global demand for lithium. Many European and Asian countries, such as the United Kingdom, Japan, France and China, among others, have put in place goals to phase out diesel vehicles over the next 20 to 30 years.
For some, the lack of future planning is a source of frustration. Bruno Fornillo, a researcher at Argentina's main scientific research body CONICET and coordinator of the book Geopolítica del litio ("Lithium Geopolitics"), told the Times that Argentina "lacks a national policy" concerning the mineral and that attempts to place added value on production have been "insufficient," with no "long-term state policy."
"There's no articulation between the provinces and the national government on lithium policies and that makes everything more difficult. There are only a few attempts to try to add value to the mineral, but they are not enough," he said, referring to research centres in Jujuy and Córdoba that explore the uses of lithium.
Environmental risks
As extraction projects intensify, activist groups have also raised concern about the negative consequences' lithium mining could have on the environment. They highlight concerns such as the consumption and pollution of waterways, the impact on areas close to mining sites, chemical contamination and the threat to biodiversity, among others.
Many concerns are based on the process of extraction. Lithium is obtained through an evaporation process, which requires two million litres of water per ton of mineral extracted. Part of it is salted, meaning the water is unsuitable for human consumption. By using so much water, underground fresh water aquifers could be affected, environmental experts argue.
A lack of water would also affect local populations, especially those which rely on it for their daily activities, such as for farming and cattle ranching, forcing them off their properties. At the same time, some areas already approved for mining have been identified as critical for biodiversity, especifically regions that have large flamingo populations.
"Lithium mining is described as a green activity, as it would allow for the reduction in the dependency on fossil fuels, moving towards cleaner transportation. But it's actually not green at all," Patricia Marconi, the head of the Yuchan Foundation in Catamarca Province, told the Times. "Mining dominates everything and would alter the lifestyles of many people. We need better technologies that use less water. These are areas where water is seriously scarce and lithium mining could bring many problems."
Pía Marchegiani, head of Environmental Policy at Fundación Ambiente y Recursos Naturales (FARN) NGO, said that communities that live near a salt mine are rarely asked their opinion before a new project is launched, a fact that has led to numerous conflicts with companies. Their voice should be heard and the environmental impact should be considered, she added.
"The government is now debating a long-term plan for the mining sector to grow but I see no discussions over the risks and impacts this would mean," Marchegani said. "We need a real strategic analysis of the mining sector, including lithium, not just selling our natural resources to the highest bidder."