In the beef capital of the world, it might seem daunting for veggie-eaters to find restaurants that match their diet. But vegetarians, vegans and those trying to cut back on their meat consumption can rest assured that the Argentine capital has plenty of plant-based options for everyone. Whether you want vegan pizza, elaborate fishless sushi, or a vegetarian take on the famous choripán sandwich, Buenos Aires has something for even the pickiest herbivore.
The Times spoke to chefs, food writers and vegan advocates in Buenos Aires to create a digestible history and curated sampling of the meat-free cuisine dotting the city.
In the beginning
Ten years ago in the porteño capital, it would have been a lot more difficult to find one vegan dish, never mind an entire restaurant dedicated to plant-based foods. But animal-free cuisine has grown exponentially in the city, with over 200 vegan/vegetarian-friendly restaurants across the map, according to the Happy Cow website.
At the beginning of the millennium, veganism in BA existed mostly underground, explained Manuel Martí, founder and director of Unión Vegana Argentina (UVA). Newly digital vegan and vegetarian groups on Yahoo and the paper magazine, El Vegetariano Vegano, published by UVA provided one of the only spaces, albeit secluded, for the small community.
But the city is changing. Pharmacies now carry vegan-approved cosmetics, personal hygiene and cleaning products, while clothing stores promote animal-friendly footwear and faux-leather jackets. On the restaurant scene, this plant-centred metamorphosis is undeniable.
"Every year there are more and more vegan or vegetarian restaurants or restaurants that include vegan and vegetarian dishes on their menus," Martí said. "More bars with vegan options, more health food shops or natural grocery stores and constantly new brands of vegan products or companies that manufacture vegan products are appearing."
The people are changing too. In 2019, the UVA hired polling company KANTAR to measure the population that doesn't eat animals; the result showed that nine percent of Argentines nationwide were vegan or vegetarian, while in Buenos Aires City, that number reached 12 percent. Only one year on, the same firm found that the overall vegetarian population had risen to 12 percent and 15 percent in the capital.
"Meeting a vegetarian in those days was an incredible event –– today everyone has one or more vegans and vegetarians in their families and friends," Martí remarked. "It has been incredible how in such a short time so many people have become aware of what is done to animals and how this has an impact on the planet and on health, reasons that have led them to change their consumption habits. That is why we always say: 'The future is vegan.'"
Twist and sprout
With four locations across the city, the Let it V chain has certainly become a popular and well-known haunt for Argentina's veggie-oriented crowd. With plant-based takes on Asian-fusion cuisine like refried bean onigiri or grilled portobello nikkei, this restaurant's gastronomic innovation is fit for those wanting to try plant-based cuisine as experimental as the Beatles themselves.
Dario Leibovic, founder and commercial director of the chain, told the Times the restaurant was born from the idea of "making inclusive, creative and irresistible food" for everyone. Whether you never eat animal products or just want to try a new cuisine, Leibovic says their sushi, poke, salads and street food options are sure to debunk "bland" or "boring" myths surrounding vegan food.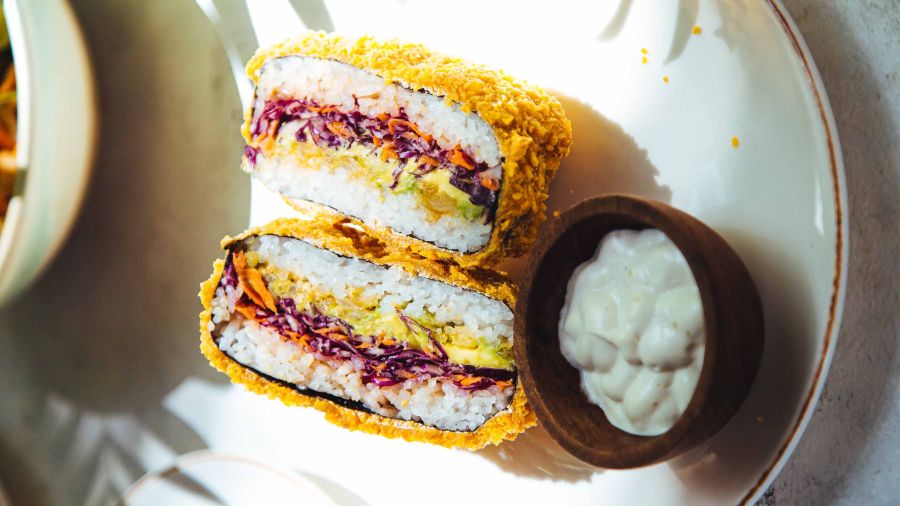 Leibovic opened the first Let it V just weeks before the Covid-19 pandemic hit Argentina in 2020, in response to what he saw as a lack of attractive Asian offerings for vegans. A few years later, their plant-based sushi has laid down roots across the city, offering quick bites or long dinners in Palermo, Belgrano, Villa Devoto and San Nicolás. The restaurant's eastern focus lends itself to a seamless blending of cultures, fusing flavours, techniques and styles to create something wholly new.
The strength of their flavours, Leibovic argued, comes from the value of their ingredients, all of which are grown organically. From the small local producer who harvests the rice, vegetables and fruits straight to the seasonally changing menu, Let it V "brings each person closer to a creative, conscious diet based on the ingredients that our Mother Earth gives us." When you leave the restaurant, "you'll feel good about what you eat," said the entrepreneur.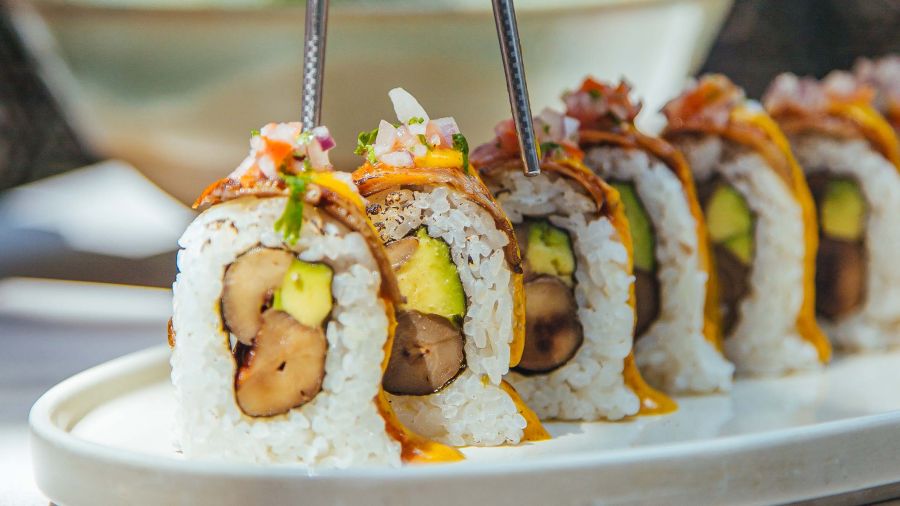 Yet, feeling good is so much more than eating healthy, Leibovic explained. Plant-based food is popping up around the city because customers and restaurants alike are waking up to the negative environmental impacts of the cattle industry. Like many of the vegan restaurants that have sprung up in its wake, the idea is to create dishes that support both the human and non-human world.
"We want to be part of the change, to take advantage of what we know how to do to generate a positive impact not only on the day-to-day of our clients, but also on the environment," Leibovic surmised.
Plant-based picks
Vegan food across the flavour and cultural spectrum –– and the city –– has done well in this carnivorous country because it has transformed products that were once just a side dish into the main event, said Cayetana Vidal Buzzi, food critic for Perfil. The best plant-based restaurants, she continued, use good products as well as good techniques: fermenting, marinating, slow cooking the freshest organic produce.
In these great vegan restaurants –– many of which are headed by a younger generation of chefs, Buzzi explained –– the care that is given to each vegetable in each dish is apparent with every bite. Vegan cuisine can be more subtle, she argued, but its lighter weight, capability of flavour, and more easily digestible textures have made it explode in popularity.
Cantina Amador in the Palermo neighbourhood achieves a difficult feat: it sticks to the traditional porteño menu, but with a lighter, vegan tilt. On their menu, buñuelos (a traditional ball of fried dough) is made eggless and stuffed with kale, while ravioli, which traces its roots to Argentina's Italian-influenced history, is filled with a cashew cheese ricotta. Papillote, a grilled favourite featuring meat or fish is reimagined with mushrooms, for a sentimental yet contemporary flavour.
"They're flavours close to us, but it's lighter," Buzzi said of the Palermo favourite.
Fifi Almacén, a cheaper and more casual option for a midday lunch or weekend buffet brunch, offers a more LA-vegan fare. But don't let the relaxed, very hipster (very Palermo –– their website offers a curated playlist) exterior fool you. The flavours are complex, said Buzzi, even luxurious.
Luciano Combi, the restaurant's head chef, specialises in vegan food. He and his staff experiment with fermentation and bacterias, serving, for example, an unassuming-looking bagel sandwich that surprises with scrambled tofu and fermented cashew cheese with probiotics.
Going into the restaurant experience, Buzzi admits she had a "bit of prejudice" and feared that the dishes weren't going to be very flavourful. By the time she had finished the meal, she was pleasantly surprised to have been mistaken. The dishes were "succulent and balanced": the salad featured individual stand-outs like beetroot hummus and little squares of sautéed tofu, but the dressing brought everything together into one cohesive whole.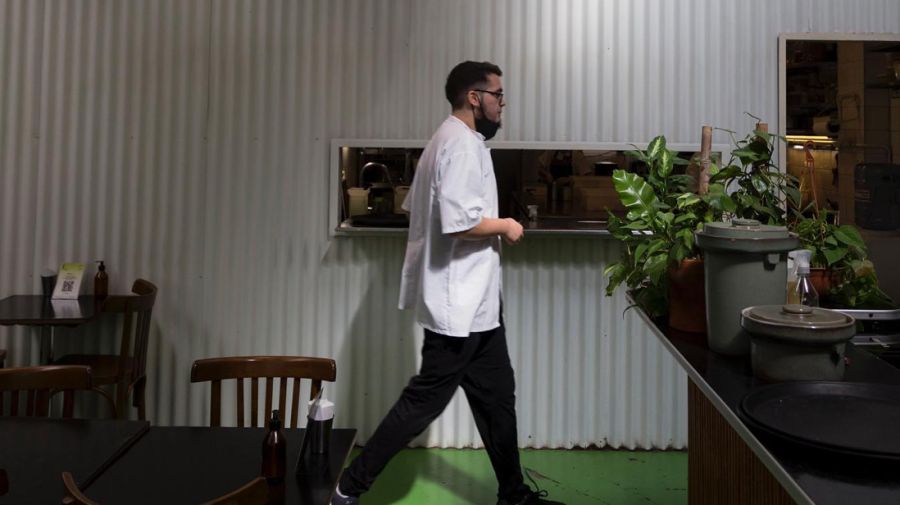 Just down the street from Fifi Almacén is Buenos Aires Verde, one of the first major vegan restaurants in the city. In 2015, when vegan food was almost unheard of in the restaurant world, its owners were opening their second location in Belgrano. Chef Mauro Massimino, who studied Organic Horticulture at the University of Buenos Aires, "broke a lot of ground for new chefs," Buzzi said.
The menu, which features everything from raw sweets like bonbons and truffles to quinoa and millet hamburgers and a "Power Pizza" topped with vegan egg, smoked cashew cheese and guacamole, was a revolutionary debut for the veggie-phobic porteño restaurant scene.
Now that alternative cheese and tempeh has distended throughout the city, the restaurant scene as a whole is changing. New techniques for cooking produce and wholly different flavour profiles are pushing the needle for what "Argentine" food can be, Buzzi argued. Even meat-focused restaurants have begun to rethink their menus and consider what's possible for the obligatory vegetable side.
In this way, plant based-restaurants, Buzzi concluded, "have done a lot of good for the gastronomy of Argentina."
Mixed menu
The shift towards vegetarian gastronomy has appeared not only on the menus of vegan-centred eateries but also sneaking its way onto those of many acclaimed meat-focused restaurants, said Bruna Fontevecchia, the editor and co-founder of Achoa magazine, which explores gastronomy through ecology, food production systems, history and culture. You don't have to go to a specifically plant-based restaurant to find great meat-free offerings in the city, she explained.
El Preferido de Palermo, known for its traditional Argentine fare and pink exterior, has a great selection of grilled vegetables and seasonal produce-centred entrees, and "you could easily get full without needing an animal protein," said Fontevecchia.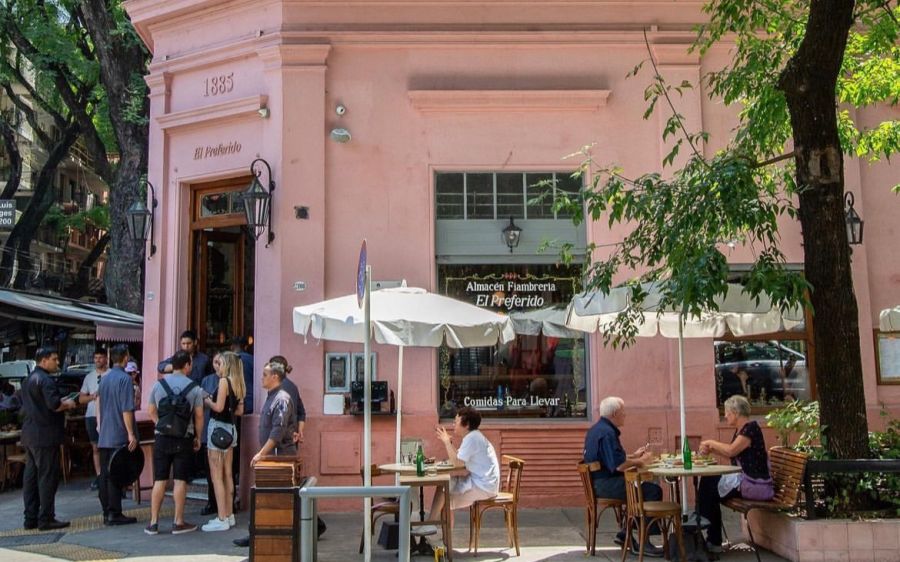 The same can be said about Gran Dabbang, she added, with options like spring bamboo in a tomato tamarind sauce or bean chaat with cherry and peanuts.
Anafe, on Virrey Avilés, just off Conde, while not without meat offerings, has vegan and vegetarian-friendly dishes sprinkled throughout the menu. Caramelised oyster mushrooms and Zucchini in Escabeche vinegar sauce are some of the more avant-garde veggie dishes on the menu.
The big names are there too: Narda Comedor, across from the Plaza Parques Nacionales Argentinos, has a remarkable number of veggie options. Their especially green menu from famed chef Narda Lepes is reflected in the outdoor dining experience: enjoy a simple plate of heirloom tomatoes or vegan bibimbamp on a picnic table in their tree-lined outdoor cafeteria.
Vegan future
Across the restaurant scene, hungry visitors and Argentines alike can cross the vegan world while staying within the city limits. Sushi, curry, pastas, nikkei and of course, empanadas, are all within reach for those who prefer cashew cheese to mozzarella, or braised cucumber to fish.
Whether at a specifically plant-based outlet or just a veggie-friendly dive, it isn't too hard to find a good vegan alternative to meat in the once staunchly-beef city. In less than a decade, the scene has opened to include fennell in the place of flank, shiitake instead of sirloin.
Across the world, the plant-based offerings are only growing, as is the population who seeks it out. Since 2019, "The Year of the Vegan," according to The Economist, purchases of animal-free options have skyrocketed in grocery stores and restaurants alike.
As searches for "vegan food near me" increase worldwide, plant-based food sales are expected to increase fivefold by 2030, according to the Bloomberg Intelligence Report. Even fast food chains like Burger King, KFC, and Taco Bell, who are beginning to offer plant-based alternatives, understand that veganism isn't only here to stay, it's going to fundamentally change the food industry across the world.
When the big, vegan wave finally hits land, the Argentine capital will be ready with mushroom ceviche, tuna-less tuna sandwiches and vegetable baos.
If the future is vegan, Buenos Aires is well on its way.