Anti-gender violence campaigners have called on Argentines across the country to stage their own mini-protest against femicide on Thursday, declaring their intention is to "let the struggle infiltrate everyday spaces."
Expressing anger at recent court developments, activists have called a "decentralised march" to draw attention to gender violence and to denounce the lack of justice delivered to victims.
The unique version of demonstration is a consequence of social distancing rules put in place to halt the spread of the novel Covid-19 coronavirus. Activists are keen to make known that the pandemic will not stop their protesting, with messages on social media encouraging people to claims the streets in other ways.
Motivated by a rallying cry of "No somos invisibles," Argentines across the country are being encouraged to hang banners and signs from their windows and balconies, or drape themselves in the colours of the Ni Una Menos and legal abortion movements as they go about their business in their barrios.
Campaigners also hope Argentines will share anti-femicide messages on social media to reiterate the public's desire for action.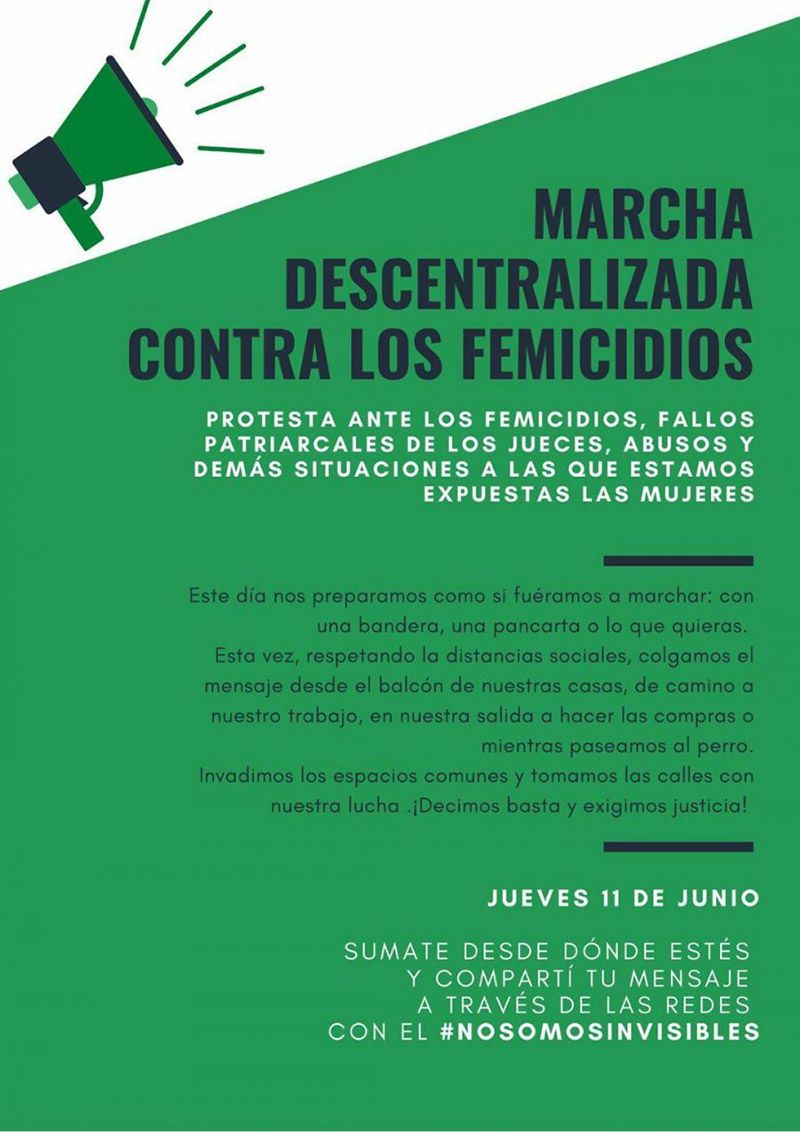 "On this day, we prepare as if we were going out to march. – with a flag, a banner or whatever you want. This time, respecting social distancing, we will share our message from the balcony of our homes, on our way to our work, on our way out to do the shopping or while walking the dog. We will invade common spaces and take the streets with our fight – we say enough and demand Justice!." reads the text of one image promoting the event shared on social media.
The rallying cry arrives just days after the fifth anniversary of the first Ni Una Menos anti-gender violence march.
Though women's rights and femicides are more at the forefront of public conversation than ever before, the numbers of deaths attributed to machista violence are still chilling. According to a report from the Women's Office of the Supreme Court (which was created as a response to the original 2015 Ni Una Menos march), around 250 femicides take place each year.
– TIMES/PERFIL