As a former security minister, Patricia Bullrich is best known for her record of cracking down on drugs and violent crime. Now she's trying to convert that steely reputation into votes for the presidency of a country on the edge of an economic precipice.
With Argentina sinking deeper into turmoil as annual inflation exceeds 100 percent and its currency tumbles in value, Bullrich says the nation is crying out for her kind of hard-line approach to address its spiralling challenges. Polling suggests voters might agree.
"Argentina needs change," Bullrich, 66, said in an interview in her Buenos Aires campaign headquarters overlooking the historic Plaza de Mayo square, just a block from the presidential palace. "It needs a change in culture, from populism to a rules-based capitalism. That will demand a strong character."
She is one of two main candidates vying to represent the opposition Juntos por el Cambio coalition in October elections that polls all say will be calamitous for the ruling Peronist party, opening the path to a change of government. With Argentina already in receipt of a US$44-billion International Monetary Fund programme that's been unable to halt its slide, the political outlook is as volatile as the economic and financial one, threatening more turbulence ahead.
Against that backdrop, Bullrich's tough tone helps to differentiate her, and not simply because security is among the top issues for voters, said Juan Germano, director of pollster Isonomía. "The narrative she offers is in line with the current sense of crisis," he said. "She reflects the times."
Argentines are used to uncertainty, but the present moment is especially precarious. The economy is nose-diving into a recession as persistent triple-digit inflation wipes out wages. To compound matters, a record drought has destroyed precious crops such as corn, soybeans and wheat that provide essential export dollars.
Such is the carnage that the Peronist ticket remains blank so far, after both President Alberto Fernández and Vice-President Cristina Fernández de Kirchner said they won't contest the election. A firebrand outsider, Javier Milei, is making inroads with a tear-it-all-down platform keyed to the relentless stream of bad news.
Some analysts see her as the answer for voters who can't stomach Milei's antics, won't countenance the Peronists and are impatient with the carefully choreographed, consensus-building approach of her main rival, two-term Buenos Aires City Mayor Horacio Rodríguez Larreta. And while Bullrich and Milei are tapping the same well of disaffection, she stresses respect for institutions and the rule of law.
"In elections, candidates say they're going to hunt a bear," said Joaquín de la Torre, a provincial senator and longtime mayor who is vying to run as governor of Buenos Aires Province on her ticket. "But voters need to look at who already has a bear skin on their back." Bullrich, he added, "has the courage to do what it takes."
To counter an economic crisis she says is "getting out of hand," Bullrich proposes unwinding currency controls she sees as a key culprit of the country's woes. They are "a restriction for all the investments and the growth we need," and removing them will allow exports to recover and shore up reserves, she said.
More elusive is a detailed plan by Bullrich, or any other candidate, to unpick the cobweb of controls that need to be disarmed like a mess of wires on a time bomb.
As is common in Argentina, emergency currency controls enacted in 2019 by then-president Mauricio Macri at the end of his crisis-rocked government became permanent under Fernández, who added a litany of taxes, restrictions and other tools to put the peso in a straitjacket. The limitations have pushed Argentines into the black market, where the peso's exchange rate is about double the official rate.
While Bullrich — who served as security minister under Macri — said the specifics of her plan would depend on the rapidly-evolving exchange rate, she's eyeing a floating peso within certain bands. She's also studying options for a "bi-monetary" system like in Uruguay or Peru, where the US dollar formally coexists with the local currencies.
To be sure, her proposal on controls resembles Macri's playbook, which ultimately led the country to seek IMF support after a currency rout. The lesson, she says, is to carry out reforms swiftly and clearly, and that the Macri administration's mistake was not lowering government spending immediately, or daring to make key social and labour reforms.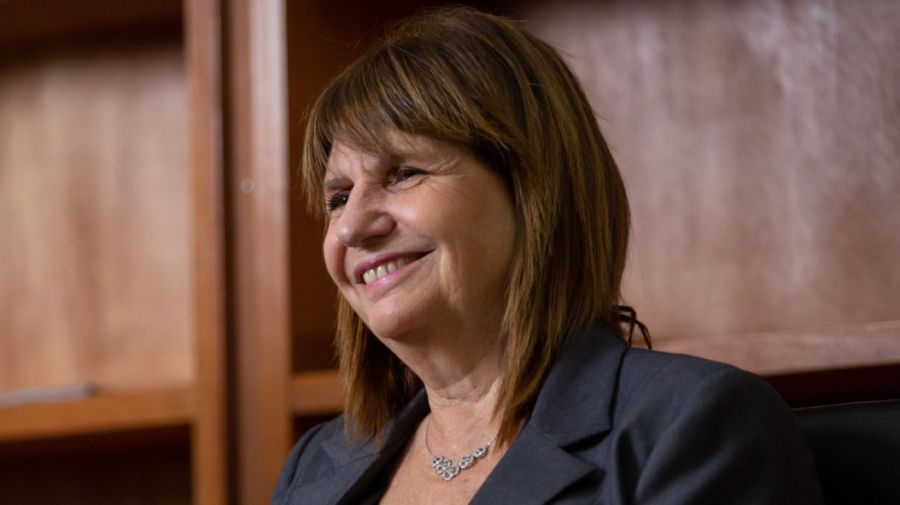 Prison and exile
That's where Bullrich says she'd be different, offering what her supporters argue is a key distinction to Rodríguez Larreta. An August primary will decide the nomination.
Humberto Schiavoni, a Juntos por el Cambio senator who has publicly backed Bullrich, praises her "courage, conviction and determination to confront problems and go forward with the changes the country needs."
If so, it was honed early.
In her teens, she heeded the call of socialist ideals during Argentina's military dictatorship and joined the Peronist Youth, participating in an event to commemorate the return of then-exiled Juan Domingo Perón that led to security forces shooting at his supporters. During the years of repression of leftist organisers, she spent time in prison and in exile in Brazil, Mexico and Europe.
She is open about her actions then, disavowing the movement's ideals, if not the political activity of those days. "I quickly realised that path led to a country without growth, without rule of law, and I moved apart," she said.
She left the Peronists in 1997 to start her own party, the Union for All. In 1999 she held posts as labour and social security minister for Fernando de la Rúa's centre-left government, which ended in the 2001 debt default and economic crisis. Today, she cites Angela Merkel as a political figure she admires for "her prudence and her strength," along with Winston Churchill, a famously pugnacious politician. Like Merkel, she holds a doctorate, in her case in political science.
After Macri was voted out in 2019, Bullrich travelled the country criticising lengthy pandemic lockdowns and speaking out against corruption and a lack of security. Farmers, an important constituency, were among the first to embrace her.
If elected, her presidency would kick off with a slew of reforms to cut red tape and promote formal job creation by overhauling labour laws, according to her public policy director Alberto Fohrig, who sat in on the interview. She would aim to make the Central Bank legally independent, and seek a "buffer" of fresh funds to stave off concerns about reserves, which would likely lead to talks with the IMF over the existing plan.
She would seek to honour obligations with private bondholders, looking to defer payments but without a restructuring that would directly hit bond prices. "We are not going to default," she said. "Argentina has a bad image in the world for all the defaults we made in our history."
Changing the country's economic trajectory is far from straightforward, and investors are watching her closely. Bullrich came top in an informal poll of voting intentions among top Argentine business leaders, with 28 ballots to Rodríguez Larreta's 25 votes, Milei's three and two for Fernández.
Bullrich knows where such leaders are coming from: Her prominent lineage stretches from Argentine independence hero Juan Martín de Pueyrredón to her great-uncle, who founded the neoclassical cattle market where prize bulls were once auctioned and which now serves as one of the capital's ritziest shopping malls, Patio Bullrich.
All the same, she stresses a determination to go her own way, saying that she offers the "guarantee of courage" Argentina needs right now.
"I never had the bias of someone who comes from a family of well-known surnames," she said. "I was always in the dirt, a bit wild."
by Carolina Millan & Patrick Gillespie, Bloomberg