Racing Club forward Jonatan Cristaldo will face questioning by police next week, after his partner made a formal criminal complaint against him for gender violence.
Cristaldo, 30, stands accused of hitting 28-year-old Morella De Las Heras across the face and causing her injury. The woman filed a complaint against the footballer at a police station in Rincón de Milberg in Tigre, Buenos Aires Province.
De Las Heras alleged in her complaint that she was at their home in the northern part of Greater Buenos Aires resting last Sunday when Cristaldo struck her in the face "without a word," causing "minor injuries." He left the home immediately afterwards, she added.
De Las Heras and Cristaldo have two children together.
Dr. Juan Diego Callegari of the UFI-Gender Violence Unit in Tigre overseeing the case. Police sources told local outlets that an investigation into the Racing forward had been opened, but that it "has just begun."
Sources said the player had been called to testify next week.
On Thursday, judicial officials in Tigre barred the footballer from going within 300 metres of De Las Heras for a period of 150 days and ordered the plaintiff be provided with a panic button.
Cristaldo has made one appearance for Argentina's national side and has had an unsettled career, bar a four-year spell at the beginning of his career with Vélez Sarsfield. He has also played for overseas, including spells with Ukraine's Metalist Kharkiv, Italian side Bologna, Brazilian club Palmeiras and two teams in Mexico.
After filing her complaint, De Las Heras took to the airwaves on Thursday, granting a television interview to América TV.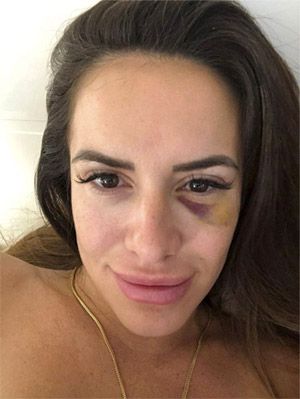 In it, she said she had dated Cristaldo since they were 19, following him across the world to his various clubs. Suggesting he was depressed, she alleged she had uncovered evidence of him having an affair with another woman and said they argued on Saturday.
She also said she had received abuse on social networks after filing her criminal complaint. An image of De Las Heras with a black eye later began circulating among media outlets.
On Thursday, Racing Club confirmed in a tweet that Cristaldo was in the squad for Friday's night's Superliga match against Defensa y Justicia.
There was no other comment by the club.
A feminist supporters group from the club, Racing Feminista, issued a statement Thursday said they stood "in solidarity" with the "complainant." The group called on the club's officials to introduce protocols to ensure "the problem is visible."
"We believe that commitments cannot be made to eradicate sexist violence when we observe that in Racing there are no tools for action and much less to train those who are part of the institution, from leaders to athletes," the statement said.
– TIMES/NA/PERFIL