Thousands of demonstrators from left-wing groups and social movements descended on Buenos Aires on Thursday as another massive protest against soaring inflation and falling purchasing power brought the city to a standstill.
The "Federal march for work and salaries, and against hunger and poverty" was bolstered by thousands of people arriving from outside the capital, heeding the call from multiple unions and groups critical of President Alberto Fernández's social policies.
Calls to protest have become more frequent since the start of the year and the economy shows no signs of stemming its inflationary trend.
In the first four months of 2022, prices rose 23 percent, including a six-percent jump in April, according to official data published as the demonstrators rallied in front of the Casa Rosada. Having already recorded inflation of over 50 percent in 2021, the current rate would surpass even the worst estimates of 60 percent by the end of the year.
"The situation is complicated, the money is not enough. We are trying to open a soup kitchen. There are a lot of people like me, who used to do odd jobs, collecting cardboard from rubbish bins to sell," said 36-year-old Cristian Alegre.
The columns of the Unidad Piquetera, identified with the red flags of left-wing parties and banners of social organisations such as Movimiento Teresa Rodríguez and Barrios de Pie, called on the Peronist government to do more to help the poor.
Speaking from Paris during a European tour, Fernández said Thursday that Argentina "is growing a lot" but he admitted that his government "is finding it hard to correct the distribution of income and that is due to inflation." He said runaway price hikes were "very harmful" and that they "must be stopped quickly."
Caravans of demonstrators began the march last Tuesday from the provinces of Jujuy (northwest), Misiones (northeast), San Juan (west) and Tierra del Fuego (south), with events and assemblies held along the way.
"Housing is a drama, we pay rent, it's harder every day. I couldn't afford university. We young people have no future. We workers have to take to the streets," said Lucía Barrios, a petrol station cashier.
The 20-year-old lives with her mother, her grandfather and two siblings aged five and 11, who receive food subsidies. But "it's too little, it's enough for two weeks and it's of poor quality," said Barrios.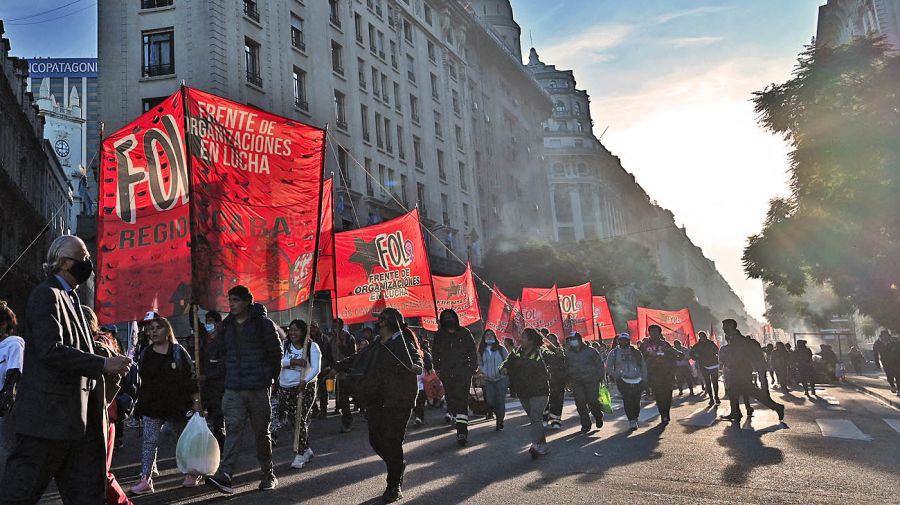 More jobs, more help
Demonstrators are calling for the expansion of social aid and food assistance programmes. In Argentina, one of the world's leading food producers, more than four million people – almost 10 percent of the population – depend on state subsidies to feed themselves.
The basic food basket rose seven percent alone in March. A family of two adults and two children required an income of at least 90,000 pesos (US$737) to avoid falling below the poverty line, according to data from INDEC national statistics bureau.
In April the government increased food allowances for vulnerable families by 50 percent to 18,000 pesos (about US$150). In addition, it provided an extraordinary bonus and an increase in the minimum wage, which from June will reach 45,540 pesos (about US$373 at the official exchange rate).
The state also finances meals at school canteens and supports some 1,600 community organisations in the nation's poorest neighbourhoods.
The rise in inflation comes amid economic growth. Gross domestic product improved 10.3 percent last year, has been on the rise for 12 consecutive months and recorded a year-on-year increase of 9.1 percent in February.
Unemployment currently stands at seven percent, with poverty affecting 37.3 percent of the population.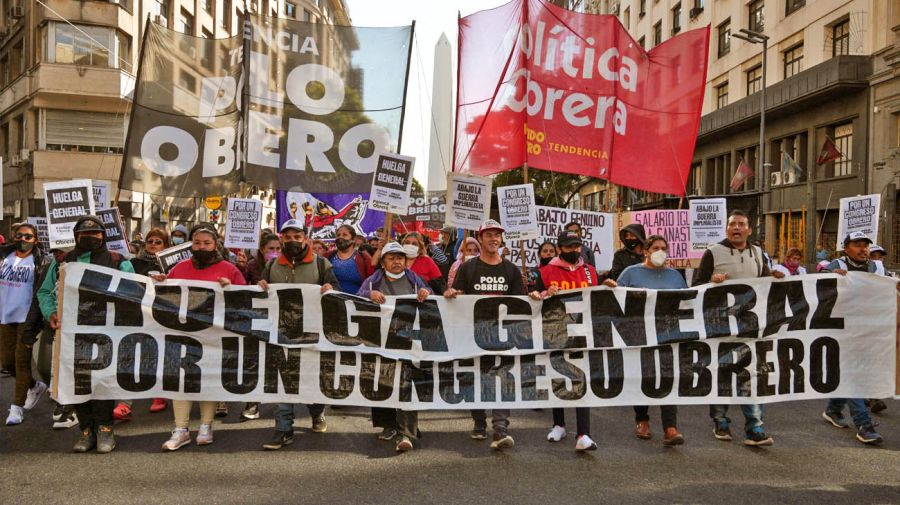 'Debt is with the people'
Protesters are also angry at the government's budgetary restraint, a necessity during debt renegotiations with the International Monetary Fund (IMF), which will see the country try to reduce its annual deficit from three percent of GDP in 2021 to zero by 2025.
The targets are a result of the recent restructuring of remaining debt from the record US$57-billion stand-by loan granted to the Mauricio Macri administration in 2018.
"The priority is not us, it is to pay the debt to the Fund. We are like this, thinking about fighting it day by day. Do you think it's enough to live on?" asked Martha Lita, 62, as she rallied.
Lita travelled from the southern outskirts of Buenos Aires to "protest and work." She travelled with ingredients to make food, which she cooked to sell to the demonstrators.
There are good days, she says, when she manages to collect up to 1,000 pesos (US$8) but "today I haven't sold anything yet," she lamented.
Argentina's left and far left have little clout at the ballot box but a great capacity to organise street protests. They are vehemently opposed to repaying the country's IMF debt and are demanding more generous social aid packages.
One of their main slogans is: "The debt is with the people."
While the Frente de Todos administration has tried to limit expectations of more aid, splits have begun to appear in the ruling coalition, with Vice-President Cristina Fernández de Kirchner openly criticising the government's economic plans.
"I don't think we will honour all the expectations, all the confidence, all the hope that has been placed in us," she said several days ago in a veiled barb at the president.
by Sonia Avalos, AFP