Argentina's skies are set to get a whole lot busier in 2018, as the country's tightly-regulated commercial travel market begins opening up to new 'low-cost' airlines.
One of the biggest names in the slate of companies that secured highly-attractive route tenders in September, 2017, is Norwegian Air.
Europe's third-largest low-cost airline, Norwegian plans to launch its domestic services in June, the company's public relations director for Argentina, Matías Maciel, told the Times this week. The firm is making safe bets on traditional winter destinations, meaning its first routes will likely include Cordoba, Mendoza, Bariloche and Iguazú, he said.
Maciel indicated that the company sees "huge potential" in Argentina because of a historic lack of development in the sector. "This is a big opportunity in a big country," he declared.
"Norwegian is a feeder airline. We expect to connect Argentina to the world with our existing network."
Despite a turbulent economic history that has traditionally turned investors away, not all of Argentina's economic pitfalls are negative for the low-cost airlines. Since the current national government discontinued indexation, annual inflation of 40 percent in 2016 and 25 percent in 2017 has brought the regulated minimum fare for air travel closer to prices in comparable regional markets. Argentina is the only country in Latin America to fix a minimum fare for flights.
"We'll comply with the current regulation but we do believe its elimination would make the market more dynamic," Maciel said. "We would support such a move but it's not something we're speculating on."
Norwegian is not the only one seeking to lower prices. For his part, FlyBondi CEO Julián Cook confirmed to the Times this week that his company's cost structure meant it "could today offer prices much lower than the base fare." Like Norwegian, the firm first has its sights set on Mendoza, Córdoba, Bariloche and Iguazú, he said.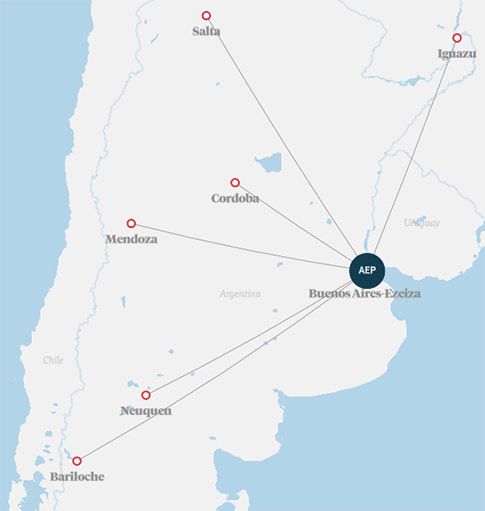 HURDLES
With the highest GDP per capita in South America, Argentines take half as many flights per year as Brazilians, a third as many as Chileans, and less than passengers in Perú and Colombia.
The potential in Argentina's empty skies is evident and with its pro-market, modernising agenda, President Mauricio Macri's government is keen to lend a helping hand. Over 630 new routes were granted to 13 companies in tender processes during 2017.
But uncertainty remains for prospective passengers here who restlessly await the arrival of airlines that have promised to slash domestic airfares and, indirectly, a step away from a nation's reliance on long-distance bus travel.
FlyBondi has already fallen short of its announced December launch and shows no signs of meeting the January one either. Its CEO told the Times this week that the firm expected to begin selling tickets "in the coming days."
Delays are to be expected since a number of hurdles remain in the way of infrastructure, including the construction of facilities at Buenos Aires' disputed El Palomar airstrip where the Armed Forces and some residents group have expressed disapproval of the planned adaptation of the airbase into a commercial airport. In a practical sense, the only hurdle remaining at El Palomar is environmental impact assessment, though there are also attempts underway to block its construction in the courts.
Cook told the Times that he was confident the infrastructure FlyBondi needs to operate from El Palomar would be ready by February.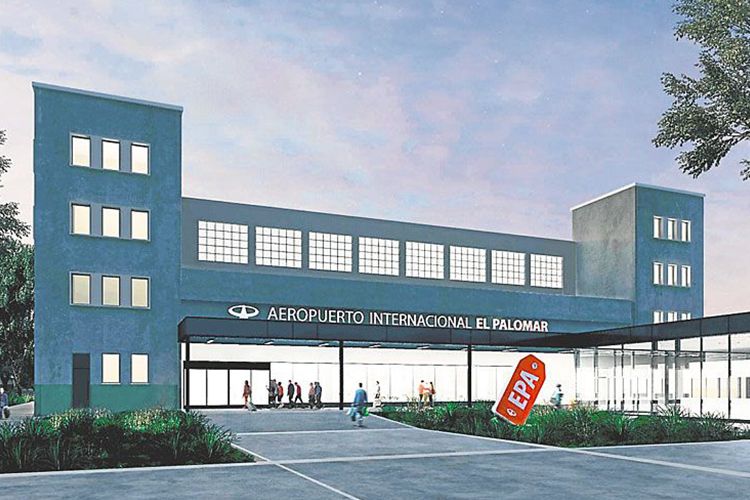 UNION TENSIONS
Incoming airlines also look set to experience resistance from aviation unions who have have expressed concerns about the prospect of reduced labour conditions and safety standards.
"Argentina's air navigation system is saturated and on the brink of collapse. This is a chronic situation that existed during the previous government and it has extended under this one," Ricardo Cirielli, secretary general of the Aeronautical Technicians Association (APTA), told the Times.
He pointed to the August 2017 crash of a light aircraft from San Fernando airport as an "overwhelming and tragic" example of a deterioration in the country's air safety standards. "We're not only talking about (insufficient) infrastructure in all airport. The most serious aspect is the major deficiencies in technology: breakdowns in communication between pilots and controllers; a lack of alternative frequencies; intermittent breakdowns in radars; a lack of radars; blackouts; a lack of emergency back-up equipment, and so on."
Cirielli's and other unions have expressed scepticism about the new airlines' promises of a high safety standards for workers and passengers. "The hundreds of irregularities and emergency situations of these companies, many for flying on bare minimum fuel, are registered by each countries' aeronautical authorities. And we're talking about countries whose institutions and controls work efficiently, independently and with low levels of corruption," he said.
The national government hopes to see air traffic across Argentina triple by 2019, creating 10,000 jobs in the process. For its part, Norwegian plans to hire around 200 pilots and 500 cabin crew in its first year of operations, with 10 to 15 planes for domestic travel and two to four for international routes.
While the newcomers have insisted they will meet high safety and labour standards, including fair salaries, unions say they are concerned about the overall impact on working conditions through alleged outsourcing practices and labour precarity. Those airlines of the 13 who have been awarded tenders in Argentina which already operate abroad "have experienced high degrees of conflict including strikes that have lasted weeks," Cirielli said.
He pointed to altered working conditions that have reached local unions from their colleagues abroad via anecdotes. These include the implementation of individual contracts and the airlines' refusal to hire unionised workers; pressure on flight attendants to reach sales targets for on-board cuisine and products or risk layoffs; and workers being forced to buy their own uniforms.
In some cases, things boil down to a difference of opinion. FlyBondi CEO Julian Cook told the Times that his firm will offer personel the "best salaries in the sector" including a 10-percent cut of profits, something Cirielli labels the "Uberisation" of workers.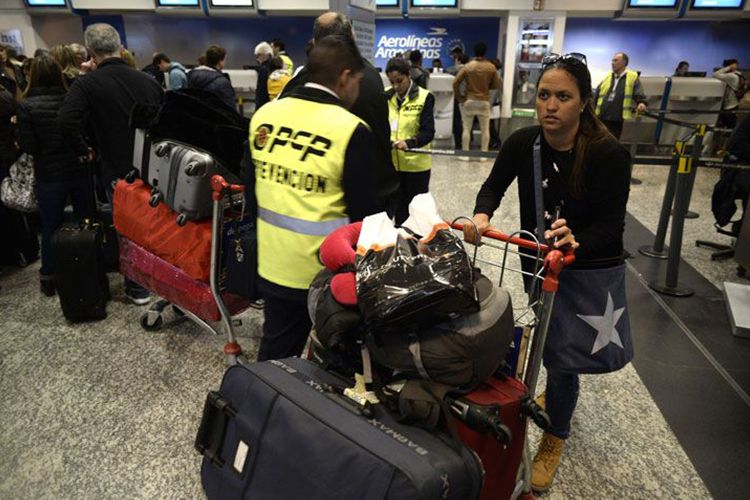 THE FUTURE OF AEROLÍNEAS
How the arrival of "low-costs" will affect Argentina's national airline Aerolíneas Argentinas also remains to be seen. Aerolíneas brought in 13 percent more income in 2017 than the previous year, the company's general manager Abbott Reynal reported. Reynal told El Cronista in 2017 that the firm will "go from receiving US$170 million in subsidies to US $90 million in 2018" and will "save US$ 30 million" on provisions, repair, hotels, parts and engine repairs.
Transport Minister Guillermo Dietrich last year insisted the firm was operating "more competitively on less subsidies" and media reports suggest that the government expects the complete elimination of subsidies by 2020 in favour of debt financing.
For its part, Norwegian rejected the idea that its presence in the market could wipe Aerolíneas from the market. "In any case, the pie is going to get bigger," Maciel insisted. FlyBondi's Julián Cook pointed to the 93 percent of Argentines who do not, or cannot, access commercial air travel. "We want to give those people the chance to fly for the first time in their lives. And for the remaining seven percent, we want to offer better fares with safety and efficiency," he said.
Much will depend on newcomers' access to infrastructure at key airports like Aeroparque Jorge Newbery, just a 30-minute drive from the high-flying Palermo and Barrio Norte neighbourhoods. And on the appeal for consumers of tighter space, fewer onboard services, and the accessibility of smaller airports like El Palomar, located just 18 kilometres from Buenos Aires City.
In other parts of the world, national airlines have successfully adapted to the arrival of low-costs, including Australia's Qantas and Air New Zealand. But as APTA boss Ricardo Cirielli suggested: this is Argentina and things are always a little more complicated.
In this news