Susana Cáceres is a retired concierge. She moved to Buenos Aires almost 40 years ago from a rural town in the Pampa. The neighbourhood where she lives, Palermo, was a very different place back then, she says.
"There were a lot of garages and mechanics but you also had these lovely little homes, down each and every street," Susana recalls, referencing the early-20th-century constructions known to locals as casonas or petit hotels as she gestures at the surrounding buildings. "You never know when the next one will be demolished."
Today, Palermo is one of the capital's most cosmopolitan neighbourhoods, a melting pot of cultures and lifestyles. But it was not always that way.
Susana's area, just a few blocks from Godoy Cruz street, is well-known among porteños as the old red-light district.
"It used to be dark and gloomy, and it was far too quiet at night," she tells the Times.
Change here came, in part, from the City government. Buenos Aires City Hall passed a Misdemeanours Law in 2001 that pushed most sex workers into the Palermo forests. Most are gone, but some still live in the neighbourhood in a pension known as Hotel Verona, just a few blocks from Susana's front door.
"That really transformed our part of the neighbourhood, many more people wanted to live here," Susana says.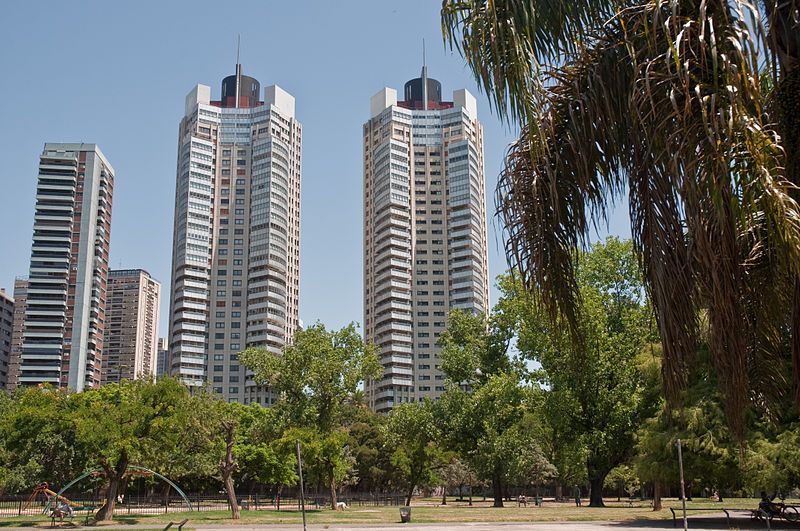 TRENDS
Gentrification in Buenos Aires, with Palermo a case in point, has followed similar trends in other major cities like London, Berlin and Brooklyn. As the barrio's profile changed from working class to artistic and trendy around 20 years ago, property developers looked to housing projects that would appeal to middle-class home buyers and young professional tenants.
The slow but steady influx of both has nudged property prices up and pushed many longterm working-class residents out, Census data extrapolated by Argentina's CONICET research institute suggests.
"From the 1980s to today, it is clear just by walking around the neighbourhood how new economic activity in Palermo has displaced the old," said Dr. Gonzalo Rodríguez, a CONICET researcher specialising in gentrification at the Centre for Urban and Regional Studies (CEUR). "The change is particularly noticeable in the sub-neighbourhood known as Palermo Hollywood."
Rodriguez's research is based on Census data that show sharp growth in the educational levels of heads of household in parts of Palermo, Saavedra and Villa Urquiza.
"Historically, educational levels have increased all across the country, but in these neighbourhoods the growth is far superior to trends in other areas," he explained in an interview.
In Palermo, Rodríguez says "investment is predominately on an individual-private level, as opposed to being part of a broader urban development plan" which may have lessened some of the impacts of gentrification in the neighbourhood, including displacement.
"There are other examples, like in Saavedra where a mega-development plan that demolished the homes of low-income residents who had been living there for 20 or 30 years was required to include homes for the displaced," he added.
ARCHITECTURAL HERITAGE
But problems surrounding norms and regulations run much deeper in Argentina's capital city. One of the sore points gentrification has caused among Buenos Aires' residents is its contribution to the destruction of the city's architectural heritage.
The "Paris of the South", as Buenos Aires is known, had its architectural boom in the late 19th and 20th century when the cashed-up elite could afford to hire the hands of European architects. Today, a large part of that heritage – specifically smaller, under-protected buildings – is under threat because of real estate development.
"Argentina lacks the wideranging protection mechanisms that exist in other countries, where the criteria are the year or decade when the building was constructed," Marcelo Magadan, an architect specialising in the restoration of historic buildings, told the Times.
Magadan's firm, Magadan y Asociados, has worked on the preservation of iconic Buenos Aires buildings like Galerías Pacifico and Palacio de las Aguas Corrientes on Córdoba Avenue.
"From a policy perspective, there has been no firm attitude toward the destruction of our heritage," he said. "The existing regulations have only been applied to buildings that are specifically protected."
In some parts of the city, residents have taken action into their own hands, forming activist groups to stop what they see as City Hall's disregard for community living and heritage, either by granting demolition permits or selling off public land.
One of the most recent bouts ended in a win for residents of the Colegiales neighbourhood, who successfully blocked the construction of a shopping centre over parts of Plaza Clemente.
"Many people were noticing what was happening. But they perceived it as a natural evolution in the City's development. But this is not a natural process, it is a consequence of a lack of awareness and legislation," said resident activist Santiago Pusso.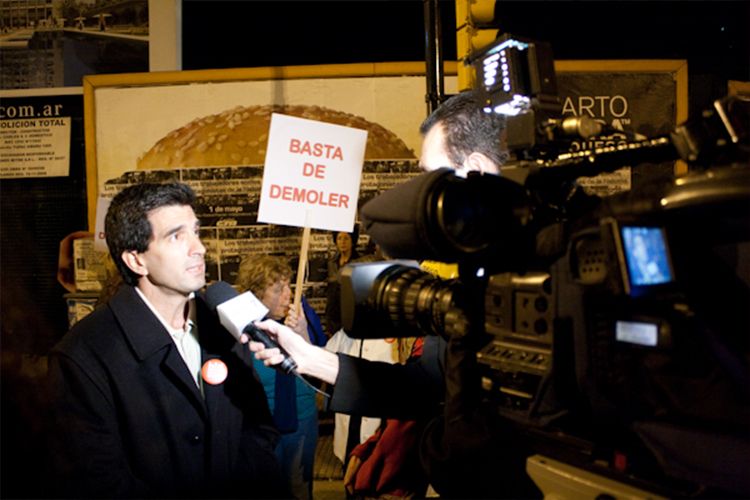 PUSHBACK
Pusso is a a member of Basta de Demoler ("Stop the Demolitions"), an activist group whose intervention against plans to develop a subway station at Plaza Francia — a protected historic area — saw City Hall sue two of its members: Pusso and Sonia Berjman, an expert in urban landscaping and art history.
In 2012, Berjman and Basta de Demoler lodged a request with the courts for an injunction to block the station's construction. Plans for a new Subte stop were later moved to the Law Faculty where the station will be inaugurated on May 25.
City Hall is still seeking 24 million pesos in damages against the two activists.
"Among the people approving [demolition permits] are people who respond to the pressure of real-estate interests and other political interests," Pusso told the Times.
"The result of our intervention, in specific cases because of the symbolic nature of certain areas, has been positive and we have seen laws passed to protect certain neighbourhoods. But the government does not respect the very laws it passes."
Consulted about the strength of market forces in the process of gentrification, CONICET researcher Dr. Rodríguez said that urban development presented a huge "dilemma" for societies. Like Pusso and Magadan, he emphasised the need for improved regulations.
"One of the points we make is to avoid condemning renovation or investment from real estate capital," he says. "The problem is when the enormous profit from capital gains resulting from changes to building codes are not distributed to the rest of the society or to areas in most need."
HISTORY
In Palermo, Susana points to scaffolding at the end of her street surrounding a beautiful teal-green mid- 20th-century home. It is marked for demolition, to be replaced with a residential apartment building.
In a somewhat typical tale of gentrification, the building had previously been divided into smaller apartments; a makeshift cultural centre operated in the garage; and a young New Yorker had been using one of the building's old kitchens to make the bagels he sells every Sunday in front of a speciality coffee store a few blocks away.
As the neighbours tell it, the elderly owners died and their relatives decided to sell the property to a developer.
"It's a shame because that casona was were the Mothers of Plaza de Mayo from Palermo went for psychological support. The owners were among the first psychologists to treat them," Susana explains as she recalls a moment in time involving Argentina's iconic human rights activists.
"There goes a little piece of our barrio's history."
In this news