The government confirmed three more deaths from Covid-19 on Friday as Argentina's official death toll from the coronavirus pandemic rose to 356.
Officials at the Health Ministry also revealed that Argentina had registered the highest number of confirmed cases in a day since the pandemic began – 345 new cases, lifting the total infected to 7,479.
With more Argentines returning to work over the past seven days, reports emerged this week that officials are concerned by the rise in numbers, especially in the impoverished neighbourhoods of Buenos Aires City and its surroundings.
The fatalities recorded Friday were all men – two aged 90 and 68 from Buenos Aires Province and one 58-year-old in Chaco – officials said.
On Thursday, Argentina suffered 15 deaths alone, with eight reported the night before.
The average age of the deceased is 75 years old, the Health Ministry said, with 84 percent of victims aged over 60.
The main fears continue to be focused on Buenos Aires and its surroundings – of the 345 new cases confirmed Friday, 214 are from the capital, with 86 from Buenos Aires Province.
Of particular concern is the number of infections being recorded in the capital's villas, or shantytowns – around a third of all cases in Buenos Aires.
Villa 31, one of the poorest and most densely populated barrios, in particular has shown a spike in the number of Covid-19 infections, worrying authorities hoping to ease the capital's two-month lockdown in the coming weeks.
The infection and death rates have placed question-mark over the partial relaxation of quarantine announced at the end of last week by President Alberto Fernández. This phase – which included authorising factories and shops to re-open after a seven-week lockdown, while heeding sanitary protocols as well as restricted recreational outings for children – duly came into effect at the start of the week, causing road congestion to become a new problem at times as around half a million people returned to work in Buenos Aires alone.
The potential hotspots for officials are prisons, nursing homes and vulnerable neighbourhoods. Coronavirus testing has been focused on these Officials worried by spike in fatalities as conditions for lockdown are slowly lifted; President Alberto Fernández hails local researchers for developing new faster, more efficient Covid-19 testing kits. areas in recent weeks. In Villa 31, more than 50 percent of the tests so far have been positive, reports said this week.
"The results are worrying," said Fernández last week, as he extended a lockdown in the Buenos Aires metropolitan area – which has 80 percent of Argentina's cases – to May 24.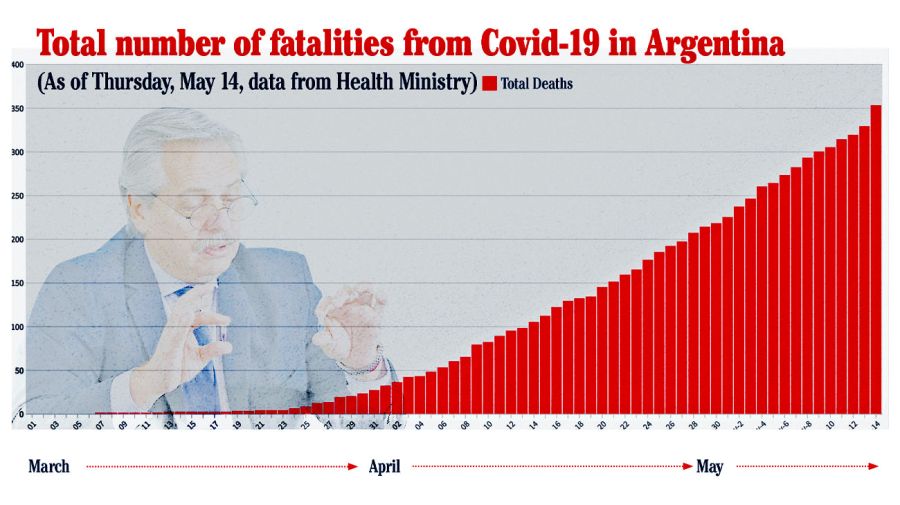 NEW TEST
On Friday, the government announced news that may help the battle against the virus. Argentine researchers have developed a new fast and efficient kit to test for Covid-19 rapidly, President Alberto Fernández announced.
The development of the "NEOKIT-COVID-19" is an essential tool in the Health Ministry's strategy to begin implementing widespread testing.
It should help to dramatically lower testing times, officials said, being much easier to store and execute than the traditional PCR (polymerase chain reaction) tests, which take up to seven hours to deliver results and require the use of complex equipment.
The test was jointly developed by the Science, Technology and Productive Innovation Ministry, the CONICET government research agency, the National Research and Development Agency, and scientists from the Dr. César Milstein Institute of Science and Technology, a statement said.
President Fernández's pre-recorded message hailing the development was transmitted in a press conference during a press conference yesterday led by Health Minister Ginés González García and Science, Technology and Innovation Minister Roberto Salvarezza at the Olivos presidential residence.
"This [test] was created by Argentine researchers and it is produced by an Argentine laboratory," noted the president, laying on the patriotism heavily. "This is so important for the development of a nation because it proves we do not depend on others, that we can fend for ourselves, that is sovereignty, that is what everyone must understand."
Fernández went on to ex- plain that the new "fast test" is more efficient in that it cuts down the waiting time until results are ready, "allowing us to identify those who are infected and have no symptoms, which is one of the problems we're always mentioning."
The Health Ministry expects the first 10,000 tests to be produced in the next 10 days, while capacity should be ramped up to 100,000 weekly tests in the short term. Argentina has previously come under criticism from some sectors for its relative lack of testing, compared to many other nations.