Allegations of illegal espionage carried out by the Federal Intelligence Agency (AFI) during the Mauricio Macri administration escalated over the weekend, after extraordinary claims emerged that officials had spied on more than 500 journalists, academics, politicians and business leaders.
More than 400 journalists – including two Buenos Aires Times staffers and numerous foreign reporters – appeared on a list of people to be investigated in relation to the G20 and World Trade Organisation (WTO) summits held in Buenos Aires in recent years.
In total, 403 journalists, 28 academics, 58 businesspeople and prominent figures from civil society were allegedly subject to illegal espionage, as well as socialist party leaders. The names, which can be accessed in full here, were filed in an Excel spreadsheet that was presented to courts on Friday and were under embargo until they were made public on Sunday.
The documents relating to the case were found in three dossiers named "2017", "G20 Journalists" and "Miscellaneous," discovered in a safe in the office of the AFI's former director of counterintelligence. Each file contains brief references to the political or social stances of some of the journalists, many gleaned from social media posts, though some had no comment at all, or merely noted that the person worked for a news outlet.
Among those named were two Times staffers: Editor-in-Chief James Grainger and reporter Giulia Petroni. The Times was able to view images from both their files, which reveal AFI officials studied their social media accounts and conducted background research on them as part of their monitoring.
For most journalists, the information seems to have been gleamed from so-called "open sources" – information readily available on the Internet, i.e. news articles and social media accounts.
Grainger's file identifies his social media accounts and summarises their content, concluding that his Facebook account is for "family and personal photos." The file on Petroni, an Italian journalist who joined the Times just weeks before the espionage must have taken place, references her nationality and contains a brief explaining her educational background and social media accounts.
Reporters from a host of various local outlets – including 11 journalists and photographers from Perfil and Noticias – were also investigated. Also listed were journalists for international media outlets such as the Associated Press, Reuters, Bloomberg, AFP and CNN.
"The investigation into the journalists was straightforward. They dug up information from social media and that way built an ideological and political profile," a government source told AFP on Sunday.
Buenos Aires hosted the 11th WTO Ministerial Conference in 2017 and the 13th G20 Summit a year later, with both events falling during former president Mauricio Macri's single 2015-2019 term in office.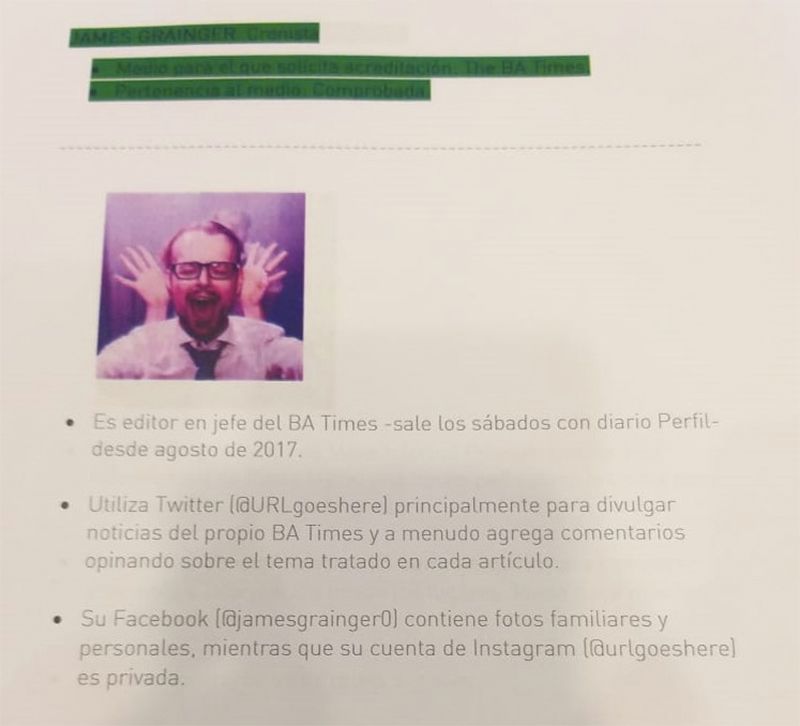 Complaint
The complaint was lodged on Friday by Cristina Caamaño, who was tasked by President Alberto Fernández with carrying out an audit and overhaul of the AFI and its working practices soon after the Peronist leader took office in December 2019.
It was filed in support of a federal prosecutor's complaint accusing the former leadership of Argentina's Federal Intelligence Agency of domestic espionage without a judicial order. It now lies with Federal Criminal and Correctional Court No. 11, led by Judge Marcelo Martínez de Giorgi. The prosecutor in charge is Paloma Ochoa.
Caamaño has asked for an investigation to be opened against Gustavo Arribas, the former AFI director and a close friend of the former president, Arribas' deputy Silvina Majdalani, as well as Macri as the person "responsible for setting strategic guidelines and the objectives of national intelligence policy."
The complaint states that the background checks on journalists were "neither ordered nor authorised by any magistrate."
"I have learned about the production of illegal intelligence regarding journalists, academics, social organisations, political parties, among others, manifestly violating the terms contained in Articles 4 paragraph 2 of Law 25,520," reads part of the complaint.
Under that part of the National Intelligence Law it is prohibited to "obtain information, produce intelligence or store data about people, solely because of their race, religious faith, private actions, or political opinion, or membership or membership of party, social, union, community, cooperative, welfare, cultural or labour, as well as for the lawful activity that they carry out in any sphere of action."
According to the complaint, the information collated by AFI officials included "political preferences, social media posts, sympathy for feminist groups, or political and/or cultural content among others." The comments included whether or not "they were critical of the [Macri] government."
Other comments referred to "showing affinity for Peronism," which was then in opposition, "supporting the government," "asking on Facebook for the liberation of Lula," a reference to the then-jailed leftist former Brazilian president Luiz Inácio Lula da Silva (he has since been released), or if they had "signed a petition for legalised abortion." A particular running theme is support for womens' rights causes, such as the Ni Una Menos anti-gender violence movement.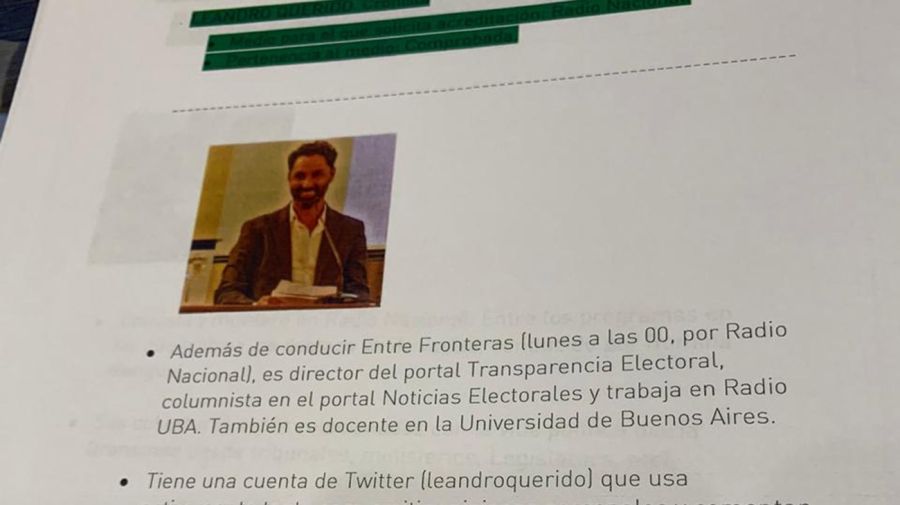 Each profile was marked in either green, yellow or red, supposedly an indication aimed at assisting the Foreign Ministry in the accreditation processes for the WTO and G20 events.
According to reporting by Perfil journalist Rosario Ayerdi, yellow is a reference to "critical political posture," with green meaning the journalist was approved for accreditation and red meaning the outlet did not exist or the journalist did not work there.
The ACERA foreign correspondents association hit out at Macri for the "inadmissible" investigations, while two Argentine press unions – SIPREBA and FATPREN – also blasted the former administration.
The Forum for Argentine Journalism (FOPEA said on Twitter that it is following the case "with attention and concern" and described the practices as "intolerable in a democracy."
Cañamo said the files had information, such as a journalist's stance toward the government, with "nothing to do with the content of the event" for which the investigation was based.
"The cards contain information of all kinds and colours: links in the media, political preferences, social media posts, sympathy for feminist groups or political and/or cultural content," she wrote.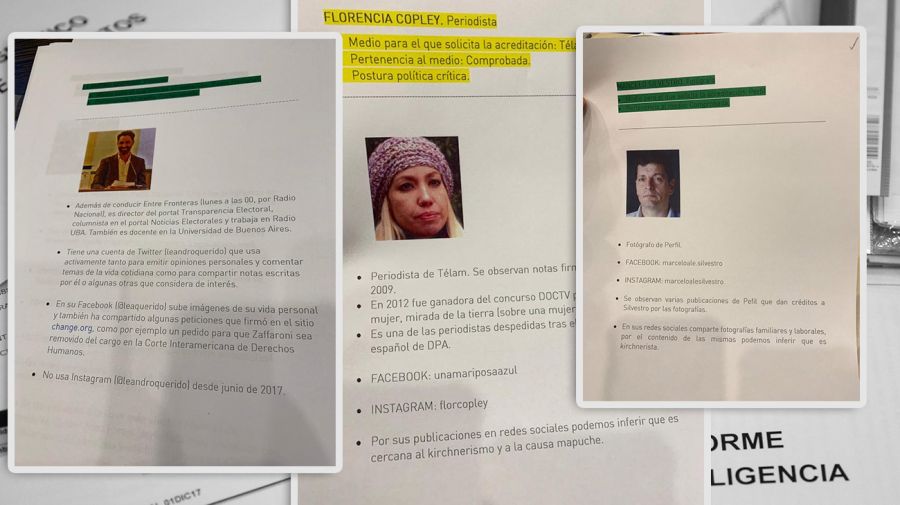 Peronal details
The alleged dossier relating to the WTO conference is far more exhaustive and contains a host of information on businesspeople, trade unionists and social leaders. A number of personal details are listed, such as salaries and wealth, bank details, property deeds, as well as domestic employees and car registrations.
bank details, family ties, properties and cars are detailed. As well as their participation in companies and even the wages of domestic workers.
Even members of well-known local groups such as the Sociedad Rural Argentina (SRA) were investigated, according to a report from journalist Luciana Bertoia published Sunday.
Among the material found, there is a letter from former foreign minister Jorge Faurie, dated December 7, 2017, just days before the WTO's resignation, addressed to Arribas. In it, Faurie begs his fellow official to solve"as soon as possible, the situation" of Kirsi Chavda, a member of the Finnish NGO Siemenpuu, who was ultimately denied entry to the country at the airport.
In an article published over the weekend, Perfil revealed that the discovery of the files was an indirect consequence of the AFI's "clean desk" system, whereby staff are not allowed to leave paperwork and other materials in plain sight. As a consequence, every office therefore has a safe and the three dossiers were discovered during a routine check.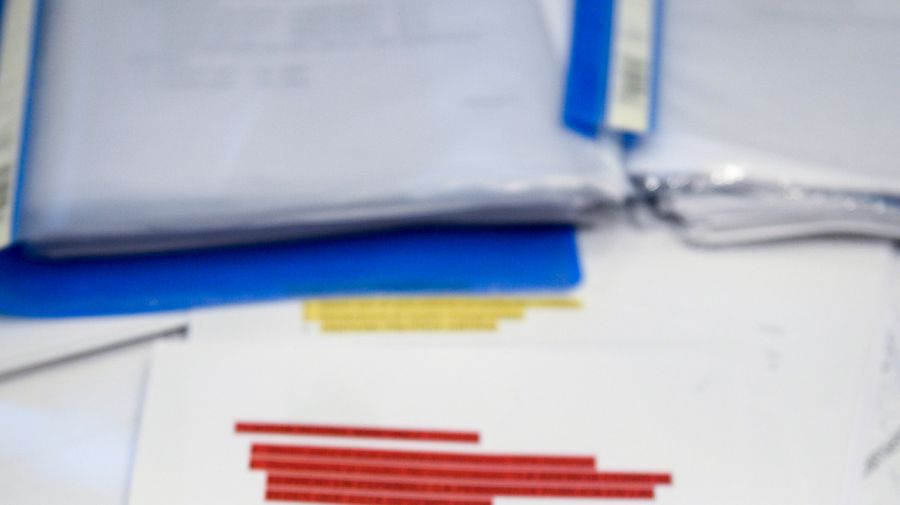 It's not the first time Macri has been investigated for alleged illegal espionage. He is currently under investigation for alleged espionage during his presidency on both political allies and opponents, including a host of high-profile names.
The former president was also prosecuted for spying while serving as mayor of Buenos Aires from 2007-2015, though that case was dismissed two weeks after he assumed the presidency.
The former president, nor the leader of his PRO party, former security minister Patricia Bullrich, have commented on the claims.
During Macri's own presidency, legal authorities opened numerous investigations into alleged corruption involving former president Cristina Fernández de Kirchner, who is now vice-president under Alberto Fernández. Those trials have been stalled in part by difficulties in holding hearings under pandemic restrictions.
Macri is also under investigation over government handling of a debt owed by one of his family's businesses, of a wind-farm contract and campaign financing.
Government-aligned politicians were quick to criticise the Macri administration and the intelligence services, which have for years been dogged by allegations of illegality and secret operators.
"It seems to me that the sewer of the [intelligence] services, of which we were victims for 4 years, has come to light," said Oscar Parrilli, a former senator who formerly served as the last head of the intelligence services before the Macri administration took office.
Today, the AFI has no relation to criminal investigation," he said in a radio interview, calling for a complete overhaul of the AFI. "Gustavo Arribas is a wicked being. What he did at the AFI has no name.""
– TIMES with agencies