A major fire broke out at the landmark Notre-Dame Cathedral in central Paris on Monday afternoon, sending flames and huge clouds of grey smoke billowing into the sky, the fire service said.
The flames and smoke plumed from the spire and roof of the gothic cathedral, visited by millions of people a year, where renovations are currently underway.
The cathedral is home to incalculable works of art and is one of the world's most famous tourist attractions.
The cause of the blaze was not known but the Notre Dame spokesman said the whole frame of the cathedral was burning
As Paris firefighters battled the blaze, part of the spire of the 12-century monument collapsed.
Paris police said there were no deaths so far and the origin of the fire was unknown.
Fire trucks could be seen speeding through Paris towards the scene on the Ile de la Cite – an island in the Seine at the heart of Paris.
The Paris police department in a tweet called on residents to avoid the area and to "make way for rescue vehicles."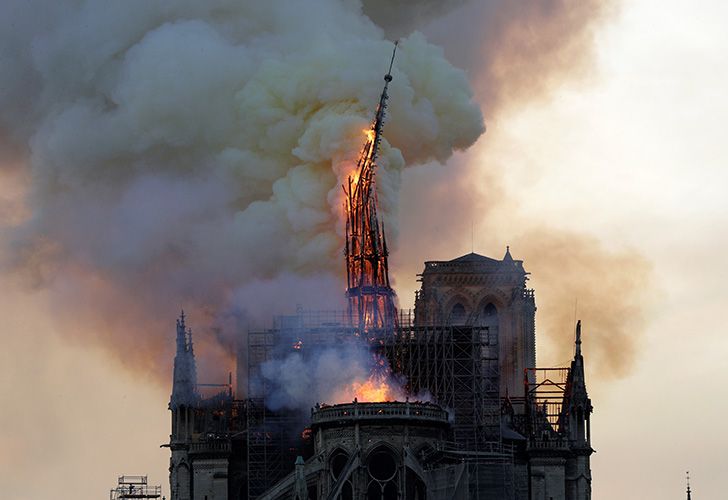 Paris mayor Anne Hidalgo in a tweet described it as a "terrible fire."
"The Paris fire service is trying to control the flames," she wrote on Twitter, asking residents to respect the security cordon thrown up around the site.
French President Emmanuel Macron postponed a televised speech to the nation because of the stunning blaze and was going to the cathedral himself.
Macron's pre-recorded speech was set to be aired Monday evening, to lay out his long-awaited answers to the yellow vest crisis that has rocked the country since last November.
Associated Press reporters at the scene saw massive plumes of yellow brown smoke filling the air above the Cathedral and ash falling on the island that houses Notre Dame and marks the centre of Paris.
The peak of the church is undergoing a six-million-euro (US$6.8 million) renovation project.
French media quoted the Paris fire brigade saying the fire is "potentially linked" to the renovation work.
- TIMES/AFP