The Central Bank tightened monetary policy on Tuesday for the third time in a month after new inflation data blew past the government's expectations.
Prices climbed 4.7 percent in March from the month before, the fastest pace since October and exceeding all eight forecasts in a Bloomberg survey. Annual inflation accelerated to 54.7 percent from 51.3 percent, putting President Mauricio Macri's re-election bid further at risk.
An hour after the numbers were reported, Central Bank President Guido Sandleris stepped in to head off a slump in the peso at the start of trading Wednesday.
At the quarterly press conference, Sandleris said the bank would hold its currency band at current levels until the end of the year, halting a policy of gradual depreciation and reinforcing his commitment to a stable currency. That wasn't enough for some analysts.
There's no "hard commitment " by the Central Bank to defend the band, said Alberto Ramos, head of Latin American economics at Goldman Sachs. "It's simply a range of inaction."
Still, the announcement was welcomed by the International Monetary Fund, which gave Argentina a record US$56-billion credit line last year.
"Breaking inflation inertia remains a difficult challenge for the Argentine authorities," IMF chief spokesperson Gerry Rice said in a statement. "Their current monetary policy framework is appropriately designed to tackle this challenge."
Peso slump
The peso tumbled 1.8 percent to close at 42.39 Tuesday ahead of the inflation numbers, the biggest decline in emerging markets.
"It's an inflation rate that's too high," Sandleris said. "I think analysts and investors understand very well that the process of reducing inflation isn't linear and it takes time."
The Central Bank will now aim to keep the peso trading between 39 and 51 pesos to the dollar until year-end. Sandleris added that if the peso strengthens outside of the band, the institution will no longer buy dollars as it had previously.
Earlier in April, Sandleris said the bank would maintain its benchmark interest rate at or above 62.5 percent until the end of the month to cool inflation. It was 66 percent on Tuesday, the highest in the world.
Government steps, food prices
The government will announce new measures Wednesday to rein in rising prices, which will likely include some type of price controls on basic food items, according to multiple local press reports. Food costs have increased faster than overall inflation in recent months as producers and distributors adjust prices to recoup losses from last year's peso plunge.
It's the government's latest effort to try and show citizens it's doing whatever it can to help them through the second recession of Macri's presidency. To comply with the IMF accord, Macri is cutting spending on subsidies for utilities and public transportation, sparking a jump in prices this year. It's also triggered another decline in Macri's approval rating. He faces re-election October 27.
Yields on Argentine bonds due 2024 rose 12 basis points to 11.48 percent following the inflation announcement.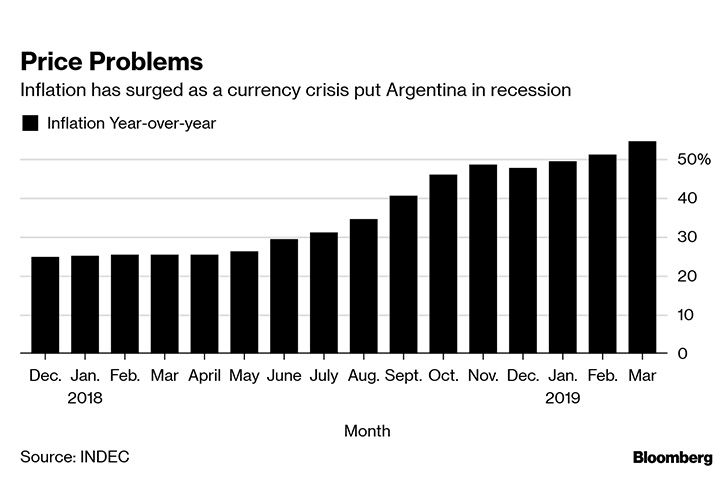 What the economists say
"With observed and expected inflation both rising, the BCRA is left in an uncomfortable situation. In our view, there are not many options left for the monetary authority, which has already announced even stricter targets for monetary base last month." – Adriana Dupita
Alejandro Cuadrado, senior currency strategist at BBVA Central bank measures are positive for the currency in the medium term, but in the short term the peso will continue to be driven by other forces Inflation damages Macri's re-election bid "Pressure is on for the authorities to still try to tame the weakening trend so as not to feed further inflation," he said.
Alberto Ramos at Goldman Sachs said the March inflation data shows price pressures remain highly generalised, calling the news "very negative and worrisome."