Bolivia's President Evo Morales arrived in Argentina on Sunday for talks with President Mauricio Macri, stopping first to appear a political act alongside Peronists in the La Matanza district.
At the top of the two leaders' agenda is the renegotiation of an existing gas export deal, as well as lithium exploration projects and reciprocal healthcare costs, Bolivia's state-run news agency RTP said, quoting the foreign minister in La Paz.
"The Presidents of Bolivia and Argentina will meet on the 22nd (of April). Foreign Minister Diego Pary confirmed that President Evo Morales will travel to Argentina and will meet his par Mauricio Macri on the 22nd. There are three topics on the agenda, gas, lithium and healthcare, but the issue of the 2030 World Cup [of football] may also be addressed," the agency tweeted, the final part a reference to the Latin American bid to host football's biggest tournament.
Morales was due to visit Argentina in February after a series of postponements.
Macri "owes me a game of futsal but he hasn't gotten back to me," Morales told Bolivian reporters in January, jokingly, in reference to one of Bolivia's most popular sports.
The warming of relations between the two heads of state is largely out of convenience as opposed to ideological affiliation. Despite the delicate nature of the gas deal, which will secure huge income for Bolivia and the ongoing supply of gas to Argentina, Morales yesterday travelled immediately to La Matanza in Greater Buenos Aires where he addressed a crowd of residents alongside Peronist Mayor Verónica Magario.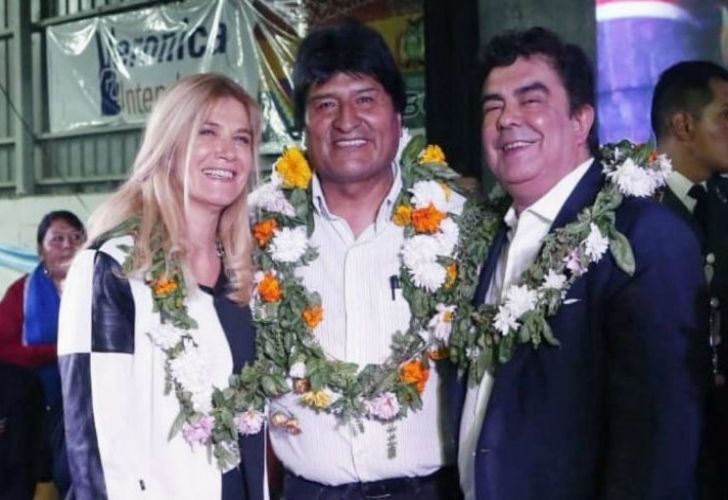 La Matanza is a Peronist stronghold and a key electoral battlefield which often defines the results of the country's national and provincial elections.
Morales via social media thanked his "compatriots who live in Argentina" for the "warm welcome."
"We are proud to welcome our brother Evo Morales who has become a symbol of dignity and equality for the peoples of Latin America," Magario said, announcing that La Matanza Municipality recognised the president as an "illustrious citizen."
The district of Greater Buenos Aires is home to nearly 100,000 Bolivians according to census data.
Argentina will got to the polls for national and presidential elections in October 2019.
KEY TALKS
Morales and Macri will meet today at midday at the Pink House, at the same time Treasury Minister Nicolás Dujovne delivers a press conference to address the government's recent economic measures.
On the top of the agenda are the renegotiation of gas contracts and the political situation in Venezuela, where Morales has a key regional ally in Nicolás Maduro.
Macri hopes to bring Morales on side – or closer – by offering Bolivia access to the 2030 World Cup bid shared among Uruguay, Paraguay and Chile, sources told the Perfil newspaper.
"The agenda of issues [the heads of state will address] is very broad," Argentina's Foreign Ministry said in a statement to the press.
Argentina hopes to save US$ 460 million in a renegotiation of its existing deal, based on the calculations of the country's Energy Secretariat.
In exchange, the Macri administration will reportedly offer Bolivia a series of Pampa III fighter jets to ensure greater security along the countries' shared border.
Morales' visit comes just weeks after a major spat with Macri's ally, Governor of Jujuy Province Gerardo Morales, over the healthcare fees Bolivia charges Argentine residents.
Bolivia has denied that Argentina's Health Ministry Adolfo Rubinstein called for a reciprocity deal –in other words, free healthcare for Argentines. However, Bolivian officials say they are open to a deal.
-TIMES/PERFIL